MAGic Solution
Easy launch of your IPTV/OTT business
Interested in starting an interactive television business? Ready to launch a project that involves IP technologies? You see the bright future of IPTV and OTT markets and want to be a part of it while the market is on the rise? Infomir offers you the best cost effective comprehensive solution, taking into account your technological possibilities, growth plans, and available budget.
Do not be discouraged by unreasonable hardware and software investments. An OTT/IPTV project can be deployed and launched with minimum costs, therefore minimum risks. Infomir 's comprehensive MAGic Solution can get your business up and running with minimum costs, while making sure you have maximum system functionality and flexibility.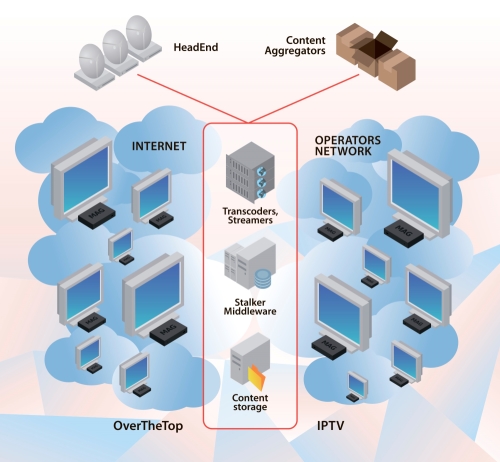 MAGic Solution Components
MAGic Solution Components:
Recommended Price
Set-top box of MAG series
from $70 per one device
Middleware Stalker
Free, unlimited number of licenses, no client license charge

For IPTV, OTT: Middleware server
For OTT: Transcoding (optional) and streaming servers
For VoD: Storage server

Hardware server – to be provided by operator himself. We recommend to rent them (price depending on the each specific hosting conditions). Server purchase: from 2500$ each.
Streamers –solution, based on free software
Free
Transcoders – solution, based on free software
Free
Content: TV, radio, films, clips, etc.
to be provided by operator himself
Please notice that Infomir company is not a content provider, and does not provide software and equipment for access to any kind of content. Infomir company offers technical solution only that allow to offer IPTV/OTT services. Any content issues should be solved with rights owners of the content you need in your region.
So, to launch an IPTV/OTT project based on MAGic Solution scheme you need to by only two points: servers (at least for Stalker Middleware) and user set-top boxes MAG.
Key Benefits
MAGic Solution
Comprehensive solution
All the components of MAGic Solution feature modern technical specifications and high reliability.
Current MAG Series Set-Top Boxes meet broadband operators' technical requirements while being user friendly for the end customers. According to IPTV service providers from over 92 countries worldwide, MAG-250 Micro is amongst the most successful on the market because of its high reliability, cost effectiveness and highly qualified and prompt technical support.
Stalker Middleware ensures IPTV/ OTT/VOD services functioning and management, remote administration, Set-Top Boxes' monitoring, as well as recording subscribers' actions and errors. Furthermore, Stalker Middleware has an open source code and API, allowing third parties to make changes to it (e.g. applications for mobile devices, access and control systems etc.)
Open source software for transcoding (optional, video stream compression with the purpose of decreasing streaming media bit rate) and streaming (used for delivering video stream to end customers, especially OTT services customers) is installed and set up by Infomir's experts ensuring system operability and reliability. This platform can be scaled later due to its open source software.
Minimal investments to start providing services
Free Stalker Middleware!
Unlimited servers!
No license charges!
Transcoding and streaming solution based on Open Source software
Servers and Set-Top Boxes are the only pieces of equipment required to start offering your services!
Easy, transparent and quick!
Stalker Middleware, free transcoding and streaming software are open source solutions which can be installed and set-up by your company's specialists.
MAGic Solution can be delivered as a "turnkey" solution by Infomir's experts.
With servers and content ready, services can be provided in 2 weeks time!
Functionality
MAGic Solution meets all current OTT/IPTV system requirements and supports services demanded by the market: IPTV channels, interactive programming guide, video on demand, time-shifted TV, recording on an external memory device, access to popular Internet services and social networks, karaoke, games, weather, etc.
Stalker Middleware offers the possibility to control the users' access to services, to create different tariffs, and TV packages.
Interactive TV services can be delivered via operator's IPTV network, as well as via the Internet - OTT.
Stalker Middleware offers the possibility of creating your own CDN allowing you to control VoD traffic (between Content Storages), as well as IPTV video streaming (between streaming servers).
Control and Flexibility
The system is based on open source technologies allowing changes according to customer's demands.
Any external components, included in the MAGic Solution package (streaming / transcoding software) can be replaced by compatible solutions developed by third parties.
The system has documented API to facilitate integration with specific customer's applications (e.g. OSS/BSS, CRM, etc.).
Multilingual support: Currently Stalker Middleware is available in English, Russian, and German. New languages can be added on demand (changes to the interface take minimum two weeks)
Free Middleware Updates and Qualified Technical Support
MAGic Solution is a dynamic system as we continue to develop our technologies and system components taking into account ever changing market needs and our customers' technical preferences.
Free of charge updates for Stalker Middleware, are available on our website.
When developing new software releases, we focus on functionality and adding new online services popular with our target audience.
Qualified and quick technical support to help our customers solve any queries they might have.