Commercial proposition
Select the purpose of request:
CSTB'2014: New Year - New Prospectives
Published on 19/02/2014
Odessa – Moscow
The CSTB Exhibition and Forum traditionally marks the beginning of a new business year
CSTB'2014 was the sixteenth exhibition and this year it was held between 28-30 January at Crocus Exhibition Centre, attracting the leading Russian and foreign telecom operators, broadcasters, digital broadcasting operators and equipment manufacturers. Companies from more than 27 countries worldwide presented their products and services and the exhibition venues were visited by over 23,000 people.
However, it was the new CONNECTED TV & MOBILE MULTIMEDIA exposition that became the most important venue, where latest technology and solutions were on display, using the examples of content consumption by the modern users. It was evident that the new technologies rule the market and have to be taken into account. Infomir specialists who presented their products at the exhibition for the second time have definitely pointed out that the venue is becoming of more importance, bringing together not only CIS but foreign companies as well.
ROUND TABLE "Television of the XXI century - development and competition of traditional broadcasting and innovative services", traditionally marking the kick off point of the Forum, brought together largest and most influencial market representatives. The Round Table moderator Yuri Pripachkin, President of Cable TV Association of Russia, pointed out that since the 2013 exhibition the number of digital TV consumers has gone up by 23% and this increase is expected to continue. Just in Russia 18,3 million households are now using the IPTV services. Traditional TV, which was forecast to lose its positions with the arrival of the Internet era and consequently the online channels, is still successfully thriving having been able to enter into a new step of its development.
It turned out that the active young generation is not going to stop consuming TV, but demand higher image quality, ability to choose content and mobility. The Internet penetration into all of lifes spheres has allowed television new opportunities, which cannot be limited by the equipment quality, by the quantity of various TV channels or by business rivalry. That is the reason why CSTB Exhibition and Forum are considered to be an important venue for the telecom operators, broadcasters, digital broadcasting operators and equipment manufacturers. It is not only a chance for each company to show its achievements in its own segment, but also an opportunity to study the achievements of the others and to find out about the latest market trends and tendencies. And, of course, it is a formidable opportunity to attract new clients and start new business contacts.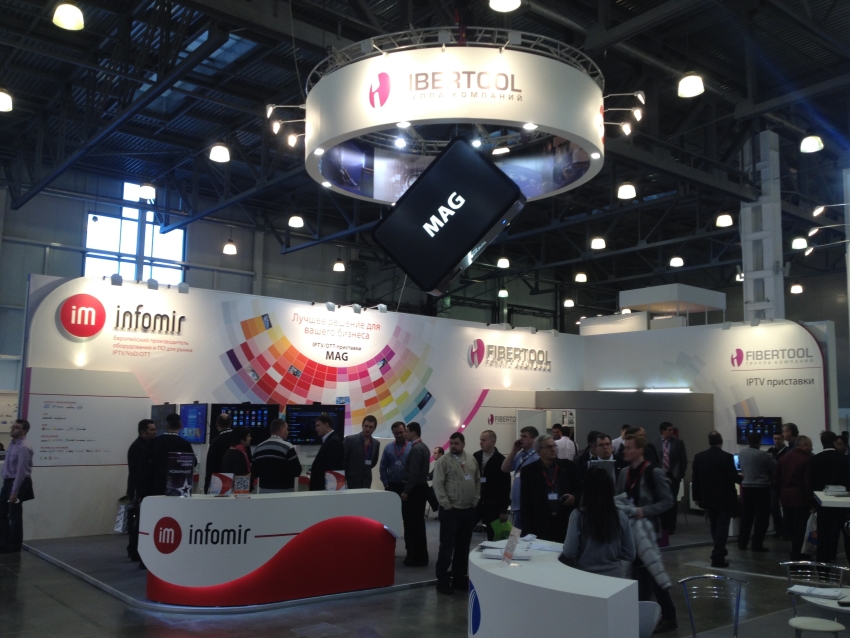 New Horizons
Infomir group of companies takes part in CSTB International Exhibition and Forum for the second time in a row. This year Infomir shared the exhibition stand with its official distributor, Fibertool group of companies. The stand was colourful and it attracted the attention of the numerous exhibition visitors. Above all, Infomir products: digital and hybrid set-top boxes attrackted the attention of the visitors, all of whom got detailed consultations from company's leading specialists. During the tree-day exhibition Infomir representatives not only presented the company's new projects and products, judge the products and services by competition but also talk to almost all Infomir's Russian clients. All of them pointed out the high standards of the products and are ready to continue working with the Ukrainian manufacturer.
An exhibition is a unique opportunity not only to present a company and estimate one's potential, but also to present newly developed products that can attract current and future clients. Infomir has already gained recognition in the Russian market with MAG245 set-top box (a variation of the most popular set-top box MAG250, specially designed for the Russian market). The Russian clients admitt that MAG245 and the next generation MAG254/255 are an ideal solution for B2B due to wide range of functions, high product quality and the lowest prices in the segment.
Apart from the well-known and already popular set-top box models MAG245, MAG254/255, the attention of the exhibition visitors was attracted by yet another ultramodern MAG series set-top box: MAG260. This device has been designed for the operators which develop Android-based applications. Android is one of the most popular systems worldwide, thus, without any doubt, it is strategically important for any fast-developing company to design products like MAG260. It is not surprising that MAG260 attracted the interest of companies and operators working with Android platform and developing their applications Android-based. That means that Infomir is broadening its client base significantly by offering a device which is attractive for Internet providers and integrators.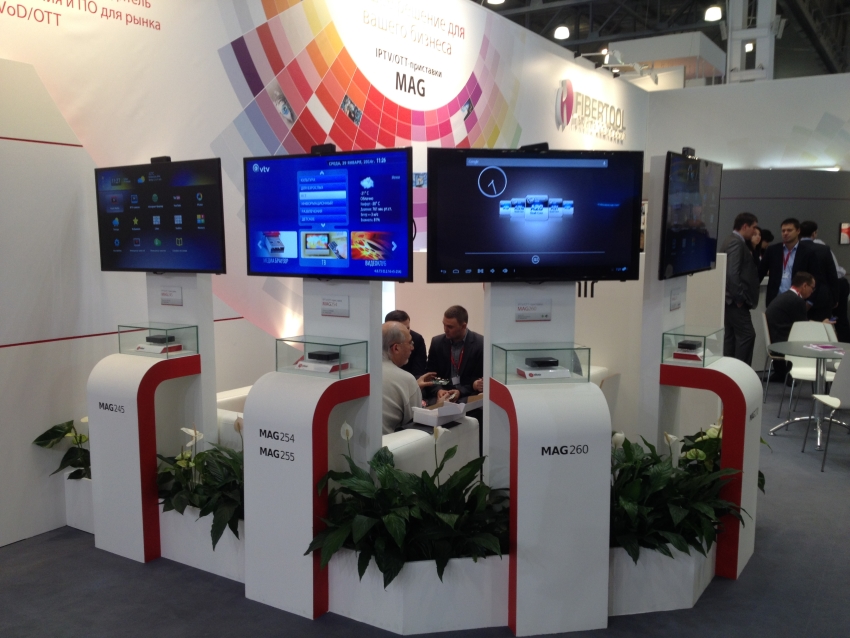 New Solutions
There are products worth mentioning separately. They were announced a long time ago but their final version comes out in March 2014. MAG270/275 hybrid IPTV/OTT/VoD set-top boxes have attracted the attention of potential clients long before being lauched in production. These devices house DVB-C and DVB-T/T2 slots that make it possible to connect to both free-to-air digital and cable TV. MAG270/275 offer new opportunities for cable operators. High speed of image processing is possible with the increased processor productivity. It is not surprising that the MAG270/275 set-top boxes have been so expected.
Summary
The Infomir representatives are delighted with the results of their visit to CSTB'2014 International Exhibition and Forum. They had a chance to speak to their clients, met European and American partners, present the company products, which drew interest from potential consumers, and start new business contacts. In 2014, presenting its products at the Exhibition only for the second time, the company was nominated for the Big Cipher Award in the category Equipment and Technologies.
So, that was the beginning of a new successful business year. The aristocratic London and TV Connect 2014 are waiting for the Infomir team between 18-20 March.