Commercial proposition
Select the purpose of request:
AfricaCast2014 and BakuTel2014: Summary of a fruitful year
Published on 23/12/2014
2014 was a very productive year. The Company's expansion and development was our main focus all year through. In the last two months we attended two international events: BakuTel 2014 and AfricaCast 2014. Their purpose is to create a single information forum for ICT companies worldwide, including leading broadcasters, content providers, and multichannel television companies.
AfricaCast 2014 was held in Cape Town, South Africa, from 17 to 19 November 2014. Being one of the most forward-looking events of the year, it was attended by the main companies in the industry. This year AfricaCast was dedicated to the issues with which the developing digital television is confronted in Africa (especially DTT and OTT broadcasting). Growth and conquering new markets is one of our strategic objectives. Thus, being present at AfricaCast, in Africa (an important region), was a milestone in our Company's business development strategy. Our team showcased MAG250, as well as its new and improved MAG254 version, and MAG275 hybrid Set-Top Boxes. All of them are already known and used worldwide and we hope soon will find their place on the African market. This event, as well as many others, has an important role in maintaining existing relations with our African partners and creating new business partnerships.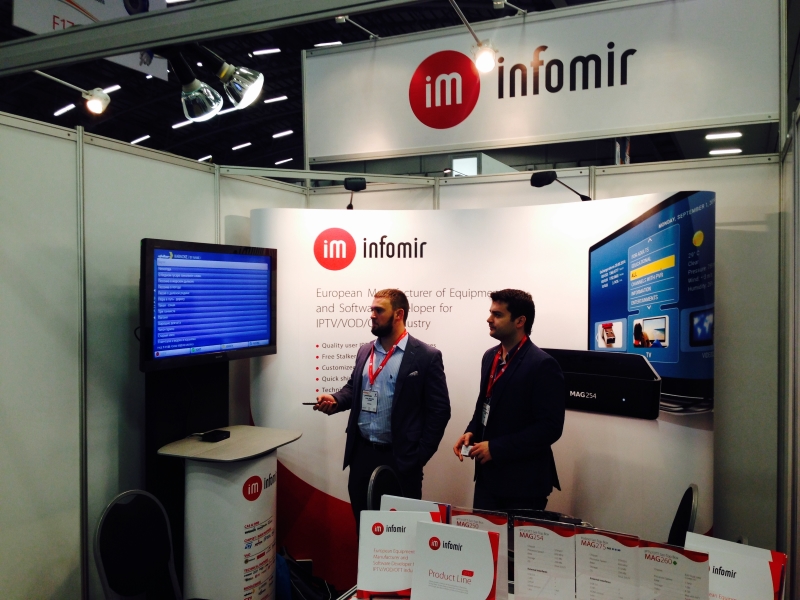 The 20th exhibition and conference, BakuTel 2014, took place in Baku from 2 to 5 December 2014. This event mainly deals with issues related to deployment of ICT in various spheres of production (both in private and state companies). This is an exhibition that is very popular among Azerbaijani and international companies interested in the region. Representatives of the Government and mass-media attend Bakutel. This is not the first time we showcased our products at this exhibition. Our main goal is to develop existing partnerships, as well as increase demand for our bestselling Set-Top Box MAG254 and other devices.
Infomir is continually growing and developing, and our team is looking forward to future events it will take part in. At the beginning of the next year Infomir's team will attend CSTB 2015 Exhibition and Forum in Moscow, one of the most important media events in Russia and CIS countries. Next spring our company will be present at the world's leading event in ICT - TVConnect 2015, to discuss with other leading companies in the industry about Internet and digital interactive services integration.