IPTV/OTT set-top box MAG250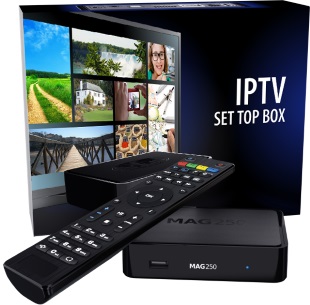 IPTV/OTT set-top box MAG250 is a basic model of Infomir company preferred by European leaders of interactive television market.
MAG250 meets all modern requirements and standards, and is a great solution for IPTV start-up.
MAG250 has everything necessary for comfortable and high quality reception of IPTV-channels as well as any media content playback from the Internet, OTT-services and USB-storages.
MAG250 main advantages:
Stability, confirmed by IPTV-providers in 50 countries
Playback of digital channels in FullHD format
Support streaming video and video on demand (VoD)
Support all popular audio and video formats
Optimized video and sound quality (via S/PDIF audio output and HDMI)
Two USB ports for Wi-Fi module and USB-drives
Free Stalker Middleware with extensive personalization and branding capabilities, as well as support for popular Middleware: OFT-Media, Netup, SmartLabs, Netris, Beenius
World-class content security service Secure Media
Remote management, monitoring and device settings (via JavaScript API)
Fast and qualified technical support from Infomir, both during and after implementation
* On the Russian market is represented as MAG245
If you want to buy IPTV / OTT set-top box MAG250 or ask further questions, please send us request.


Dimensions
Width/depth/height, (mm)
127/87/30
Weight, g
190
Hardware
Processor
STi7105
RAM
256 Mb
Flash memory
256 Mb
Software
Operating system
Linux 2.6.23
Built-in Media Portal with WebKit-based IPTV-functionality
HTTP 1.1, HTML 4.01 XHTML 1.0/1.1; DOM 1, 2, 3, CSS 1, 2, 3;
XML 1.0, XSLT 1.0, XPath 1.0 ; SOAP 1.1;
JavaScript ECMA-262, revision 5;
Media JavaScript API; C layer SDK

DRM option
Secure Media
Middleware supported
Stalker, OFT-Media, Netup, SmartLabs, Netris, Beenius
Interfaces
Audio output S/PDIF
HDMI 1.3-output
Composite + stereo A/V output
Ethernet 100 Mb/s
USB 2.0 (WiFi-adapter can be connected)

Sources of media content
PC and NAS in local network
Stream media protocols (RTSP, RTP, UDP, IGMP, HTTP)
USB-devices

Audio&Video
Audio сodecs
MPEG-1 layer I/II, MPEG-2 layer II, MPEG-2 layer III (mp3), MPEG-2 AAC (optional), MPEG-4 AAC LC 2-ch/5.1ch (optional), MPEG-4 AAC+SBR 2-h/5.1ch (optional), Dolby Digital (optional), DTS (optional)
Audio formats
MP3, MPA, M4A, WMA (optional), Ogg, WAV, AAC
Video modes
1080i, 1080p, 720p, 576p, 480р, PAL, NTSC
Video сodecs
MPEG1/2 MP@HL, H.264 HP@level 4.1, MPEG4 part 2 (ASP), WMV-9 (optional), VC1 video, XviD; HD video supporting (up to 40 Mbit/s and above)
Video containers
MKV, MPEG-TS, MPEG-PS, M2TS, VOB, AVI, MOV, MP4, ASF, QT, WMV
Image formats
JPEG, PNG, BMP, GIF, RAW
Subtitles
DVB, SRT, text MKV
Playlist formats
M3U
Standard set
MAG250 Set-Top Box, user manual, Mini jack cable to RCA (A/V),
Power adapter 5V 2A, remote control, 2 AA batteries, packaging
Comparative characteristics