Le département de ventes
Désolé, ce format est seulement disponible en anglais.
Saisissez votre question en anglais s'il vous plait.
Select the purpose of request:
Télévision du troisième millénaire
L'histoire de la coopération entre Infomir et StarNet. Découvrez comment, en cinq ans de collaboration fructueuse avec Infomir, l'opérateur de télécommunications StarNet est devenu l'un des plus importants fournisseurs de télévision sur IP en Moldavie.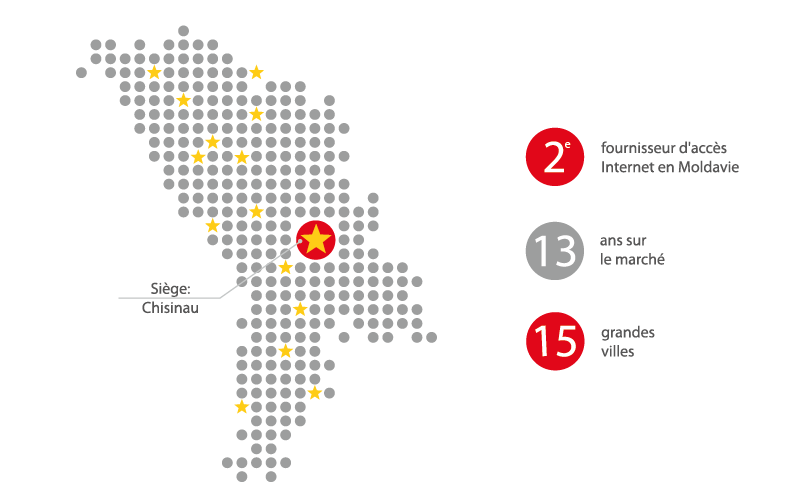 Client:
StarNet, société de télécommunication
Chisinau, République de Moldavie
Première expédition :
Juin 2012
MAG250
À propos de StartNet
StarNet est l'une des plus grandes sociétés de télécommunications en Moldavie. Ils fournissent un large éventail de services nécessaires dans chaque maison et bureau : Internet haut débit, téléphonie NGN fixe, télévision numérique, hébergement, réseaux privés virtuels, assistance à l'installation d'équipements, etc. La société a été la première à créer un réseau de fibre optique (Fiber Link) en Moldavie.
En octobre 2011, StarNet a lancé le plus grand réseau Wi-Fi gratuit de Chisinau, la capitale moldave, qui s'étend sur plus de 90 km. En association avec les autorités de la ville, ils offrent un accès gratuit à Internet à la plupart des écoles locales.
La société de télécoms a remporté le prix «Gold Mercury» à trois reprises. C'est le prix national le plus élevé dans le domaine de la reconnaissance des marques en Moldavie.
Nous pouvons dire avec confiance que nous sommes une marque "made in Moldova", un investissement local à 100%, né le 7 août 2003, à l'initiative de quelques passionnés désireux de changer la République de Moldavie en facilitant l'accès aux technologies et solutions de communication de dernière génération.
Le 14 février 2011, StarNet a lancé un service IPTV basé sur ses propres réseaux de fibre optique. En juin 2012, une coopération avec Infomir a été initiée. Depuis lors, le MAG250 est la seule plate-forme pour la fourniture de services de télévision interactive de StarNet.
Le début de la coopération
StarNet et Infomir partagent le même objectif : rendre les technologies modernes généralement disponibles. La volonté de fournir uniquement les meilleurs services et une approche orientée client sont parmi les principales valeurs de StarNet. Dans ce projet, ils cherchaient des fournisseurs avec les mêmes perspectives et idées. Cependant, il ne suffit pas de se mettre d'accord sur le sujet pour commencer une coopération à long terme. L'équipement fourni doit répondre pleinement aux exigences des clients.
Pourquoi StarNet a choisi MAG ?
Fiabilité de performance
Le cycle de production complet permet à Infomir de suivre la qualité des appareils à chaque étape de la fabrication. L'intergiciel a été développé par les programmeurs de l'entreprise spécifiquement pour les décodeurs MAG. Donc, ils fonctionnent beaucoup mieux que les analogues avec les mêmes propriétés mais avec des logiciels tiers.
Prise en charge des fonctions populaires
StarNet vise à fournir des services qui répondent aux exigences du marché moderne. Un lot d'essai a montré de hautes performances lors de la lecture de contenu FullHD. Le logiciel a permis de mettre en œuvre de nombreuses fonctionnalités populaires parmi les utilisateurs, telles que TimeShift, EPG, les applications tiers, etc.
Code source ouvert
La possibilité de réécrire l'interface et la fonctionnalité est devenue une autre caractéristique attrayante de MAG pour StarNet. Les développeurs de l'entreprise ont retravaillé l'interface pour qu'ellle corresponde mieux à leur style de conception et aux exigences du public local.

« Nous travaillons avec les décodeurs MAG250 depuis plus de 5 ans. Pendant ce temps, il n'y a eu que quelques retours dus à un dysfonctionnement. Les utilisateurs contactent rarement notre service d'assistance pour des problèmes d'utilisation ou de connexion. Cela indique la haute qualité du produit et influence positivement l'opinion des utilisateurs sur StarNet. »

Alexei Munteanu, Directeur marketing à StarNet
Personnalisation
Les développeurs de la société ont complètement réajusté Stalker Middleware pour le faire ressembler davantage au style StarNet. De nombreuses fonctionnalités de base de Stalker Middleware ont également été utilisées :
Liste de chaînes modifiable - maintenant StarNet offre cinq forfaits tarifaires
Video on Demand (VoD) « vidéo sur demande » – un accès à des milliers de films en qualité HD.
Timeshift – Possibilité de mettre en pause ou de rembobiner votre programme préféré.
Widgets – l'accès aux taux de change, les prévisions météo, l'horoscope, les derniers indicateurs boursiers sur l'écran du téléviseur.
Electronic Program Guide (EPG) – un programme TV pratique et des informations sur les émissions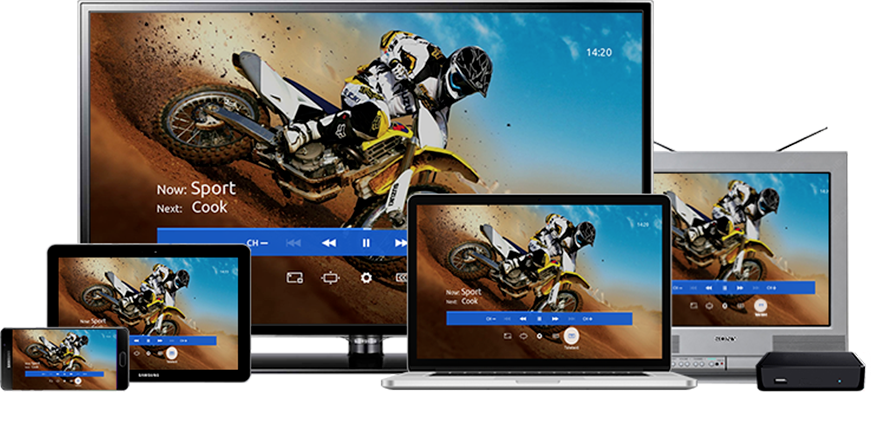 StarNet aujourd'hui
Notre réseau personnel de fibre optique permis de créer un service de télévision interactive moderne. Conjointement avec l'équipement client d'Infomir, il a assuré une croissance rapide de la popularité du service. En cinq ans de coopération, plus de 90 000 décodeurs ont été vendus. StarNet est maintenant l'un des plus importants fournisseurs d'IPTV en Moldavie.
« Le succès d'aujourd'hui est en partie dû à notre coopération avec Infomir. Nous avons des projets ambitieux et beaucoup de nouveaux projets en développement. J'espère que notre partenariat apportera autant d'avantages à l'avenir que par le passé. »

Alexei Munteanu, Directeur marketing à StarNet