Commercial proposition
Entschuldigung. Dieses Formular ist nur in Englisch verfügbar.
Bitte,schreiben Sie in Englisch.
Select the purpose of request:
Fernsehen des dritten Jahrtausends
Das ist die Geschichte der Zusammenarbeit von Infomir und StarNet. Erfahren Sie, wie der Telekommunikationsanbieter StarNet in fünf Jahren erfolgreicher Zusammenarbeit mit Infomir einer der größten IPTV-Anbieter in Moldau wurde.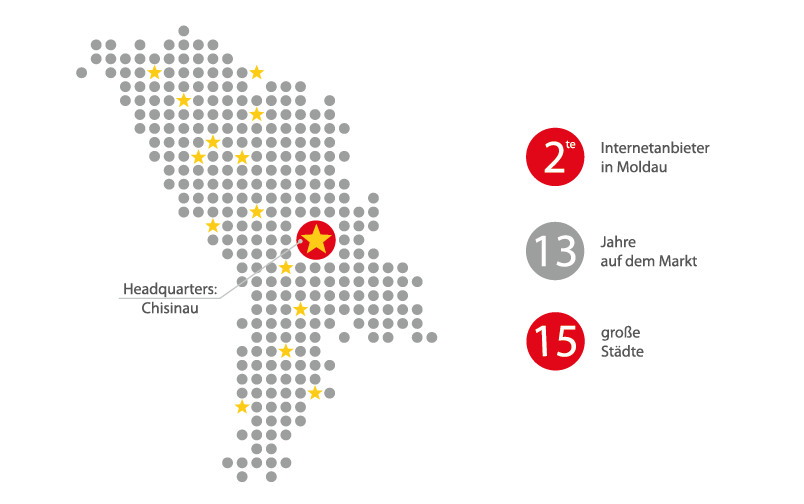 Kunde:
StarNet, Telekommunikationsunternehmen,
Chisinau, Republik Moldau
Erste Lieferung:
Juni 2012
MAG250
Über StarNet
StarNet ist einer der größten Telekommunikationsanbieter in Moldau. Das Unternehmen bietet ein breites Spektrum an Dienstleistungen an, die in jedem Haushalt und Büro benötigt werden: Hochgeschwindigkeitsinternet, Festnetztelefonie, digitales Fernsehen, Hosting, VPNs, Geräteinstallation, Services usw.
Das Unternehmen war das erste in Moldau, das ein Glasfasernetzwerk aufgebaut hat. Im Oktober 2011 startete StarNet das größte freie WLAN-Netzwerk in Chisinau, der Hauptstadt Moldaus. Dieses hat inzwischen eine Ausdehnung von 90 km. In Kooperation mit der Stadtverwaltung bietet StarNet freien Internetzugang in den meisten örtlichen Schulen an.
Das Telekommunikationsunternehmen hat dreimal den "Goldenen Merkur" gewonnen. Das ist die höchste nationale Auszeichnung für Markenbekanntheit in Moldau.
Wir können mit großer Überzeugung sagen, dass wir das Label "Made in Moldova" zu Recht tragen. Wir sind zu 100 % eine einheimische Firma, die am 7. August 2013 von einigen Enthusiasten mit dem Ziel gegründet wurde, die Republik Moldau zu verändern. Unser Anliegen war es, den Zugang zu Kommunikationstechnologien und Lösungen der nächsten Generation zu vereinfachen.
Am 14. Februar 2011 startete StarNet einen IPTV-Dienst auf der Basis der eigenen Glasfasernetze. Im Juni 2012 erhielten sie die erste Lieferung Set-Top-Boxen von Infomir. Seitdem ist die MAG250 das einzige Kundengerät für den Empfang des interaktiven StarNet-Fernsehens.
Wie die Zusammenarbeit begann
StarNet und Infomir vereint dasselbe Ziel: die generelle Verfügbarkeit moderner Technologien. Zu den wichtigsten Grundsätzen von StarNet gehören Kundenorientiertheit und der Anspruch, nur bestmögliche Leistungen anzubieten Dementsprechend suchen sie nach Lieferanten mit denselben Perspektiven und Ideen. Der gleiche Blick auf eine Herausforderung ist aber nicht ausreichend für eine langfristige Partnerschaft. Die gelieferte Ausrüstung sollte vollständig den Kundenansprüchen genügen.
Warum hat StarNet MAG ausgewählt?
Leistungsfähigkeit und Zuverlässigkeit
Der gesamte Herstellungszyklus ermöglicht Infomir, die Qualität der Geräte in jedem Produktionsstadium zu verfolgen. Die Middleware wurde speziell für MAG Set-Top-Boxen entwickelt. Dadurch funktionieren sie besser als vergleichbare Geräte mit denselben Eigenschaften, aber Software von Drittanbietern.
Anbieten geforderter Funktionalität
StarNet hat das Ziel, Dienste anzubieten, die heutigen Marktanforderungen entsprechen. Eine Musterserie demonstrierte hohe Leistungsfähigkeit beim Wiedergeben von FullHD-Inhalten. Die Software ermöglichte die Implementierung vieler von den Nutzern gewünschter Funktionen, wie TimeShift, EPG, Apps von Drittanbietern usw.
Offener Quellcode
Ein weiterer Vorteil für StarNet war die Möglichkeit, den Funktionsumfang und die Benutzerschnittstelle anzupassen. Die Entwickler des Unternehmens haben die Benutzeroberfläche an das Firmenimage und die Gewohnheiten des einheimischen Publikums angepasst.

"Wir verwenden die MAG250 bereits über 5 Jahre. In dieser Zeit wurden nur einige Geräte wegen Fehlfunktionen zurückgegeben. Die Nutzer wenden sich nur selten wegen Fragen zur Benutzung oder Anschlussproblemen an den Kundendienst. Das unterstreicht die hohe Qualität des Produkts und verbessert den Eindruck der Nutzer von StarNet."

Alexei Munteanu, Marketingleiter bei StarNet
Anpassung
Die Entwickler des Unternehmens haben die Middleware von Stalker so angepasst, dass sie dem Stil von StarNet entspricht. Viele grundlegende Funktionen der Stalker-Middleware wurden genutzt, wie:
Bearbeitbare Kanalliste – StarNet bietet jetzt fünf Tarifoptionen
Video auf Abruf (VoD) – Zugang zu tausenden Filmen in HD-Qualität
Timeshift – ein Nutzer kann seine bevorzugte Wiedergabe pausieren oder zurückspulen.
Widgets – Währungskurse, Wettervorhersagen, Horoskope, aktuelle Börsenkurse auf dem Fernsehschirm
Elektronische Programmzeitschrift (EPG) – bequeme Programmvorschau und Informationen zur aktuellen Sendung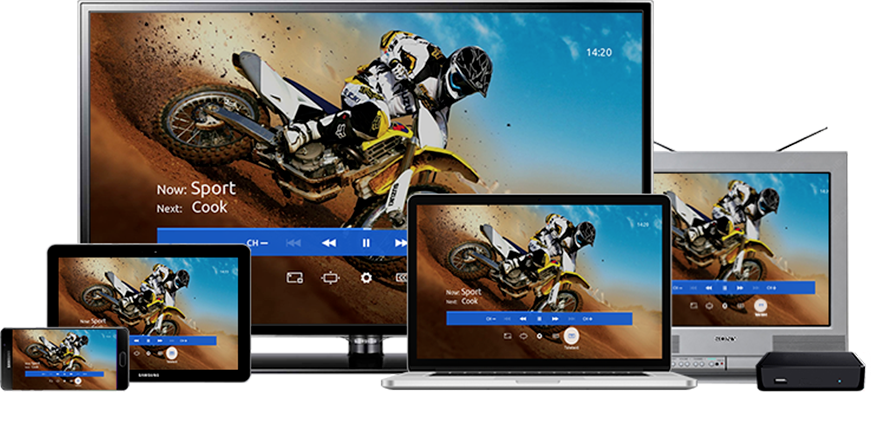 StarNet heute
Unser eigenes Glasfasernetz unterstützte uns dabei, modernes interaktives Fernsehen anzubieten. Zusammen mit der Kundenausstattung von Infomir hat das ein enormes Wachstum der Popularität dieses Services bewirkt. In fünf Jahren der Zusammenarbeit wurden über 90.000 Set-Top-Boxen verkauft. StarNet ist heute einer der größten Anbieter von IPTV in Moldau.
"Unser aktueller Erfolg beruht zu einem großen Teil auf der Zusammenarbeit mit Infomir. Wir haben kühne Pläne und eine Reihe neuer Projekte in der Entwicklung. Ich hoffe, dass unsere Partnerschaft in der Zukunft genauso fruchtbar sein wird wie in der Vergangenheit."

Alexei Munteanu, Marketingleiter bei StarNet