Commercial proposition
Pedimos desculpa, este formulário está disponível apenas em inglês.
Escreva o seu pedido em inglês.
Select the purpose of request:
A televisão do terceiro milénio
A história da cooperação entre a Infomir e a StarNet. Fique a saber como, em cinco anos de uma colaboração bem-sucedida com a Infomir, a operadora de telecomunicações StarNet se tornou uma das maiores fornecedoras de IPTV na Moldávia.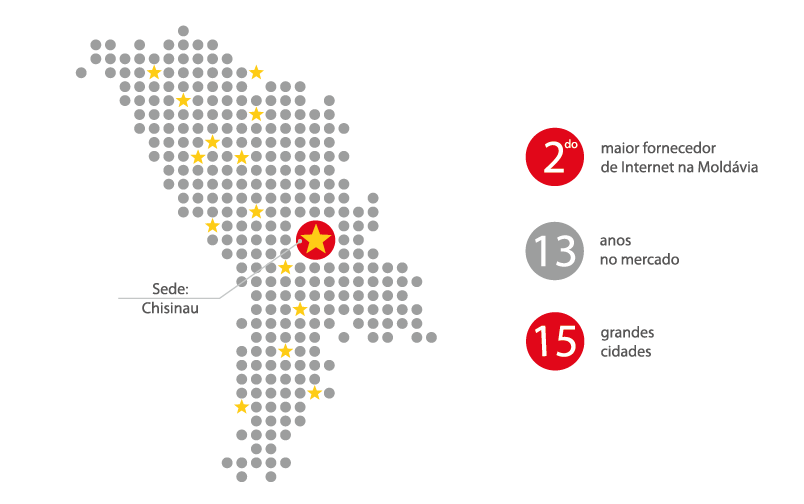 Cliente:
StarNet, empresa de telecomunicações
de Chisinau, na República da Moldávia
Primeira encomenda:
Junho de 2012
MAG250
Sobre a StarNet
A StarNet é uma das maiores empresas de telecomunicações na Moldávia. Disponibiliza uma vasta gama de serviços necessários em cada casa e escritório: Internet de alta velocidade, telefonia fixa NGN, televisão digital, alojamento, redes privadas virtuais, serviços de instalação de hardware, etc.
A empresa foi a primeira a criar uma rede de fibra ótica (Fiber Link) na Moldávia. Em outubro de 2011, a StarNet lançou a maior rede Wi-Fi gratuita em Chisinau, a capital da Moldávia, que conta, atualmente, com mais de 90 km de extensão. Juntamente com as autoridades municipais, disponibiliza acesso gratuito à Internet na maioria das escolas locais.
A empresa de telecomunicações ganhou o prémio Gold Mercury por três vezes. Trata-se do prémio mais importante a nível nacional no campo do reconhecimento de marcas na Moldávia.
Podemos afirmar com toda a segurança que somos merecedores da etiqueta "Made in Moldova". Somos fruto de investimento 100% local, e a nossa fundação, que teve lugar a 7 de agosto de 2013, deveu-se a alguns entusiastas dispostos a mudar a República da Moldávia. A simplificação do acesso a tecnologias de comunicação e soluções de próxima geração foram os meios que encontrámos para concretizar esse objetivo.
A 14 de fevereiro de 2011, a StarNet lançou um serviço de IPTV baseado nas suas redes de fibra ótica. Em junho de 2012, recebeu uma primeira encomenda de descodificadores Infomir. Desde então, o MAG250 foi o único dispositivo cliente usado para assistir à televisão interativa da StarNet.
O início da cooperação
A StarNet e a Infomir compartilham o mesmo objetivo: tornar as tecnologias modernas amplamente disponíveis. A disponibilidade em oferecer apenas os melhores serviços e uma abordagem orientada para o cliente fazem parte dos principais valores da StarNet. Neste projeto, a empresa procurava fornecedores com as mesmas perspetivas e ideias. No entanto, chegar a acordo sobre a questão não é suficiente para uma parceria a longo prazo. O equipamento fornecido deve cumprir integralmente os requisitos dos clientes.
Por que motivo a StarNet escolheu o MAG?
Fiabilidade de desempenho
O ciclo de produção completo permite que a Infomir acompanhe a qualidade dos dispositivos em cada fase de fabrico. O Middleware foi desenvolvido especialmente para os descodificadores MAG. Sendo assim, estes funcionam muito melhor do que análogos com as mesmas propriedades, mas que usam software de terceiros.
Suporte de funções necessário
A StarNet visa disponibilizar serviços que cumpram requisitos modernos do mercado. Um lote de ensaio apresentou um alto desempenho ao reproduzir conteúdo em HD total. O software permitiu implementar muitas funcionalidades populares entre os utilizadores, tais como o TimeShift, o EPG, aplicações de terceiros, etc.
Código-fonte aberto
Uma oportunidade para alterar a funcionalidade e interface tornou-se outra vantagem para a StarNet. Os programadores da empresa reajustaram a interface no sentido de a combinar com o estilo da empresa e tornar mais conveniente para o público local.

«Trabalhamos com o MAG250 há mais de cinco anos. Durante este período, foram devolvidas apenas algumas unidades devido a avarias. Os utilizadores raramente contactam o nosso serviço de apoio ao cliente com problemas de uso ou ligação. Isto é um indicador da elevada qualidade do produto e tem uma influência positiva na opinião dos utilizadores sobre a StarNet.»

Alexei Munteanu, diretor de marketing da StarNet
Personalização
Os programadores da empresa reajustaram completamente o Stalker Middleware, a fim de o tornar mais parecido com o estilo da StarNet. Foram igualmente usadas muitas funcionalidades básicas do Stalker Middleware:
Lista de canais editáveis – atualmente, a StarNet oferece cinco pacotes tarifários
Video on Demand (VoD) – acesso a milhares de filmes em qualidade HD.
TimeShift – um utilizador pode fazer pausar ou retroceder no seu programa preferido.
Widgets – taxas de câmbio, previsões meteorológicas, horóscopo, índices de mercado mais recentes num ecrã de televisão
Guia de programação eletrónico (EPG) – listas de televisão convenientes e informações sobre programas em exibição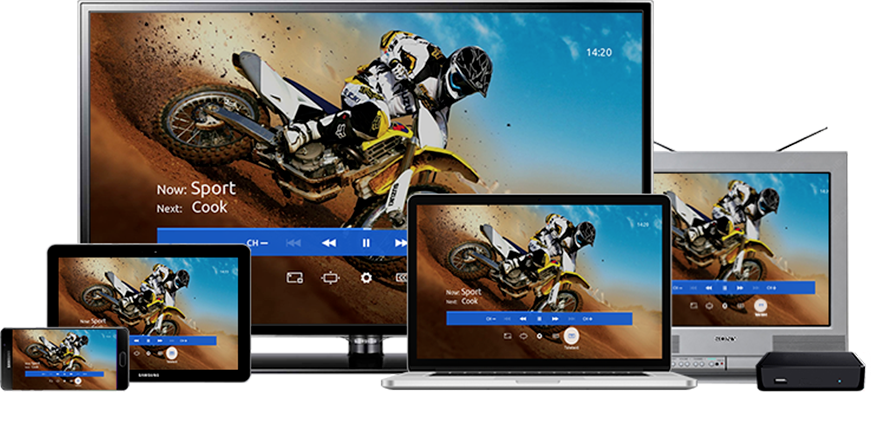 A StarNet hoje
A nossa rede pessoal de fibra ótica ajudou a criar um serviço moderno de televisão interativa. Juntamente com o equipamento cliente da Infomir, garantiu um rápido crescimento da popularidade do serviço. Num período de cinco anos de cooperação, foram vendidos mais de 90 mil descodificadores. Atualmente, a StarNet é um dos maiores fornecedores de IPTV na Moldávia.
«Na realidade, o atual sucesso deve-se parcialmente à nossa cooperação com a Infomir. Temos planos ambiciosos e muitos projetos novos em desenvolvimento. Espero que a nossa parceria traga tantas vantagens no futuro como trouxe no passado.»

Alexei Munteanu, diretor de marketing da StarNet