Proposta Commerciale
Seleziona lo scopo della richiesta:
Product request
You are looking for a solution:
Select an option, and we will develop the best offer
for you
Libra bianco
Siamo lieti di condividere le nostre conoscenze con i partner. Qui troverai informazioni dettagliate sugli argomenti relativi all'industria IPTV/OTT e alle apparecchiature e software Infomir. Speriamo che questi White paper saranno in uso quando creeremo il nostro reciproco successo.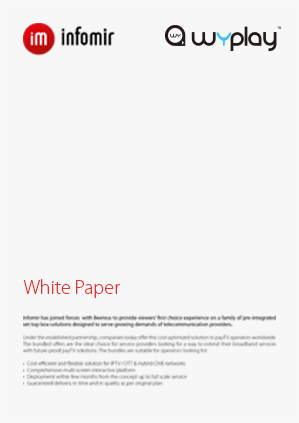 Infomir set-top boxes e Frog turnkey
Nelle attuali condizioni di mercato, i fornitori di telecomunicazioni e pay-TV di livello 2 e 3 operanti su un mercato ARPU basso non possono permettersi di progettare una soluzione middleware completamente personalizzata basata su costosi hardware STB high-end.

Infomir, MathEmbedded e Wyplay hanno deciso di collaborare per offrire soluzioni di pay-TV chiavi in mano efficienti in termini di costi e pronte per l'uso a fornitori e operatori di telecomunicazioni di tutto il mondo. Ciò potrebbe consentire a un operatore di piccole dimensioni persino un vantaggio migliore nel lanciare nuovi servizi più rapidamente rispetto ai concorrenti più grandi presenti a livello regionale.
Download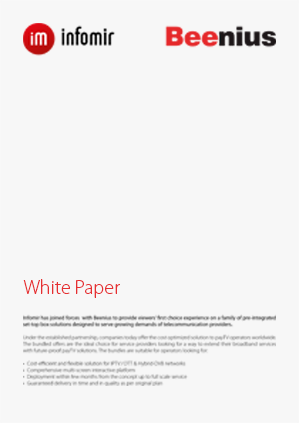 Infomir STB e piattaforma TV interattiva Beenius
L'operatore lavora in un ambiente competitivo molto aggressivo e incontra una serie di sfide associate alla necessità di offrire un servizio scalabile, più attraente e affidabile rispetto ai concorrenti.

Grazie alla competenza e alla collaborazione di conoscenza di entrambe le società, Infomir offre una famiglia di soluzioni TV INN Beenius pre-integrate IPTV e set-top box OTT, progettate per l'implementazione rapida e semplice in reti di qualsiasi dimensione.

Questo prodotto consentirà ARPU più elevati e aumenterà i profitti e consentirà a un operatore di scalare in modo esponenziale con la crescita del numero di abbonati, servizi e dispositivi supportati.
Download