Commercial proposition
Select the purpose of request:
Product request
You are looking for a solution:
Select an option, and we will develop the best offer
for you
White Papers
We are glad to share our knowledge with our partners. Here you will find detailed information on subjects related to the IPTV/OTT industry, as well as, Infomir equipment and software. We hope these White papers will contribute to the thriving of our partnership and mutual success.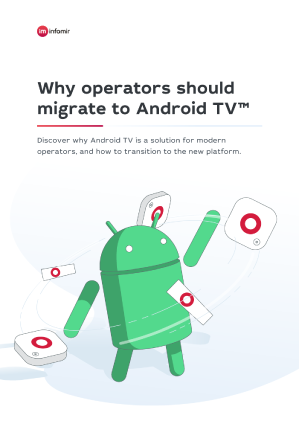 Why operators should migrate to Android TV™
The TV market is evolving, and modern users want voice controls, personalized recommendations, and app stores. If an operator can't implement that, the service becomes obsolete and starts losing subscribers.

For this reason Android TV's global operator and user bases are rapidly growing. With this platform, even local services can get better user experience, thousands of apps, advanced voice control, and personalized recommendations.

Discover why Android TV is a solution for modern operators, and how to transition to the new platform.
Download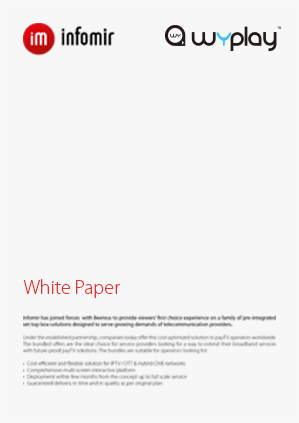 Infomir set-top boxes and Frog turnkey
In current market conditions, tier 2 and tier 3 telecommunication and pay-TV providers, operating in low ARPU markets, cannot afford to design their own fully customized middleware solution running on expensive high-end STB hardware.

Infomir, MathEmbedded, and Wyplay have joined forces to deliver a cost-efficient and ready-to-deploy turnkey pay-TV solution to telecommunication providers and operators all over the globe. This new solution may even enable smaller operators to launch new services faster than their larger regional competitors.
Download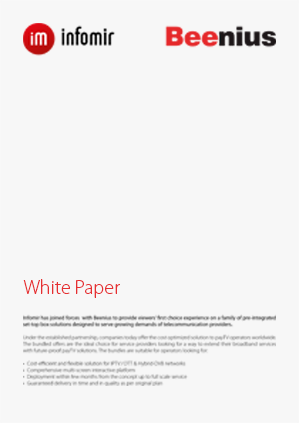 Infomir STBs and the Beenius Interactive TV platform
This operator runs in a very aggressively competitive environment and is met with a number of challenges in offering scalable, appealing, and reliable services that rival their competition.

Thanks to the combined skill and knowledge of both companies, Infomir was able to offer a solution comprised of the Beenius Interactive TV platform with pre-integrated IPTV and OTT set-top boxes, designed for fast and easy deployment in networks of any size.

This solution enables higher ARPU, increases profit, and helps operators to scale their business alongside their growth in subscribers, services, and supported devices.
Download