Proposta comercial
Selecione o objetivo do pedido:
Product request
You are looking for a solution:
Select an option, and we will develop the best offer
for you
Livro Branco
É com agrado que partilhamos o nosso conhecimento com os nossos parceiros. Aqui poderá encontrar informações detalhadas sobre temas relacionados com a indústria de IPTV/OTT e com o equipamento e software da Infomir. Esperamos que estes Livros Brancos venham a ser úteis na construção do nosso sucesso mútuo.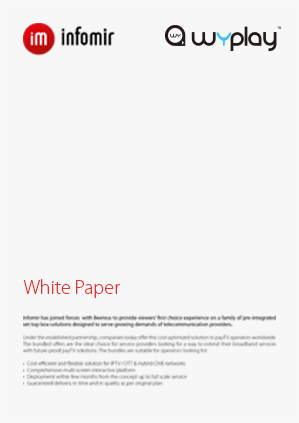 DESCODIFICADORES INFOMIR E FROG TURNKEY
Nas atuais condições de mercado, os prestadores de serviços de telecomunicações de Nível 2 e Nível 3 e de TV por assinatura, que operem em mercados de baixo ARPU, não têm capacidade de conceber uma solução de middleware completamente personalizada para descodificadores que dependa de hardware sofisticado de elevado custo.

A Infomir, a MathEmbedded e a Wyplay decidiram colaborar na criação de uma solução de TV económica e «chave-na-mão» para os prestadores e operadores de serviços de telecomunicações de todo o mundo. Isso poderá representar uma vantagem ainda maior para os pequenos operadores, permitindo-lhes lançar novos serviços de forma mais rápida que os seus concorrentes regionais de maior dimensão.
Transferir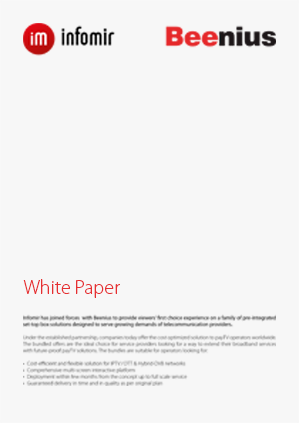 DESCODIFICADORES INFOMIR E PLATAFORMA DE TV INTERATIVA BEENIUS
Um operador desenvolve a sua atividade num ambiente muito agressivo e competitivo, enfrentando vários desafios associados com a necessidade de oferecer serviços mais atrativos, mais fiáveis e com maior escalabilidade que os seus rivais.

Como resultado da combinação das competências e conhecimento de ambas as empresas, a Infomir tem agora ao dispor uma família de descodificadores pré-integrados de IPTV/OTT para a plataforma de TV Interativa Beenius, concebidos para uma implementação rápida e fácil em redes de qualquer dimensão.

Este produto permitirá um ARPU mais alto e irá aumentar os lucros, permitindo que um operador evolua exponencialmente com o aumento do número de subscritores, serviços e dispositivos compatíveis.
Transferir