Proposición comercial
Selecciona la finalidad o petición:
Product request
You are looking for a solution:
Select an option, and we will develop the best offer
for you
P&R: Yulia Lutsenko sobre los resultados de la exhibición en 'TV Connect 2016'
P&R: Yulia Lutsenko sobre los resultados de la exhibición en 'TV Connect 2016'
Publicado 16/05/2016
Infomir ha participado en la exhibición TV Connect 2016 - uno de los eventos clave de la industria del entretenimiento en línea. Yulia Lutsenko, Jefa del Departamento de Marketing en Infomir, responde a las preguntas sobre los resultados de la TV Connect 2016:
H¿Cómo describirías los resultados de la participación de Infomir en la TV Connect 2016?


Yo diría que el comienzo del año ha sido muy dinámico para nosotros. TV Connect fue la tercera expo internacional solo en 2016. Este evento era muy eficiente para Infomir. Celebramos reuniones con potenciales clientes, presentamos una nueva interfaz de Stalker Middleware (Ministra TV) junto con nuestros desarrollos más recientes y, por supuesto, nos reunimos con nuestros socios Beenius y SoftAtHome.
¿Qué nuevas llegadas fueron las más populares entre los visitantes al stand?
Fueron los decodificadores MAG254w1 y MAG256 Y, considerando el número de pedidos anticipados, podemos dilucidar que los visitantes quedaron satisfechos con la prueba de los modelos nuevos.
¿Cuál es la razón de ese interés hacia estos modelos?
Son evoluciones de los modelos básicos como MAG250 y MAG254 que son buenos conocidos por nuestros clientes en 115 países. MAG254w1 es una versión modificada de MAG254 con un módulo Wi-Fi integrado. Lo diseñamos a medida por nuestros clientes. MAG256 es la siguiente etapa de desarrollo de decodificadores IPTV/OTT. Es mucho más potente que los modelos anteriores y es compatible con el estándar de compresión de video HEVC.

¿Muchos clientes se interesan acerca de cuándo llegarán los decodificadores MAG 350 y MAG352?
Nos complace anunciar que su espera pronto habrá terminado. Los nuevos decodificadores MAG350 y MAG352 (con soporte 4K) entrarán en producción en masa en julio. Hemos hecho un gran trabajo para hacer un producto que cumpla con todos los requisitos del mercado y ahora estamos listos para entrar en sus casas.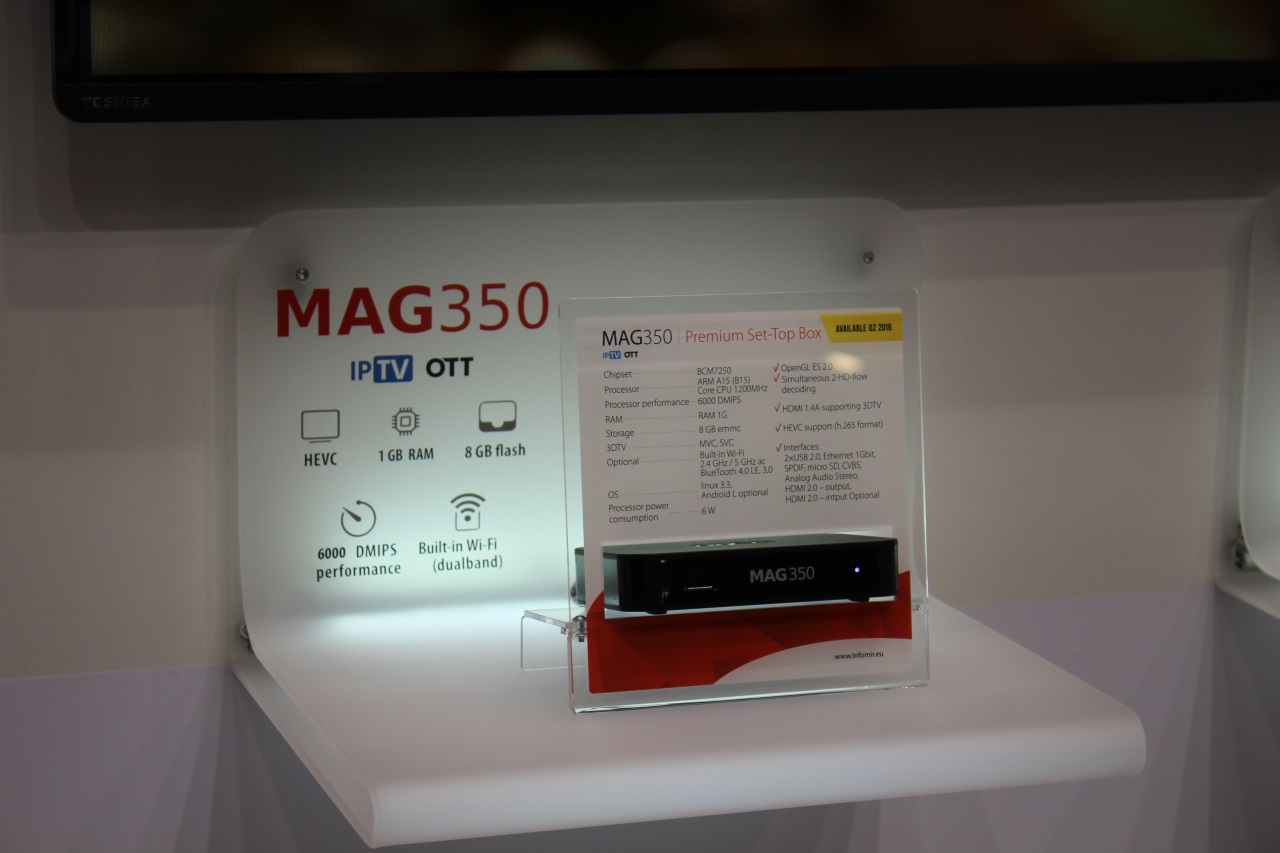 ¿Cómo ha implementado Infomir la tecnología multipantalla?
Hemos desarrollado aplicaciones especiales que permiten el uso de tecnologías multipantalla mientras se ven canales. Estas aplicaciones funcionan con el software gratuito Stalker Middleware. La versión Android ya se puede descargar desde Google Play Market. La versión para iOS también estará disponible pronto.
¿Planea la compañía visitar TV Connect 2017?
Participar en esta exhibición ya es una tradición para nosotros. De hecho, ya puedo decir que el próximo año podrás encontrarnos en el stand B20.