Proposta comercial
Selecione o objetivo do pedido:
Product request
You are looking for a solution:
Select an option, and we will develop the best offer
for you
Perguntas e Respostas: Yulia Lutsenko fala sobre os resultados da exposição TV Connect 2016
Perguntas e Respostas: Yulia Lutsenko fala sobre os resultados da exposição TV Connect 2016
Published on 16/05/2016
A Infomir participou na exposição TV Connect 2016- um dos eventos principais da indústria do entretenimento conectado. Yulia Lutsenko, Chefe do Departamento de Markting da Infomir, responde às perguntas mais importantes relacionadas com os resultados do TV Connect 2016:
Como descreve os resultados da participação da Infomir no TV Connect 2016?


Eu diria que o início do ano tem sido muito dinâmico para nós. O TV Connect foi a terceira exposição internacional de 2016. Este evento foi muito eficiente para a Infomir. Realizámos diversas reuniões com potenciais clientes, apresentámos a nova interface Stalker Middleware (Ministra TV) e as nossas criações mais recentes, e, claro, reunimo-nos com os nossos parceiros Beenius e SoftAtHome.
Quais foram as novidades mais populares entre os visitantes do stand?
Foram as Set-top boxes MAG254w1 e MAG256. E, tendo em conta o número de pré-encomendas, podemos concluir que os visitantes ficaram satisfeitos com os novos modelos.
Qual o motivo para tanto interesse por estes modelos?
São a extensão dos modelos básicos, como o MAG250 e o MAG254, que os nossos clientes de 115 países conhecem bem. O MAG254w1 é uma versão modificada do MAG254, com um módulo Wi-Fi integrado. Progetámo-lo a pedido dos nossos clientes. O MAG256 é a próxima etapa do desenvolvimento das set-top boxes IPTV/OTT. É muito mais eficiente do que qualquer um dos primeiros modelos e suporta a compressão de vídeo padrão HEVC.

Muitos cliente estão interessados em saber quando chega a tão esperada set-top box MAG 350 e MAG352.
Felizmente, em breve a sua espera terminará. As novas set-top boxes MAG350 e MAG352 (com suporte de 4K) vão ser produzidas em massa no mês de julho. Fizemos um ótimo trabalho na realização de um produto que atendesse a todas as exigências do mercado e agora estamos entrar na reta final.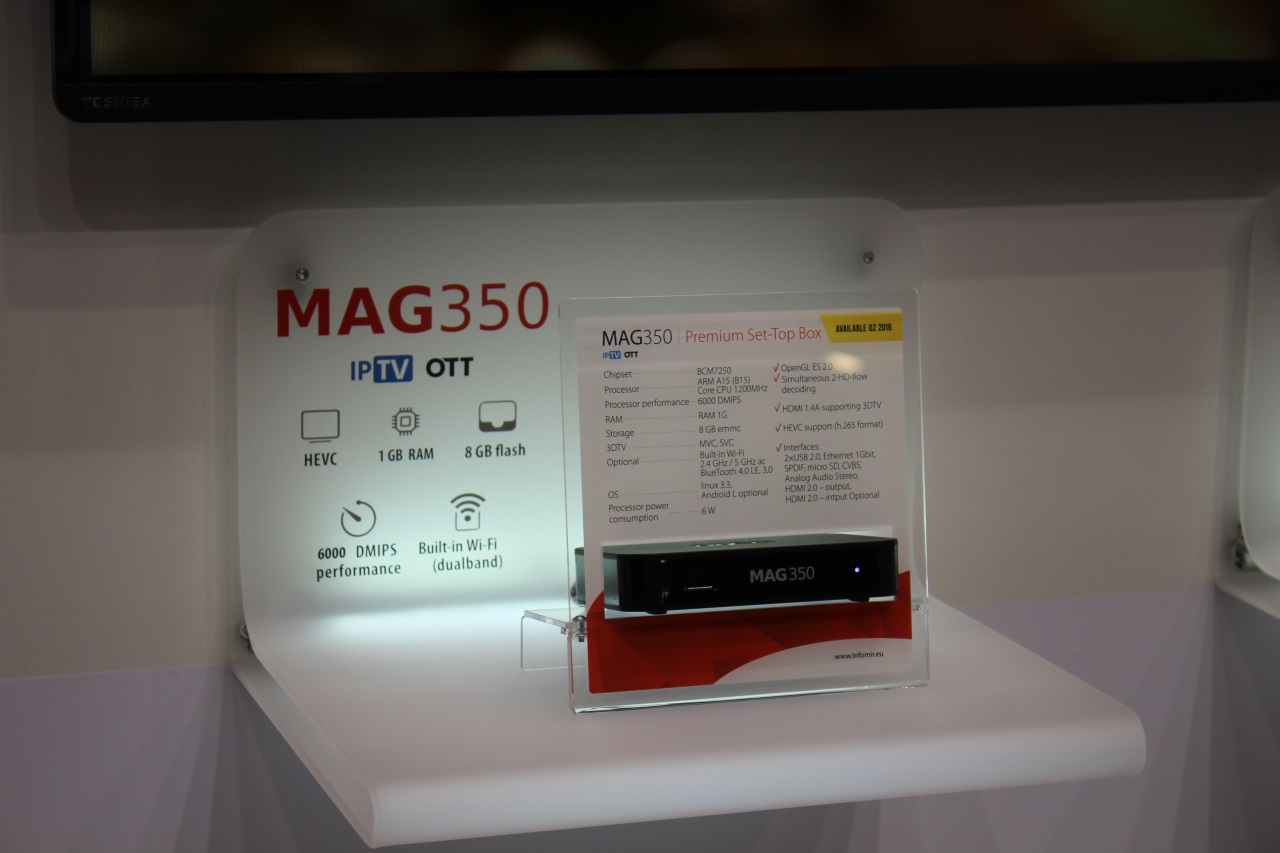 Como é que a Infomir implementou a tecnologia de múltiplos ecrãs?
Desenvolvemos aplicações especiais que permitem o uso de tecnologias de múltiplos ecrãs durante a visualização de canais. Estas aplicações funcionam com o Stalker Middleware gratuito. A versão Android já pode ser descarregada do Mercado Google Play. A versão para iOS ficará brevemente disponível.
A empresa tenciona visitar o TV Connect 2017?
Participar nesta exposição já é uma tradição para nós. Na verdade, posso já dizer que, no próximo ano, poderá encontrar-nos no stand B20.