Commercial proposition
Select the purpose of request:
Product request
You are looking for a solution:
Select an option, and we will develop the best offer
for you
Q&A: Yulia Lutsenko about exhibition TV Connect 2016 outcomes
Published on 16/05/2016
Infomir has participated at TV Connect 2016 exhibition - one of global connected entertainment industry key events. Yulia Lutsenko, Head of Marketing Department Infomir, answers the most important questions about the results of TV Connect 2016:
How would you describe the results of Infomir's participation at TV Connect 2016?


I would say that the beginning of the year has been very dynamic for us. TV Connect was the third international expo only in 2016. This event was really efficient for Infomir. We held the series of meetings with potential clients, presented a new Stalker Middleware (Ministra TV) interface along with our most recent developments, and, of course, met with our partners Beenius and SoftAtHome.
Which new arrivals were the most popular among stand visitors?
These were MAG254w1 and MAG256 Set-top boxes. And, taking into an account the number of pre-orders, we can conclude that visitors were satisfied with new models' test.
What is the reason of such interest towards these models?
They are the extension of basic models such as MAG250 and MAG254 which are well known to our clients in 115 countries. MAG254w1 is a modified version of MAG254 with a built-in Wi-Fi module. We designed it on our clients' request. MAG256 is a next stage of basic IPTV/OTT set-top boxes development. It is much more powerful than earlier models and supports HEVC video compression standard.

Many customers are interested when the long-awaited MAG 350 and MAG352 set-top box will arrive?
We're glad to say that soon their wait will be over. New MAG350 and MAG352 set-top boxes (with 4K support) will go into mass production in July. We've done a great job to make a product that would meet all the market requirements and now we're entering the home straight.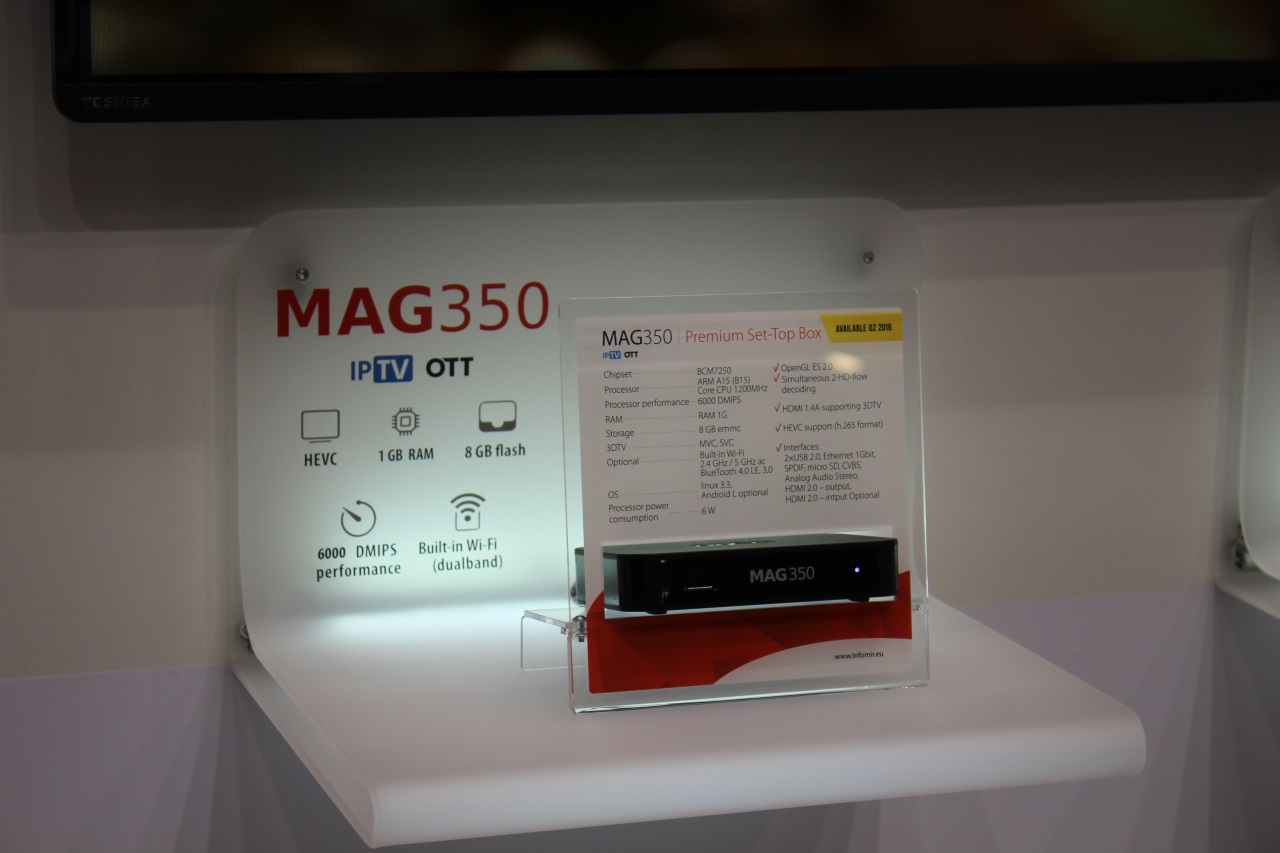 How Infomir has implemented multiscreen technology?
We've developed special applications which allow using multiscreen technologies while watching channels. These applications work with free Stalker Middleware. Android based version can already be downloaded from Google Play Market. Version for iOS will be available soon as well.
Does the company plan to visit TV Connect 2017?
Taking part in this exhibition is already a tradition for us. In fact, I can already say that next year you'll be able to find us on stand B20.