Commercial proposition
Select the purpose of request:
Product request
You are looking for a solution:
Select an option, and we will develop the best offer
for you
IBC2015 Report
Published on 28/09/2015
Infomir once again took part in annual IBC exhibition — key event for experts in creation, management and broadcasting of entertaining and informational content all around the world.
IBC was traditionally held at RAI Amsterdam conference-center. Although the location was the same, exhibition did not cease to amaze with its wide scale. About 55 000 representatives of 1700 leading companies could communicate within the one business space during 5 days.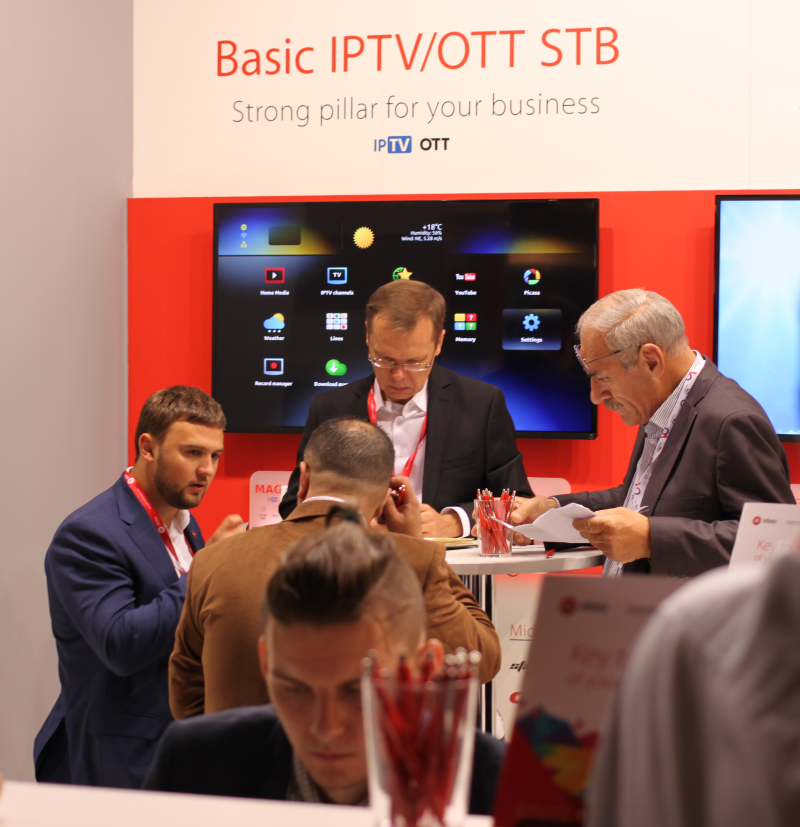 This year the attendance of the exhibition surpassed the one last year, what is an evidence of its pivot role for the professionals worldwide. We were glad to meet our partners Marvel-Distribution, Romsat, Sampro and NOVA among such a huge number of companies.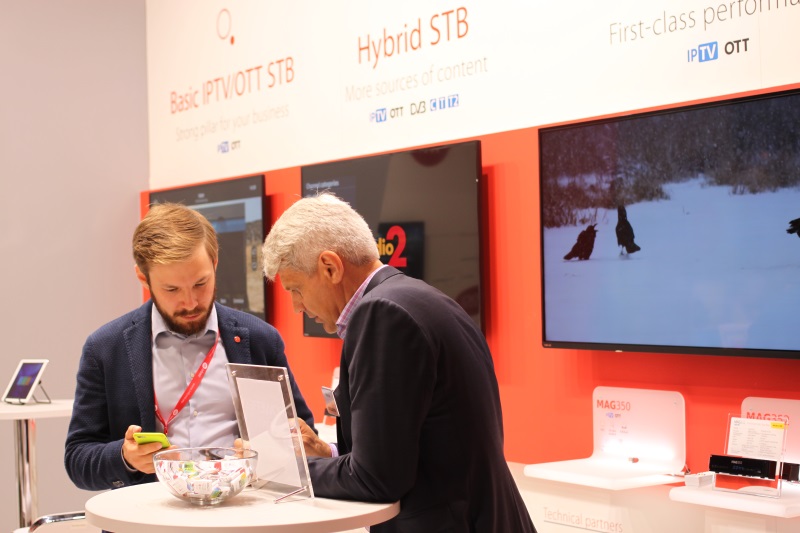 IBC is always an incredible source of inspiration for creation of new projects. Infomir had begun a partnership with SoftAtHome company to integrate the ultimate software – SOP7 – created by SoftAtHome with MAG352 Set-Top Box, equipped with super-powerful Broadcom chipset. This allowed to create a beneficial solution for 4K content provision and to expand the number of services offered by operators.
Infomir sales managers and technical specialists had multiple meetings with current and potential clients from all over the globe. Most of them came a long way to be the first to see and try our new Set-Top Boxes. For instance, our MENA region clients were pleasantly surprised to find out that Infomir had opened a subsidiary at Dubai. It allows minimizing the time spent on order processing and delivery at this region. They were also pleased to know that Infomir would participate TV Connect MENA 2015.
But the visitors of our stand were the most impressed by the latest elaborations: powerful MAG257, which is an upgraded version of MAG254, well-known STB in more than 100 countries, and the ultimate novelty – MAG352 4K HEVC set-top box with Broadcom processor, which is the first STB supporting Verimatrix VideoMarkTM content security technology.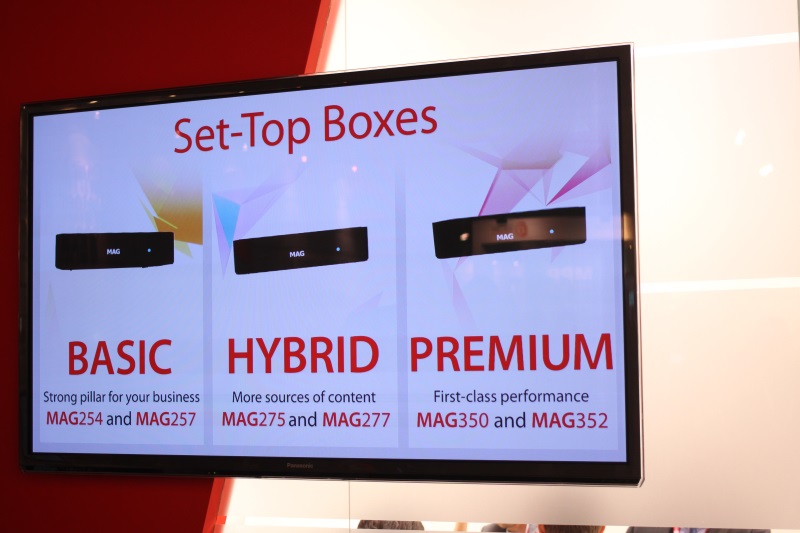 Updated Middleware Stalker (now Ministra TV platform) aroused particular interest and approval. Stand visitors relished new UI and appreciated the apps fast performance that could be obtained by using new architecture by Infomir experts. They were also amazed by the presentation of new applications catalogue, where dozens of worldwide popular video services apps could be found.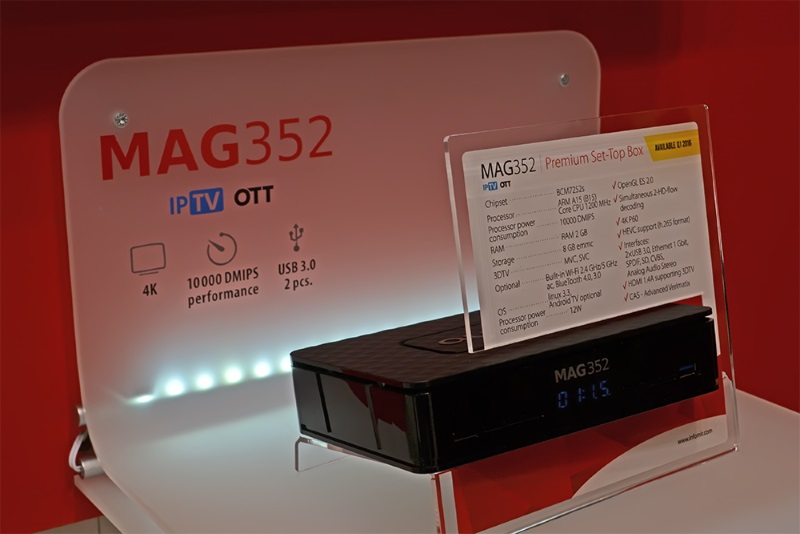 Giving the subscribers an access to applications operators will simultaneously lower the load of the infrastructure and will get an extra competitive advantage. Alongside with the Catalogue there was also presented the special package of developer's tools allowing them to create an app, which would be used by thousands of operators using Middleware Stalker, within few days term.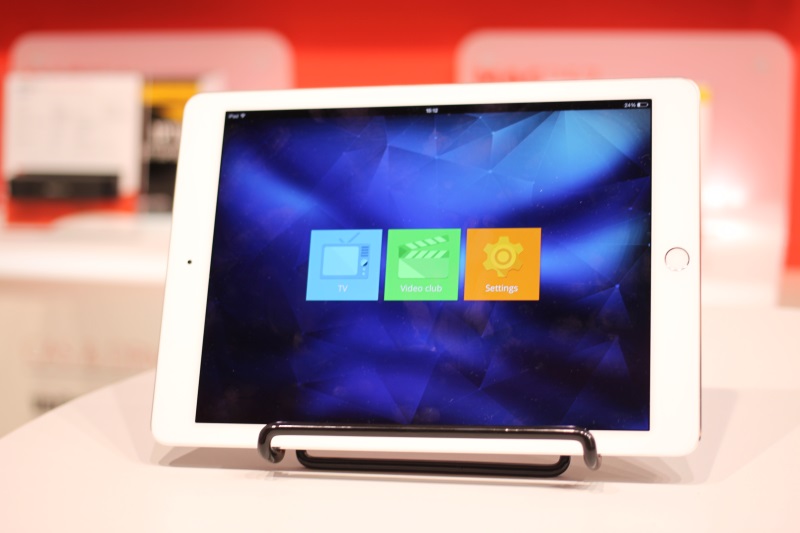 We are thankful to event organizers for a perfect occasion to showcase our novelties and favorable conditions for business communication. We are glad to acknowledge the success of IBC2015 and claim that we will surely take part in the next year event. See you at Amsterdam!