Commercial proposition
Select the purpose of request:
Whooshi Hi-Fi amplifier with sound personalization, a new product by Infomir
Published on 10/12/2018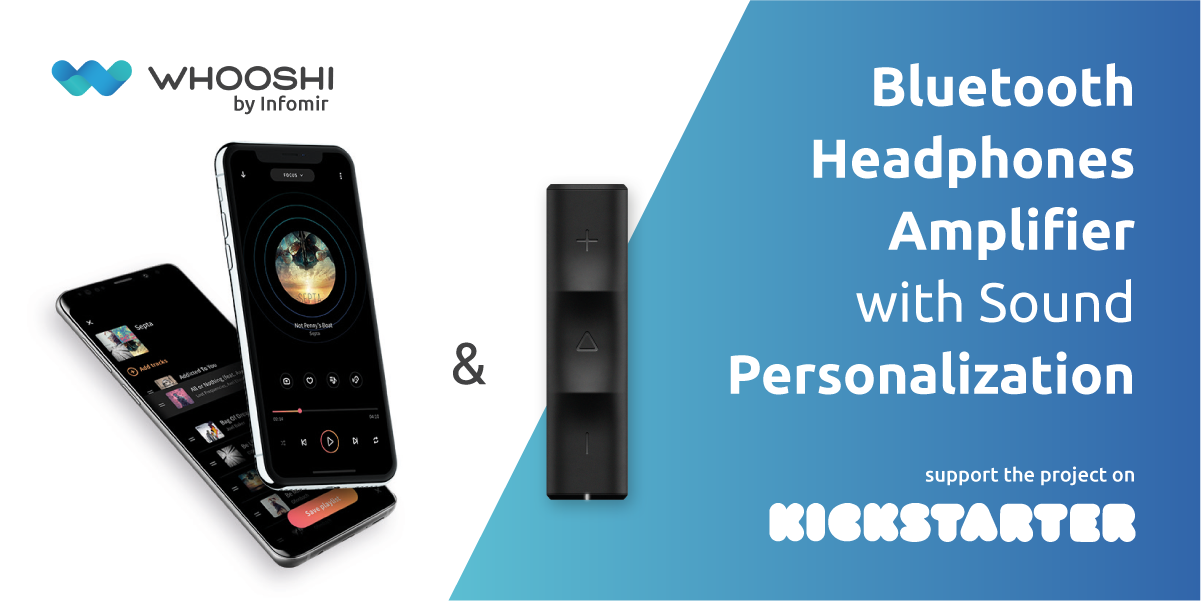 A 3.5 headphone jack is becoming increasingly rare in new smartphones, so music lovers have to compromise on sound quality and buy adapters or Bluetooth headphones. In addition, all devices have unique sound features and distort sound frequencies one way or another.
That's why the experienced Infomir team has come up with a Hi-Fi Bluetooth headphone amplifier that allows wireless transmission of high-quality audio from any smartphone, tablet, or laptop to your favorite wired headphones. And there's more. The music player app for iOS and Android tailors the sound to your ears so you can hear your music the way it was meant to be heard.
The primary goal is to make high-quality, personalized audio accessible to everyone. That's why Infomir is launching a Kickstarter campaign on November 27, 2018
Why Whooshi?
Transforms your favorite headphones from wired to wireless and improves the sound quality
Amplifies your sound with sophisticated DAC by Cirrus Logic®
Provides pure sound using wireless Qualcomm® aptX™ HD audio technology
Allows you to tailor the audio to your hearing and discover the music the way the artists intended it to sound
Transmits the music from your smartphone or laptop to any wireless device
Hands-free friendly operation allows you to make calls and control the music with one touch