Commercial proposition
Select the purpose of request:
Product request
You are looking for a solution:
Select an option, and we will develop the best offer
for you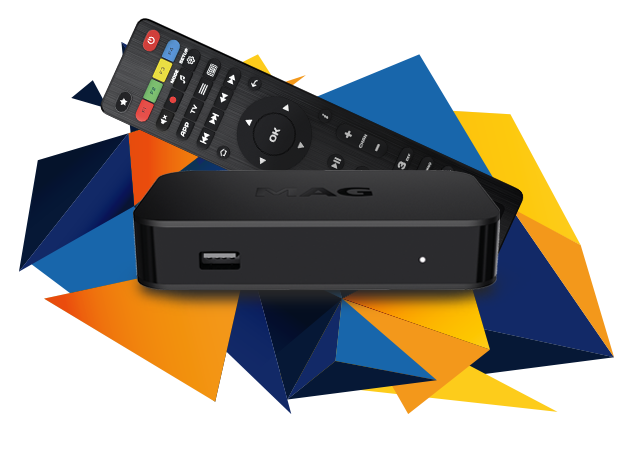 IPTV SET-TOP BOX MAG322
Meet the evolution of MAG254.

MAG322 is a powerful set-top box containing a high-performance processor on the BCM75839 chipset, and 512 MB RAM. It's the optimal solution for quick launch of your IPTV/OTT project.

The set-top box is designed to fulfill current market needs. Your customers can enjoy the highest video and sound quality with HDMI 1.4b and S/PDIF (optional) outputs. HEVC support will dramatically reduce your network load.
MAG254 and MAG322 are fully compatible with the MAG JS API
BCM75839, Linux 3.3, OpenGL ES 2.0, HEVC, 2 USB 2.0
* Covered by one or more claims of the patents listed at patentlist.hevcadvance.com
**The terms HDMI and HDMI High-Definition Multimedia Interface, and the HDMI Logo are trademarks or registered trademarks of HDMI Licensing Administrator, Inc. in the United States and other countries.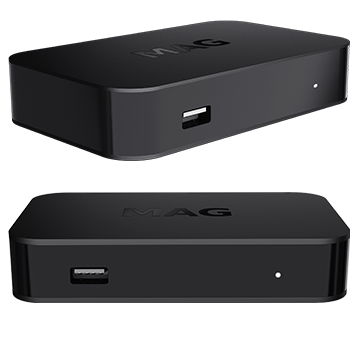 What is the difference?
MAG322
MAG322 is a unique open platform. You can make changes to our set-top box software as well as integrate it with other developers' software.
MAG322w1
MAG322w1 is a version with a built-in Wi-Fi module of 802.11 b/g/n standard. This modification enables users to establish a network connection without additional equipment.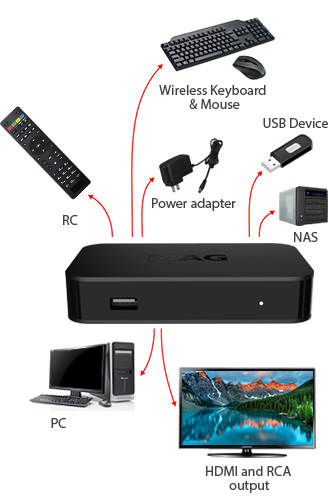 Useful Features
HEVC support
The set-top box plays the HEVC-compressed files. This means the network load will be lower, even when delivering high-quality content.
High-performance
Modern high-performance processor on the chipset BCM75839 and 512 MB RAM is good enough to playback the high-quality video.
High quality of sound and image
The audio output S/PDIF (optional) allows connecting the multichannel High-End system to the set-top box. HDMI 1.4b provides the highest quality of sound and image.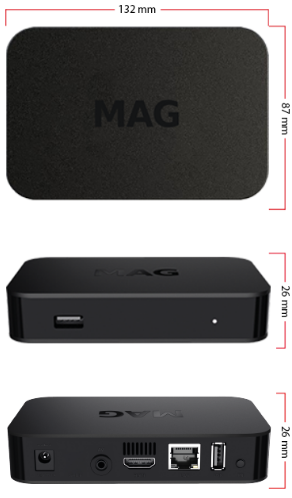 Dimensions
| | |
| --- | --- |
| Width/depth/height, mm | 132x87x26 |
| Weight, g | 144 |
Hardware
| | |
| --- | --- |
| Chipset | BCM75839 |
| Processor | MIPS 4KE Dual Core CPU 750Mhz |
| Performance | 2000 DMIPS |
| RAM | 512 MB |
| Flash memory | 512 MB |
Software
| | |
| --- | --- |
| Operating system | Linux 3.3 |
| | Built-in Media Portal with WebKit-based IPTV-functionality, HTTP 1.1, HTML 4.01 XHTML 1.0/1.1; DOM 1, 2, 3, CSS 1, 2, 3; XML 1.0, XSLT 1.0, XPath 1.0 ; SOAP 1.1; JavaScript ECMA-262, revision 5; Media JavaScript API; C layer SDK |
| Middleware supported | Ministra TV platform version 5.2.0 or higher |
Interfaces
| | |
| --- | --- |
| | Audio output S/PDIF (optional), HDMI 1.4-output, Composite + stereo A/V output, Ethernet 100 Mb/s, USB 2.0х2 |
Sources of media content
| | |
| --- | --- |
| | PC and NAS in local network, Stream media protocols (RTSP,RTP, UDP, IGMP, HTTP), USB-devices |
Audio & video
| | |
| --- | --- |
| Audio сodecs | MPEG-1 layer I/II/III, AAC-LC, HE-AAC v1, HE-AAC v2, Dolby Digital |
| Audio formats | MP3, MPA, M4A, Ogg, WAV |
| Video modes | 1080i, 1080p, 720p, 576p, PAL, NTSC |
| Video сodecs | MPEG-1/2, MPEG-4, H.264/AVC HP@L4.2, H.265/HEVC Main/Main10 @L4.1 up to 1080p at 60 fps (optional), XviD |
| Video containers | MKV, MPEG-TS, MPEG-PS, M2TS, VOB, AVI, MOV, MP4, ASF, QT |
| Image formats | JPEG, PNG, BMP |
| Subtitles | ttxt sub*, DVB, WebVtt, PGS, Ass/Ssa*, Srt*, Sub*, Closed captions |
| Playlist formats | M3U |
Standard set
MAG322

Set-Top Box, User Manual, HDMI cable, Power adapter 12V 1A, Remote control, 2 AAA batteries, Packaging