Proposición comercial
Selecciona la finalidad o petición:
Product request
You are looking for a solution:
Select an option, and we will develop the best offer
for you
Infomir presenta multiscreen Ministra TV platform en IBC
Publicado 07/09/2017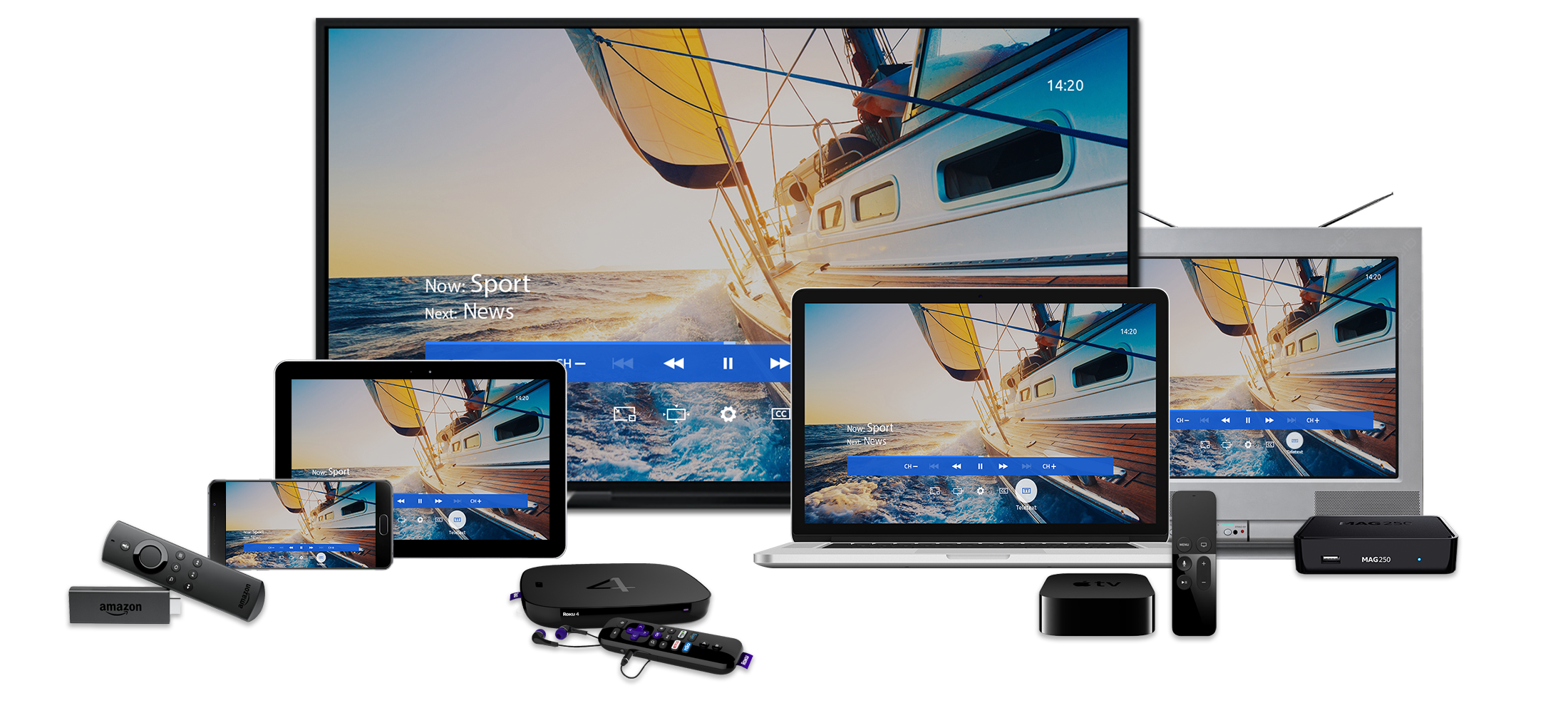 En 2007, Infomir creó software para la gestión de servicio de televisión llamado Middleware. Por 10 años, este producto ha ayudado a miles de proveedores de internet, hoteles, escuelas, universidades e instituciones médicas en 80 países a lanzar proyectos de forma rápida y sencilla basados en la serie de decodificadores MAG. Estamos orgullosos de este producto.
La demanda del consumidor hacia la TV por internet dicta las normas del mercado para la mayoría de marcas de televisión. Las ventas de Smart TVs y dispositivos de transmisión están creciendo y se espera que para finales de 2017, cada quinta familia del mundo estará viendo una smart TV conectada a un servicio IPTV.
Las ventas de dispositivos de transmisión: Roku, Google Chromecast y Amazon Fire TV han alcanzado 112 millones en los EEUU en 2017, y van ganando popularidad activamente en el mercado occidental.
Entendemos las tendencias y nos complace presentar una solución multiplataforma. Hemos trabajado muy duro para crear un producto a otro nivel de calidad con nuevas capacidades y métodos de monetización. Durante el año pasado, el producto Stalker Middleware ha cambiado su funcionalidad y su ideología.
Stalker Middleware se ha convertido en Ministra
¡Conoce Ministra!
Ministra es una plataforma de TV multipantalla para la coordinación de proyectos IPTV/OTT/VoD con una base de suscriptores de hasta 50,000 usuarios. Un atento asistente para tu servicio de TV. Con Ministra puedes ofrecer a los suscriptores televisión interactiva moderna y única.
Ministra será buena para:
Proveedores de internet
que presentan servicios de televisión interactivos modernos para aumentar el rendimiento de cada usuario unitario
Proyectos OTT
para lanzar servicios de TV interactiva en el plazo menor de tiempo y con un mínimo coste
Integradores de sistema
para lanzar proyectos que provean servicios IPTV, OTT y VoD
Lanzar un servicio de televisión basado en Ministra no requerirá de grandes gastos: la plataforma de TV está disponible gratis.
La interfaz de usuario en todos los dispositivos tiene el mismo estilo, lo que crea una ventaja adicional para los usuarios que usen al mismo tiempo más de una pantalla.
Puede solicitar la instalación y configuración del sistema «lturnkey» a los especialistas de Infomir, así como el soporte técnico con el SLA necesario.
Es una continuación de las versiones anteriores de Stalker Middleware, por lo que Ministra empieza en la versión 5.3.
A partir de hoy, las siguientes plataformas son compatibles:
— Decodificadores y dispositivos de stream: MAG, Apple TV, TV Android, Amazon Fire TV
— Smartphones y tablets: iPad, iPhone, iPod touch, Android.
— smart TV: Samsung Smart TV
Prepárate para el lanzamiento de aplicaciones para Roku, Samsung Tizen TV, LG WebOS, Mac, PC y Linux.
La primera presentación pública del producto con su nuevo nombre tendrá lugar en Ámsterdam en la exposición IBC 2017 del 15 al 19 de septiembre. Solo durante la exposición, tienes la oportunidad exclusiva de recibir un descuento del 20% al solicitar un conjunto de aplicaciones móviles personalizadas para plataformas iOS y Android. Para hacerlo, debes visitar nuestro stand en IBC y firmar una carta de intención. Puedes obtener más detalles de los representantes de Infomir en el stand.