Proposición comercial
Selecciona la finalidad o petición:
Product request
You are looking for a solution:
Select an option, and we will develop the best offer
for you
Infomir lanza orgullosa 'Ministra TV platform'
Publicado 25/10/2017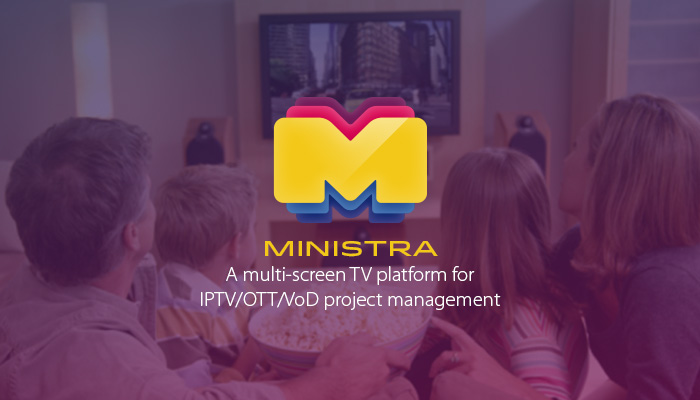 En 2007, Infomir lanzó Middleware, una aplicación de software para administrar servicios de TV. Durante el último año, Middleware ha cambiado drásticamente, tanto en diseño como en funcionalidad. Y ahora estamos orgullosos de presentar una solución multiplataforma - la nueva Ministra TV platform multipantalla. La plataforma ofrece aplicaciones de marca tanto para dispositivos móviles como para smart TVs, incluida la opción de mostrar video anuncios, la funcionalidad Picture-in-Picture (PIP), controles parentales avanzados, una nueva interfaz de usuario y mucho más:
Interfaz de usuario
Smart Launcher: la nueva arquitectura de microservicio hacen más flexibles a las actualizaciones. Para añadir nuevas funciones, simplemente puedes actualizar algunas de las aplicaciones en lugar de actualizar todo el sistema.
Más opciones para personalizar el portal.
Administración
Hemos reducido el tiempo estimado de carga de la página en un sorprendente 40% en la nueva interfaz de administrador.
Hemos añadido acciones por lotes por demanda popular.
Ahora puedes establecer las fechas de caducidad de las suscripciones y notificar automáticamente a los usuarios con antelación.
Puedes también configurar el archivo de TV para canales individuales.
Soporte de dispositivos y servicios
Ahora admitimos MAGic Cast, una extensión para Chrome y Firefox que te permite visualizar videos de sitios web en la pantalla del TV.
Recomendamos que configures y pruebe la nueva Ministra TV platform en tu equipo actual para que esté listo cuando los nuevos decodificadores MAG comiencen ser enviados.
Para solicitar la última versión, envía una solicitud de descarga desde la página del producto. Luego, sigue las instrucciones de instalación que se mostrarán. Para obtener asistencia técnica para instalar y utilizar la plataforma, envíe un email a magicsolution@infomir.com. Si tienes alguna pregunta sobre el uso de Ministra TV platform, contacta con ministra@infomir.com.