Neuigkeiten
OTT World Summit
Date 19/11/2013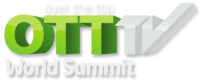 Now in its seventh year, the OTT World Summit is the major OTT focused event in the calendar. OTT World Summit is the perfect place to discuss and shape the future of the multiplatform entertainment industry.
Commercial proposition
Entschuldigung. Dieses Formular ist nur in Englisch verfügbar.
Bitte,schreiben Sie in Englisch.