Commercial proposition
Select the purpose of request:
Product request
You are looking for a solution:
Select an option, and we will develop the best offer
for you
Android TV: The Era Of Open Platforms

Can a local IPTV/OTT operator build an internationally recognised service? How can they compete with giants who invest millions of dollars in development? Android TV™ can help.
Android TV is an open platform with built-in Google services. This is an operating system for premium set-top boxes and smart TVs. The solution is being improved but will remain free.
Android TV history
In 2010, Google Inc., in conjunction with Intel, Sony, and Logitech, released Google TV, an interactive platform for smart TV. This solution ran Android OS with an integrated Chrome browser. In 2014, its Android 5.0 Lollipop-operating successor, Android TV, appeared. Nexus Player, created by Google in partnership with Asus, became the first device operating on the new platform. In May 2015, the Nvidia Shield set-top box was released.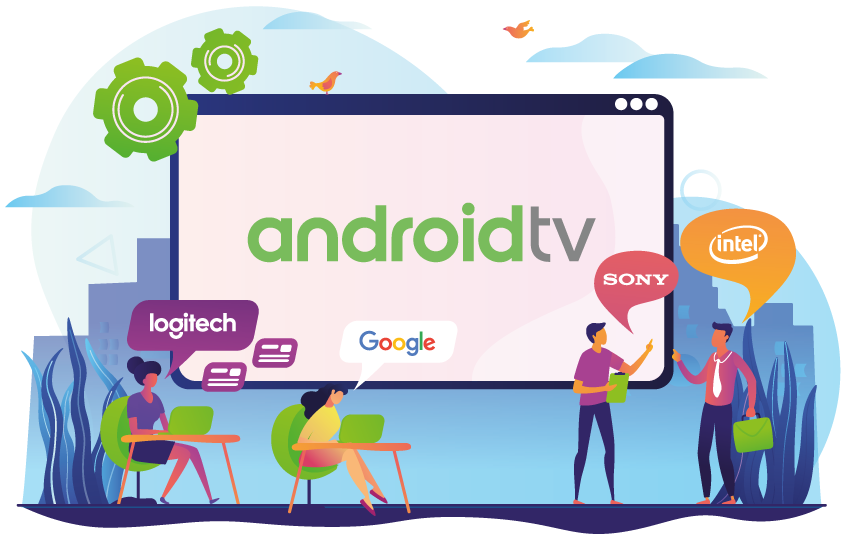 With the advent of Android TV 6.0, more and more manufacturers began to produce set-top boxes and smart TVs based on the new OS. Android TV 6.0 offered out-of-the-box voice control, built-in PVR and PiP (picture in picture) functions, as well as an elaborate Leanback library that allowed operators to change the user interface.
Channel API and the TIF framework allowed developers to display content from apps directly on the Android TV start screen. Users were able to search for content in all of their apps at once.
Android TV: statistics and prospects
More than half a million Android TV devices are sold every month. According to the S&P Global Market Intelligence forecast, more than 40.1 million devices will be sold in 2021, 27 million of which will be smart TVs and 11.9 million of which will be set-top boxes.

Prospects for Android TV involve smart TVs as well. According to Strategy Analytics, in 2018, 157 million smart TVs were sold, and every tenth unit ran Android TV. The platform's main competitor is Tizen OS from Samsung: it occupies 20% of the market (with 32 million devices sold in 2018). If we consider the sales of AOSP-operating smart TVs, we can see that the market leader is Android.
Differences between the Android TV, AOSP, and Android TV Operator Tier
| | |
| --- | --- |
| | Android Open Source Project (AOSP) is an Android version that lacks access to Google services. Manufacturers of smart TVs and set-top boxes can change and modernise the solution as they desire, so it is large companies that choose it more often. Their resources allow them to develop apps and implement new features themselves. |
| | Android TV is a comprehensive solution for smart TVs and premium set-top boxes. The system offers out-of-the-box voice control, personal recommendations, PVR, a store with more than 5000 games and apps, access to streaming services, and much more. To release a device for Android TV, manufacturers undergo mandatory Google certification. |
| | The Android TV Operator Tier is a solution for operators that allows them to brand the user interface, change the boot screen, and manage user accounts, security, analytics, and billing. It helps IPTV/OTT operators save on OS development and updates, while offering access to many features and regular updates. |
Android TV devices are available in retail stores. Android TV set-top boxes and TVs are not dependent on the operator and can operate on any network.
Google reported at the Connected TV World Summit in London that by March 2019, Android TV would be used by 140 IPTV/OTT operators. This number has increased by more than seventeen times in the past three years.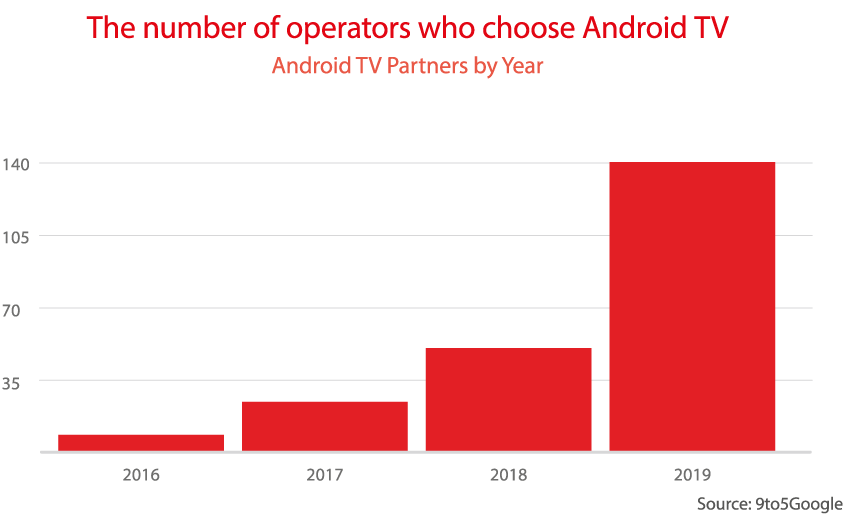 Operator Tier is a fast and cost-effective way to enter the market, but Google does not offer turnkey solutions.
'Is Android TV sufficient to launch a Pay TV service? Absolutely not, Android TV only offers the middleware sitting on the box, but the entire back end (Service Delivery Platform, Head End) has to be developed and no standard offering exists today from Google'.

Brian Jentz, Senior Director of Product Management, Technicolor
Advantages of Android TV
Relevant solution
● More than 5000 games and apps are available to users
● Regular security updates and new features

More possibilities
● Home security, IoT, VR, and much more

Savings
● Lower OS support costs
● Developing apps for the Android TV ecosystem is cheaper than developing them for proprietary operating systems.

Premium UI/UX
● Google has invested years into the development of a convenient UI/UX, in order to make it accessible to each operator.
Is Google in control?
Operators fully control their own set-top boxes and smart TVs. However, Google sets some requirements, for example, mandatory updates every ninety days.
The corporation collects only data to display as customised ads. IPTV/OTT service statistics and viewers' personal data are secure. Users can install apps that collect more data, but neither Google nor the operator can influence this.
| | |
| --- | --- |
| | One of Android TV's security measures is Widevine DRM support. The system encrypts the content so that only an authorised user can play it. The solution supports more than a billion devices: smart TVs, set-top boxes, smartphones, game consoles, and tablets. To minimise the risk of piracy and cyberattacks, some operators integrate third-party security systems into Android TV. |
The battle for HDMI 1
Android TV does not restrict access to Google Play. For this reason, the Android system remains free—Google makes money on an ecosystem of apps. Some companies choose AOSP, where the app store is under their complete control.
Operators who have chosen Android TV have accepted the viewer's freedom. By allowing the installation of competing apps, the service provider retains control over the HDMI 1 port and the main place in the search results. To subscribe to Netflix, the viewer doesn't need a third-party device capable of supplanting the operator's device in the future.

The era of open platforms
IPTV/OTT operators may abandon proprietary solutions in favour of open platforms in the coming decade. Companies will rely on Android TV or similar solutions, such as RDC from Comcast or Frog from the French company WyPlay. At the same time, set-top boxes with proprietary operating systems will dominate in undeveloped markets, where reliable broadband connections are not available to viewers.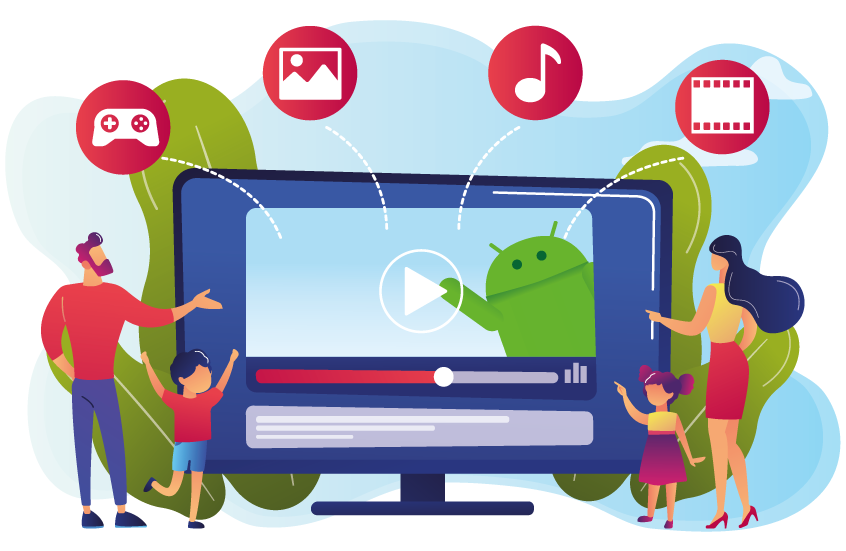 With Android TV, local IPTV/OTT operators build premium-level services and compete with companies that invest millions of dollars into research and development. Larger operators also appreciate the system's advantages are because in an international battle for viewers' attention, they need platforms with great potential. One of them is Android TV.
*Google, Android, Google Play, Android TV and other marks are trademarks of Google LLC.
Recommended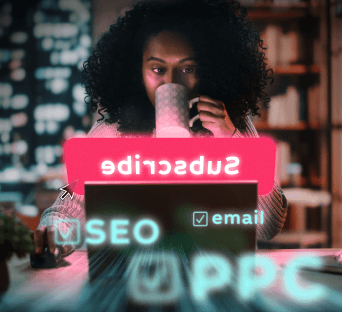 Technology provides entrepreneurs access to information from multiple sources: social media, the Internet, or databases. Combined with software, it helps them take into account numerous indicators and trends. All of this can be used to make your business grow.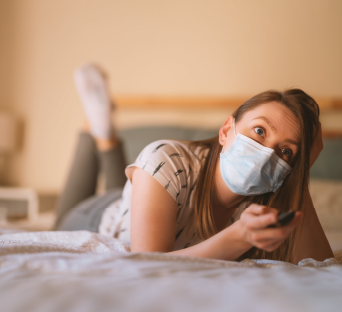 Two years of the COVID-19 pandemic have dramatically changed the paid TV market.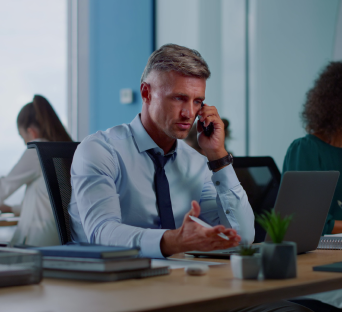 Adapting to consumers' demands is crucial for operators who want to remain relevant and sought-after.