Commercial proposition
Select the purpose of request:
Product request
You are looking for a solution:
Select an option, and we will develop the best offer
for you
Two years of COVID-19: what happened to the TV market?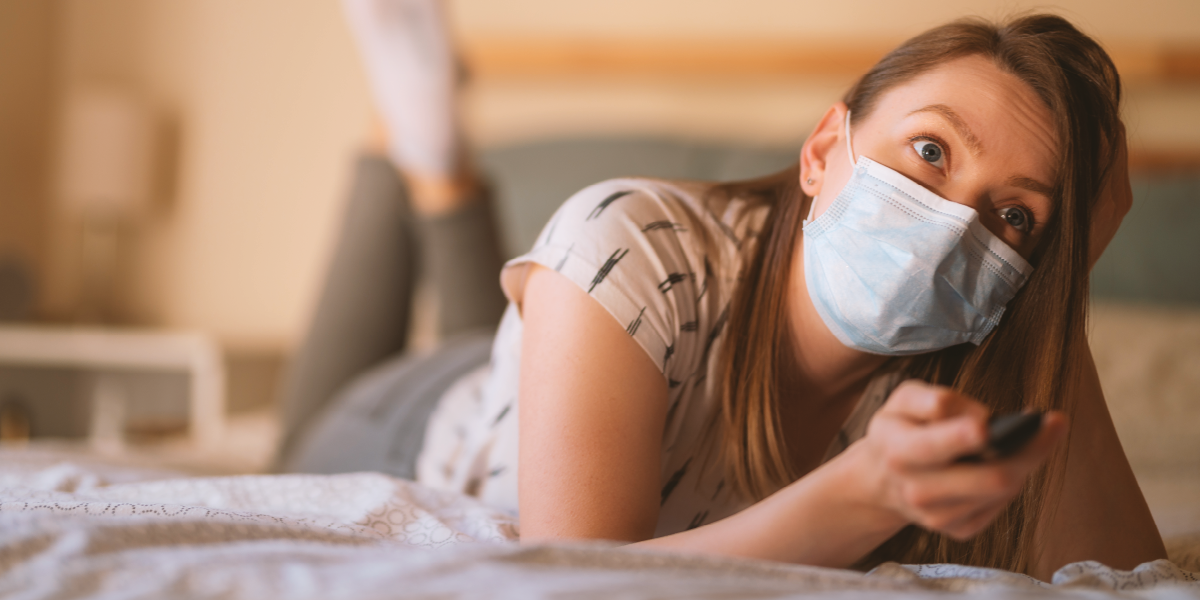 Two years of the COVID-19 pandemic have dramatically changed the paid TV market. Viewers now prefer comedies and watch increasingly more video-on-demand, while the number of new subscriptions to SVoD services is skyrocketing. But some things haven't changed: Netflix is still the top streaming project, and IPTV stays ahead of satellite and cable TV. So, let's take a closer look at how the last two years have impacted the industry.
Comedy became the most popular genre
Many viewers changed their preferences during the first lockdown in the winter of 2020. For example, British people mostly watched news and weather forecasts, and demand for this type of content grew almost twofold after the start of the pandemic. Entertainment shows and dramas also became more popular since there were noticeably fewer sports broadcasts on TV.
Meanwhile, the USA saw a 20% increase in animation views, 16% in family shows, 15% in religious programs, and 10% in fantasy and sci-fi. Conversely, the proportion of horror, historical, documentary, and war shows in total views decreased.
As of February 2021, comedy, animation, drama, action, thriller, and romance were the most popular movie genres on Netflix. With respect to series genres, drama, documentary, comedy, animation, and reality shows were the most popular.
Comedies became popular not only in the USA but also around the world. An average British family with a Netflix subscription watched comedy content for 57 minutes per day on average in Q1 2021, 78% more than the previous year. Similarly, the proportion of comedy views on Netflix reached 50% in all countries.
Trends were similar to linear TV. In 2022, American viewers were mostly watching comedies, dramas, documentaries, news, and thrillers. Sports, cartoons and anime, horror, and reality shows are also in the top 10.
The content watched on Netflix in the UK (Q1 2021)

The content watched on linear TV in the USA (2022)

What devices is content most often viewed on?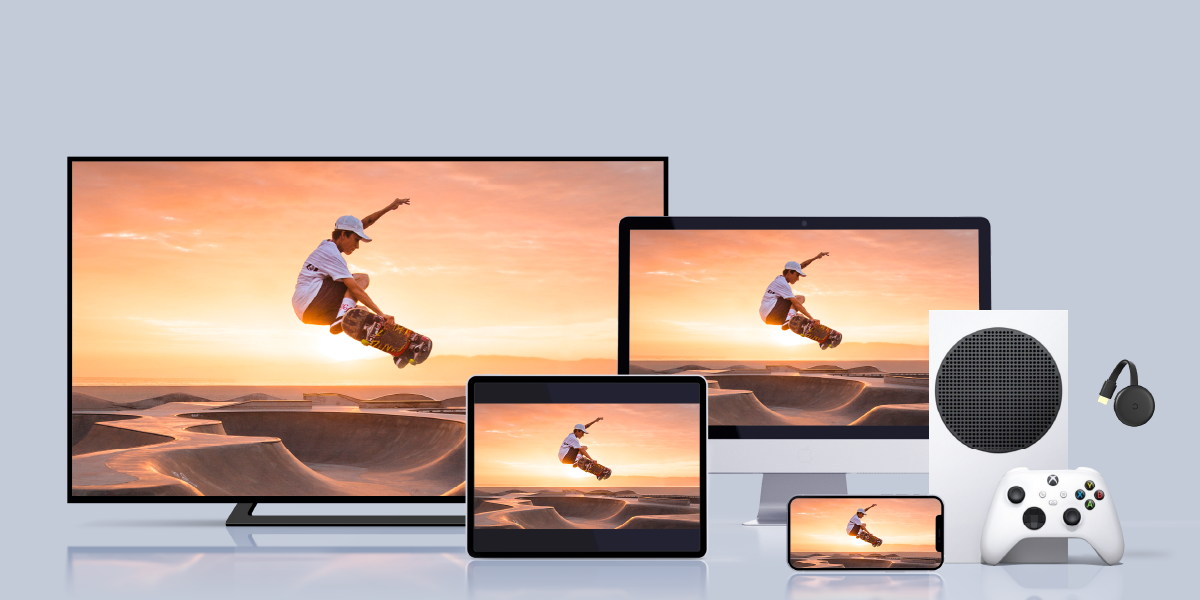 British viewers mostly watch streaming content on smart TVs, using set-top boxes, dongles, computers, phones, gaming consoles, and tablets less often.
Popular streaming devices in the UK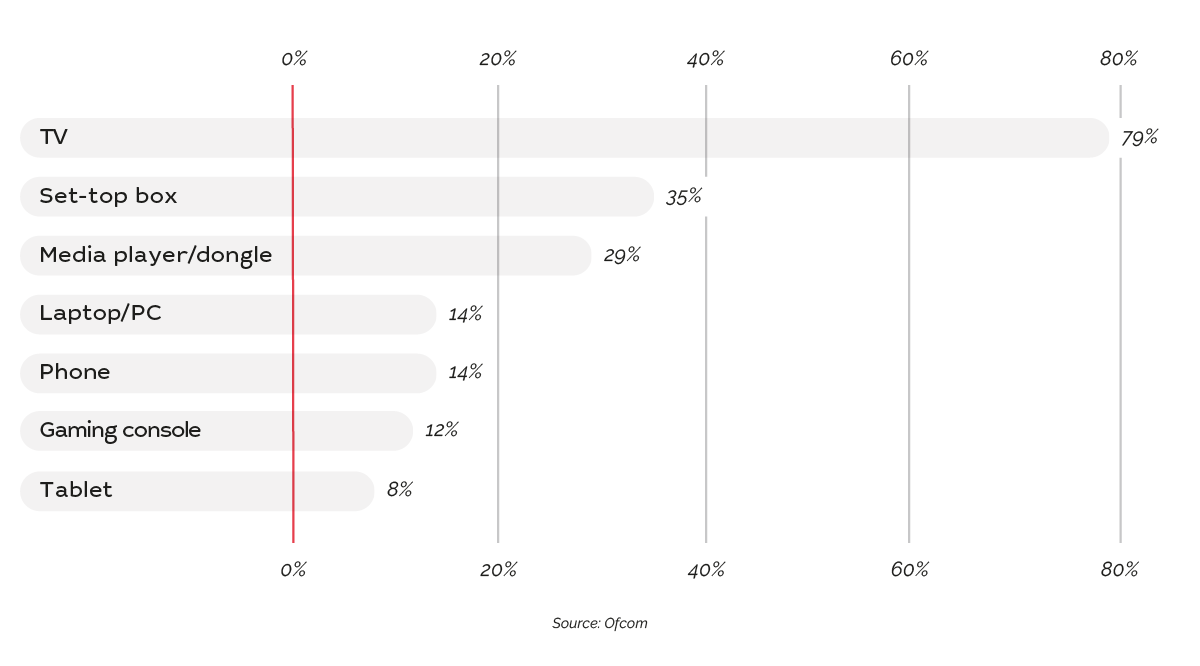 Americans spend less time watching TV. Between 2018 and 2020, the average adult in the USA increasingly played on gaming consoles. Furthermore, many used multiple devices, such as a phone and TV, simultaneously.
Hours per day users spend on different devices (US)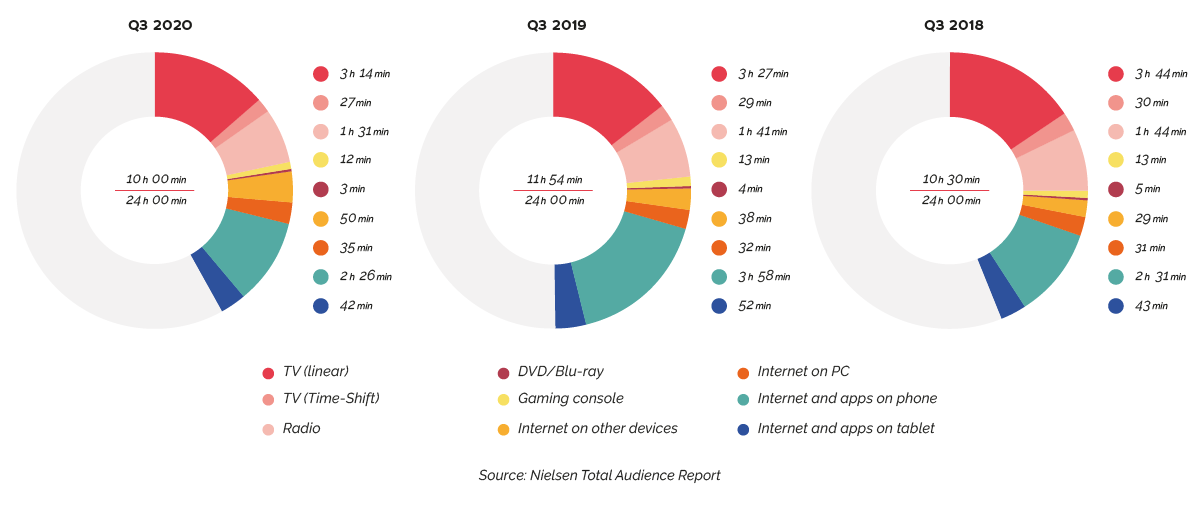 Every day, users watched four hours of linear TV and up to one hour of content on streaming devices and DVDs. However, Americans spent the least time watching video on PCs and tablets (around 8–12 minutes per day).
Daily video viewing time on different devices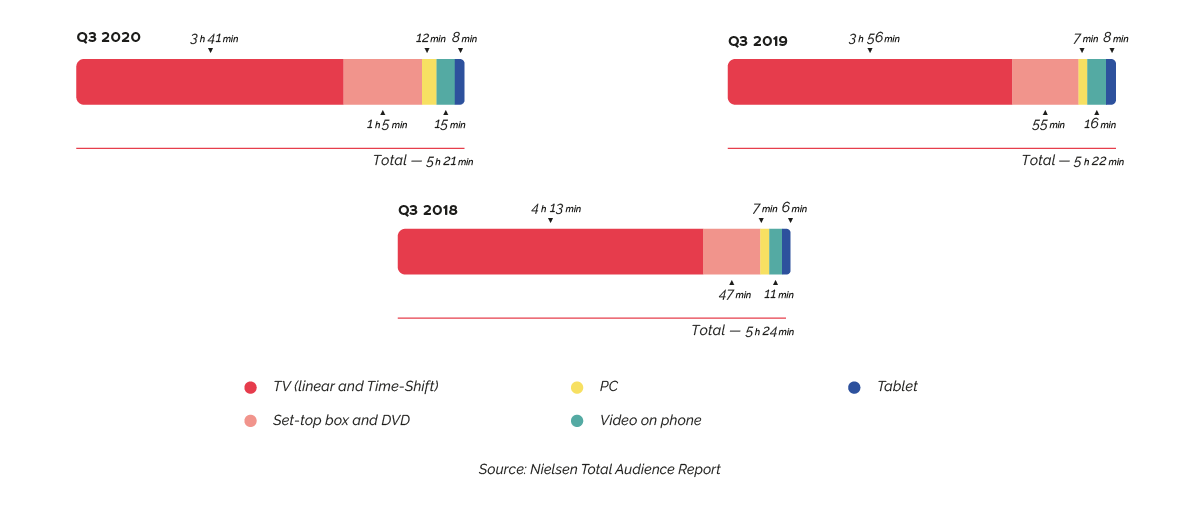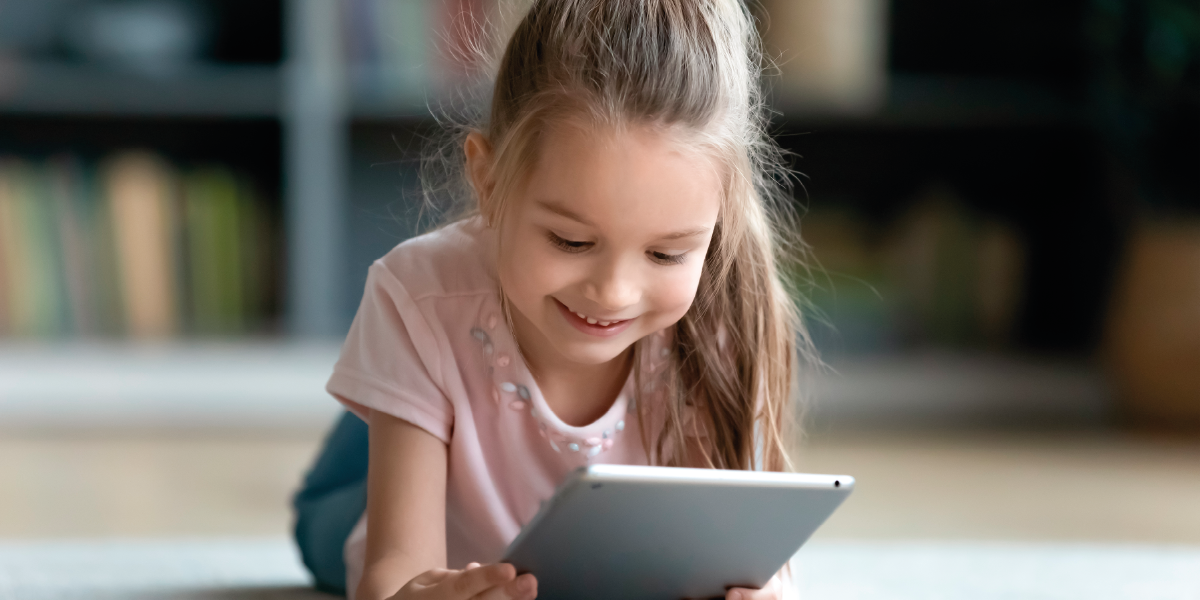 Young viewers rarely watch linear TV
Due to quarantine restrictions in April 2020, British people aged 16 to 34 spent two more hours watching content than a year before: 6.5 hours on average per viewer. At the same time, young people more often chose YouTube over linear TV, watching 1.5 hours of videos and 1.25 hours of content on TV channels.
Research by Nielsen shows that linear TV is mostly watched by the audience aged 65+, whereas people under 34 watch it the least. Instead, young people spend time using their phones, albeit 1.5 times less often in 2020 compared to 2019.
Time spent using different devices

SVoD and BVoD services gain more viewers
Even though quarantine was keeping streaming giants from shooting original content, SVoD services gained more than 300 million subscribers in 2020, increasing their audience to 1.2 billion. Experts believe that was due to the COVID-19 pandemic, original content from streaming giants, and increased average Internet connection speeds.
By the end of 2020, 17 million families in the UK signed up for at least one SVoD service, showing a 2.7 million increase over the year. Additionally, almost 70% of households that were subscribed to cable or other types of paid TV also decided to pay for streaming content.
According to Ofcom, almost half of British people watch movies and series mostly on streaming services, and 42% of SVoD subscribers think they'll stop watching regular channels in five years. Still, it takes more time for users in the UK to abandon traditional subscriptions compared to those in the USA.
BVoD projects, which are similar to advertising AVoD services but run by cable or satellite operators, are also popular. They have less content than streaming services, but movies and series become available at the same time they're premiered on TV.
Proportion of British families subscribed to SVoD and BVoD services

The last two years also became profitable for European AVoD services—the market grew, but the lion's share of profits went to YouTube and BVoD projects. According to Dataxis, only 15 out of 125 European AVoD services had revenue per subscriber above EUR 1 in H1 2021.
Netflix remained the most popular SVoD service in the world
In Q4 2020, Netflix was still the leading SVoD service with 203.7 million subscribers. It was followed by Amazon Prime Video, Tencent Video, iQIYI, Disney+, and Youku.
Streaming services' audience (Q4 2020)
At the end of 2021, while Netflix was still the most popular streaming service, it did lose positions to its rivals in half of the countries. For example, users in India and the USA more often watched Amazon Prime Video, while iQIYI was the most popular in China and HBO Max in Australia.
Most popular streaming services by country (2021)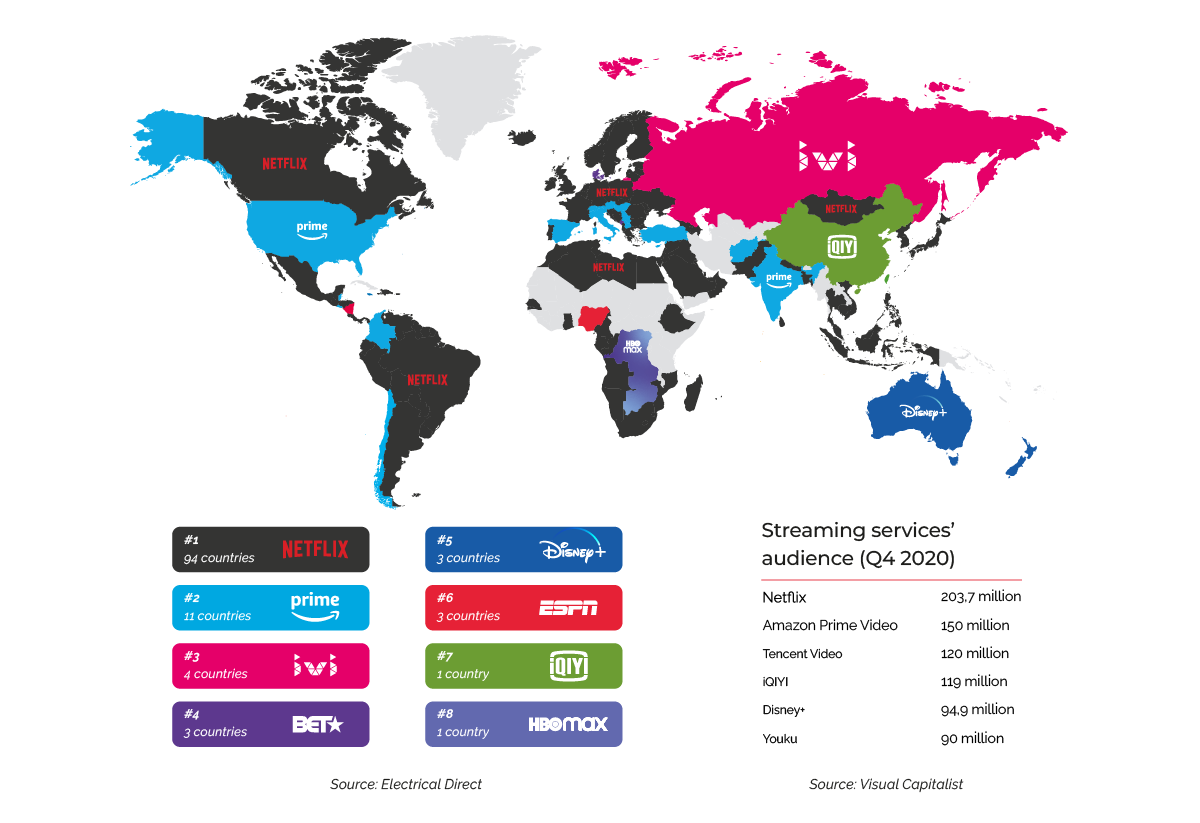 Video-on-demand is more popular than linear TV
In 2020, Video-on-demand (VoD) overtook linear TV in Europe for the first time in history. VoD accounted for more than half of viewing time at the start of summer, with subscribers watching 23% more streaming content compared to January 2020.
VoD popularity in Europe (2020)
The popularity of linear TV also shrank in the USA. In 2017, 83% of viewers watched TV channels at least once per week, whereas the share fell to 61% in 2021. Instead, 77% of the audience watched movies or series on streaming services.
IPTV will beat cable and satellite TV by 2026
The pandemic harmed traditional satellite and cable operators as 6 million families terminated their subscriptions in the USA alone in 2020. Over 31 million households no longer watch cable or satellite TV there. According to eMarketer's forecast, these households will increase to 46.6 million by 2024, which accounts for one-third of all families in the country.
How many Americans abandoned cable and satellite TV (2019–2024)

Digital TV Research forecast that IPTV services will hit almost 400 million subscribers by 2026, gaining 63 million new subscribers over the next few years. The main reason is the increasing popularity of IPTV in India and China.
Two years of the pandemic have changed the TV industry without harming local IPTV/OTT operators and streaming giants. Everyone has to adapt to the new reality where video-on-demand and multiscreen prevail, but it also gives companies new opportunities.
Recommended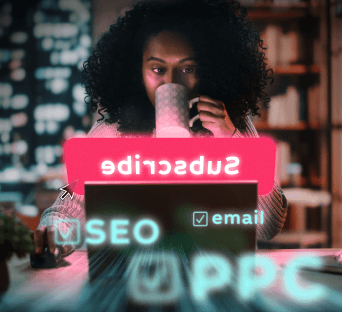 Technology provides entrepreneurs access to information from multiple sources: social media, the Internet, or databases. Combined with software, it helps them take into account numerous indicators and trends. All of this can be used to make your business grow.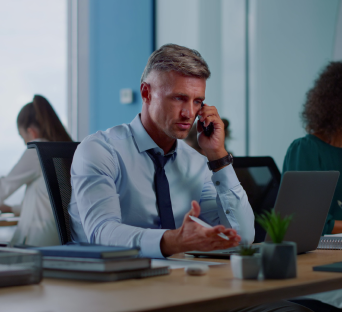 Adapting to consumers' demands is crucial for operators who want to remain relevant and sought-after.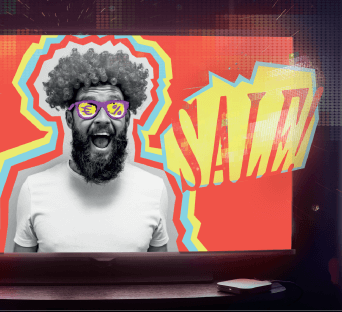 Video service users are getting increasingly intolerant of ads