Commercial proposition
Select the purpose of request:
Product request
You are looking for a solution:
Select an option, and we will develop the best offer
for you
Infomir at CES 2019: the sound personalisation secret
Published on 01/03/2019
Infomir's new start-up introduces a new audio concept at the world's largest consumer electronics exhibition. Whooshi is a hi-fi Bluetooth amplifier that features sound personalisation.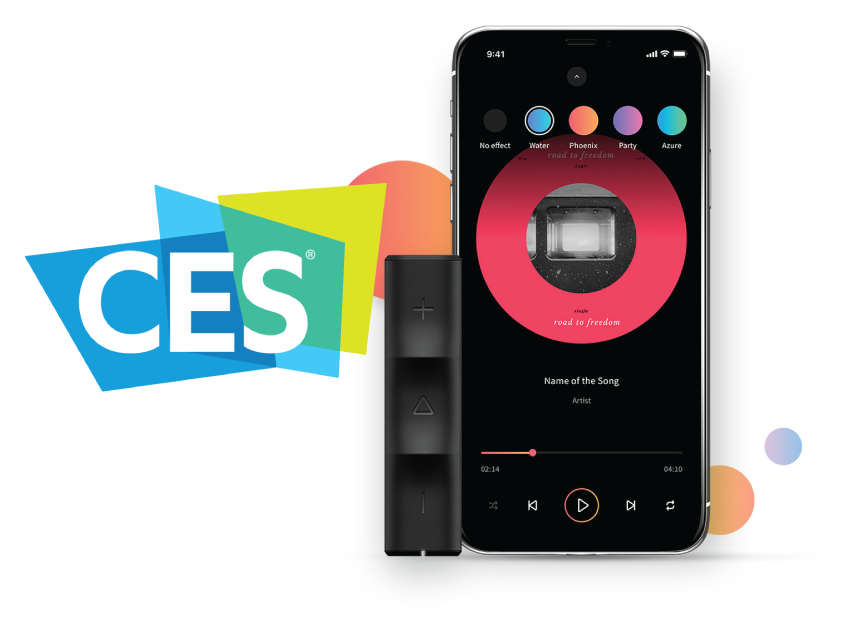 From 8-11 January, innovators participating as exhibitors, speakers, sponsors, and visitors gathered in Las Vegas for CES 2019, the world's largest consumer electronics exhibition. Every year, the four-day event serves as a launchpad for both technology giants and innovative start-ups who come to showcase their latest products.
At CES, manufacturers, developers, and suppliers are able to connect with buyers, partners, investors, and other technology lovers. The latest technologies from every sphere – products with world-changing potential – are showcased here: smart home applications, security solutions, drones, audio and transport systems, 3D printing solutions and virtual reality devices.
CES attracts top tech people from around the world. Visitors from more than 150 countries attend the event. Everyone from Fortune 500 management, manufacturers, acquisition managers, and retailers to entertainment reps, tech journalists and content creators can be found at CES. Engineers, public servants, marketers, and financial analysts, from all parts of the globe attendance the event.
Infomir at CES 2019
Infomir arrived at CES 2019 with a new product—Whooshi, a portable hi-fi headphone amplifier that features sound personalisation.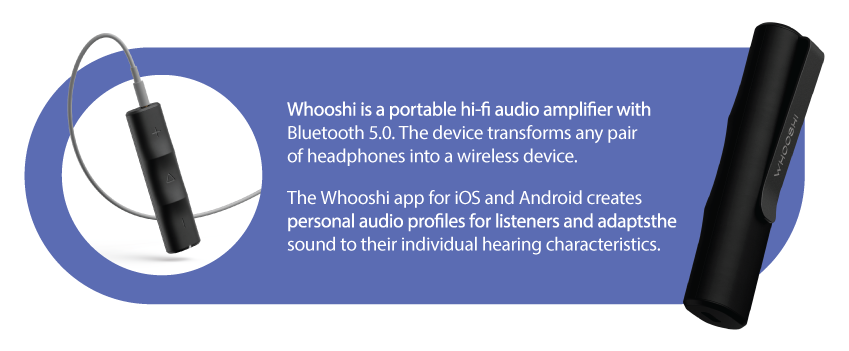 Infomir's goal in attending CES was to draw media attention to their new product, gather feedback, and find potential partners. It was an amazing experience to present Whooshi for the first time at an event of this magnitude.
Taking part in the exhibition enabled the Whooshi team to meet with end users and the media, and connect with wholesale distributors and reps from large retailers. Visitors were able to test out working prototypes of the device, which introduced them to the product's impressive functionality.
Whooshi personalises your music experience on any device
The engineers at Whooshi want to make high-quality sound accessible to everyone.
The 3.5 mm headphone jack is becoming an increasingly rare feature in smartphones, and as a result, audiophiles are turning to Bluetooth devices. But there's an important drawback associated with most of them—poor sound quality.

In solve this problem, Infomir created its hi-fi Bluetooth amplifier. Whooshi can wirelessly transmit high-quality audio from your smartphone, tablet, or laptop to any set of wired headphones or audio system.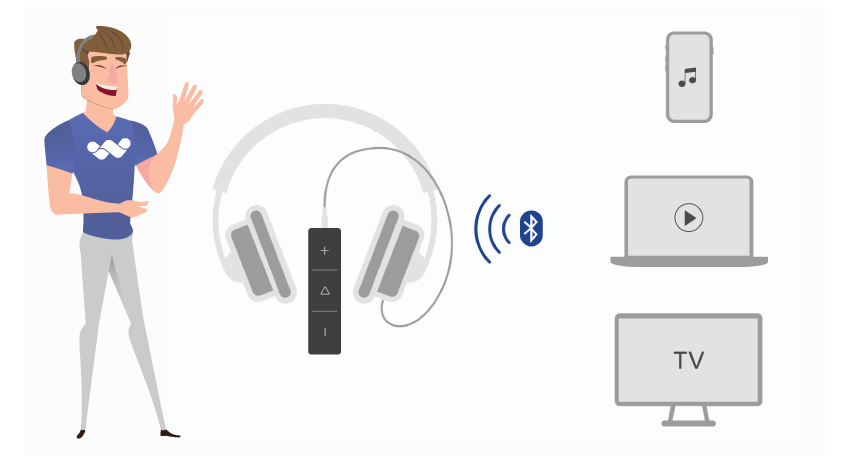 And there's still more. The Whooshi app for iOS and Android can create individual listener profiles to personalise the sound experience. Listeners can hear the music as it was recorded in the studio.
Hi-fi sound quality
Whooshi relies on Qualcomm® aptX™ HD technology. Its advanced Bluetooth codec accepts a 48 kHz / 24-bit audio signal while maintaining the sound quality at the original level. For those with iOS devices, Whooshi also supports the AAC codec.
Whooshi is equipped with an advanced 384 kHz / 32-bit Cirrus Logic® digital-to-analogue converter with an integrated amplifier. The DAC provides excellent sound quality on a variety of headphones.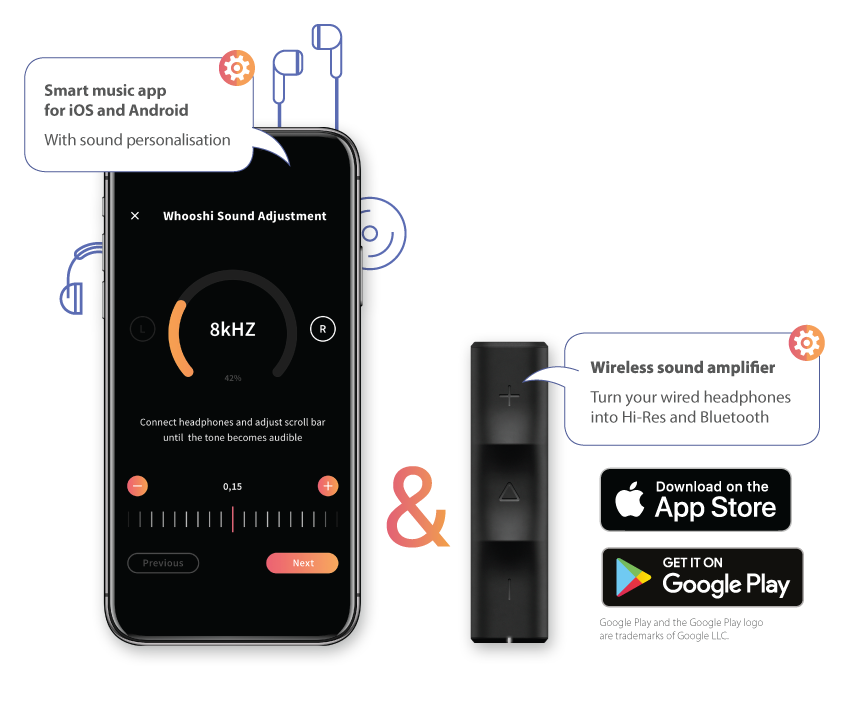 Sound personalisation
The Whooshi app adjusts to the device you're using in addition to your individual hearing characteristics to provide you with a personalised sound experience.
Users can create their own personal audio profiles easily with the help of a special algorithm that adjusts the sound to the listener's hearing and the device combination being used (smartphone + headphones). You no longer have to make your music louder to hear it better.
Whooshi's key features
Whooshi transforms your favourite wired headphones into wireless ones
A DAC from Cirrus Logic® helps to reinforces the sound
Whooshi provides the clearest sound possible with the help of Qualcomm® aptX™ HD wireless technology
Whooshi personalises your listening experience: you can hear your music as it was recorded in the studio
You can transmit music wirelessly from a smartphone or laptop to any audio system
Whooshi allows you to manage your music and make calls with just one click
How we got the idea for Whooshi
Whooshi's mission is to personalise audio for individual listeners. The Whooshi team developed the concept in response to a simple question: what modern audio solution do users need? The goal in creating Whooshi was to generate a technological, but practically realisable project.
The Whooshi team believes that wireless sound transmission is the future of audio, so its first offering, Whooshi, is a Bluetooth amplifier with personalised sound. No comparable solutions are available on the market that combine both approaches.
'Ears are unique to each listener. We all hear sounds differently. If the lenses on your glasses are tailored to your personal vision, why not apply the same approach to sound? It's like a pair of glasses for your ears.'

Denys Popov, Whooshi Product Manager

It only took the Whooshi team one year to go from the initial concept to the finished product. Sound experts of all kinds contributed to Whooshi's design. The company worked with sound engineers and musicians in producing the device, and they consulted with other audio experts as well, including a professional audiologist and an expert in psychoacoustics.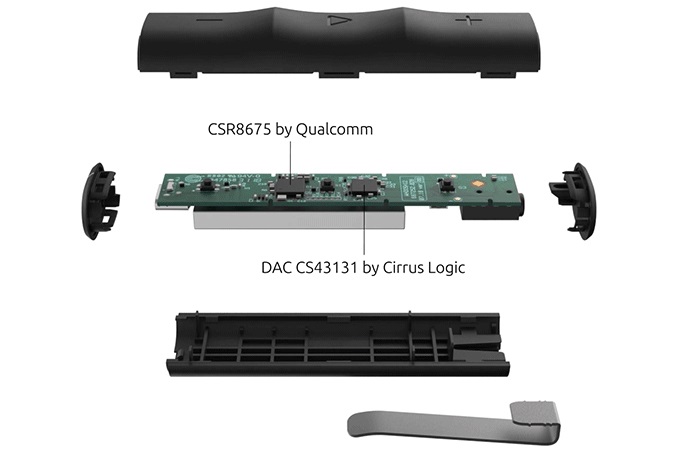 The hardware and software components were developed by Infomir's best technical specialists. The company has been creating high-tech products for over 20 years that can be found in more than 150 countries.
The secret to success on Kickstarter
The Whooshi team's crowdfunding campaign was launched on Kickstarter on November 26, 2018. The 35-day fundraiser operated according to the 'all-or-nothing' scheme, meaning that any money raised would be returned to sponsors at the end of the campaign if the $10,000 target was not met. But sponsors contributed three times the amount to fund the project, and the money is being used to launch production.
| | |
| --- | --- |
| Whooshi's retail price is USD$100, but the first 200 Kickstarter bakers received a 50% discount on the product's purchase price. | |
'There are only two components of success on Kickstarter: a good product and good marketing. As soon as one of these elements is removed, it's impossible to get results. We raised three times more than we expected. This shows that Whooshi is in demand. Moreover, we received a lot of comments with suggestions for adding functionality.'

Denys Popov, Whooshi Product Manager
| | |
| --- | --- |
| Production of Whooshi will take place in Infomir's existing facilities, which are outfitted with modern equipment and staffed with highly qualified specialists to ensure that Whooshi is built to European quality standards. | |

Whooshi will begin shipping in April 2019, and our Kickstarter bakers will be among the first to get their devices.
'We singled out the audience most interested in Whooshi. The target markets for the device are the United States, the United Kingdom, South Korea, Thailand, and Japan — all countries with well-developed gadget cultures. The inhabitants of these countries love music and high-quality sound.'

Igor Oklander, Head of Marketing at Infomir
Whooshi at CES 2019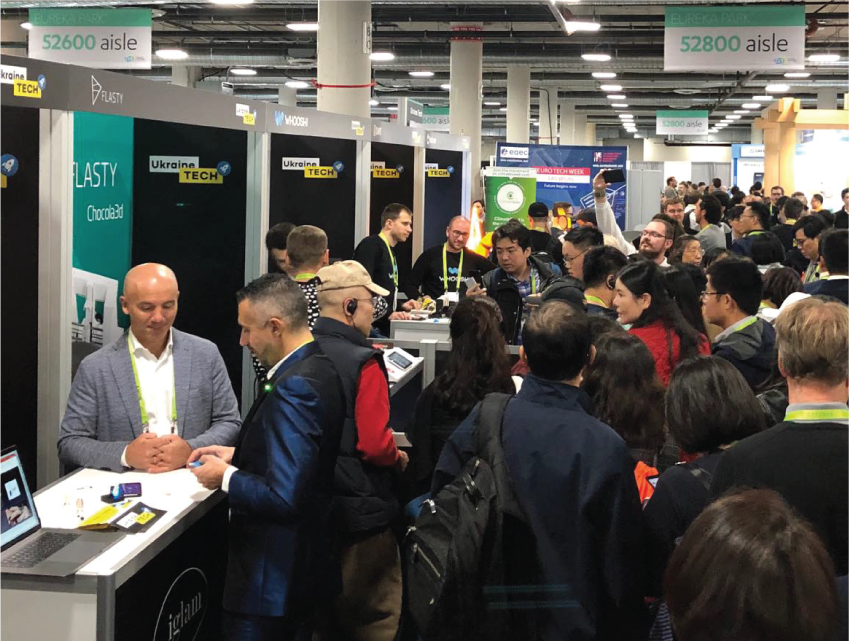 CES 2019 was divided into twenty-four thematic zones that spanned several showrooms in venues across Las Vegas. Whooshi's stand was located in the Eureka Park zone with seven other start-ups in the Ukrainian showroom.
Every year, Eureka Park hosts innovators from around the world. More than 1200 companies from forty countries were represented at CES 2019. It was critically important that the Whooshi stand attract attention and clearly convey the product's concept.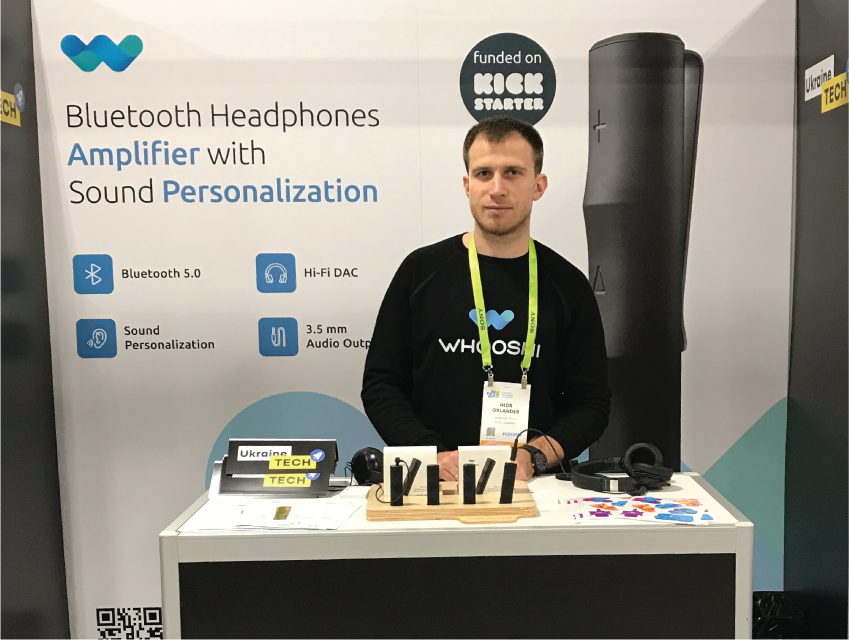 The Whooshi stand's banner read 'Bluetooth Headphone Amplifier with Sound Personalisation'. Audio professionals of all types were drawn to the booth, including audio experts, company reps, reporters, musicians, and audiophiles.
CES 2019 is an important drawcard for technology enthusiasts of all kinds. Investors come to Eureka Park to find new products, tech journalists come to discover the latest technologies, and distributors come to meet suppliers.
Scores of people attending CES 2019 visited the Whooshi stand. Some of them saw Whooshi as a product with great commercial potential while others were excited by the prospect of improving their audio experience.
'One of the advantages of participating in CES is that both visitors and exhibitors wear badges to identify themselves. They immediately make it clear if you are talking to a marketing specialist, an engineer, a journalist, or an acquisition manager.'

Denys Popov, Whooshi Product Manager
Visitors to the Whooshi stand were provided with a device and several sets of headphones to connect to their smartphones for comparison, allowing them to experience Whooshi's high-quality sound firsthand.
| | |
| --- | --- |
| People trying the product were directed to the Whooshi product page on Indiegogo to take advantage of product's pre-order discount. | |
The media
Journalists and bloggers from a range of countries, including the US, Japan, Singapore, Spain, and Canada, visited the Whooshi stand. The most memorable visit was from a journalist with AppleInsider, who visited the Whooshi stand, took pictures and spent quite a bit of time testing the device. He was particularly interested in Whooshi's AAC codec support, which enables iOS devices to transmit the highest quality sound.
When AppleInsider published its product reviews from this year's show, Whooshi was included as one of the most interesting new products in the 'Audio for Apple gear' section.
'Apple's iPhone supports the older SBC and higher quality AAC as codecs for Bluetooth audio, making the Whooshi theoretically better than most Bluetooth headphones available today—and you get to use your favorite headphones you've always used'.

Source: 'Audio for Apple gear', appleinsider.com
Conclusion
'Infomir took part in CES, and it was a positive experience. The company plans to continue participating in the world's largest exhibition of consumer electronics. In the future, we plan to present Whooshi at other major international venues.'

Igor Oklander, Head of Marketing at Infomir
'Before CES 2019, the Whooshi team had clear goals. We have now achieved them. Of course, we were able to make many useful business contacts, but the success of the product depends entirely on our future work. Collecting distributor contacts is just 20% of the effort. The rest is the production and partner networking.'

Denys Popov, Whooshi Product Manager