Commercial proposition
Select the purpose of request:
Product request
You are looking for a solution:
Select an option, and we will develop the best offer
for you
We launched Infomir Academy — the first course on launching IPTV/OTT projects
Published on 25/03/2021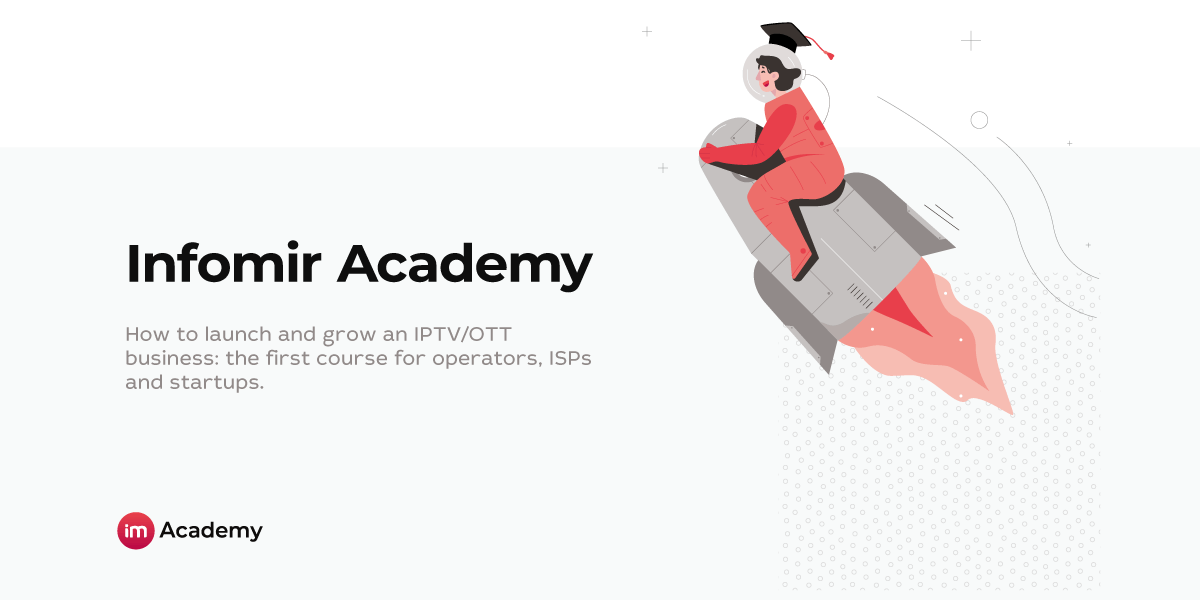 We proudly launch the Infomir Academy — a free online course on how to build and grow IPTV/OTT projects. Participants will learn all they need to know about the industry, subscribers, software, and equipment. They will benefit from our 20 years of experience and avoid all pitfalls on the way to success.
The first course about IPTV/OTT business
No one else provides lessons on how to become a pay-TV operator. To launch an IPTV/OTT project, one must wade through all the information and options. They have to learn from their mistakes, losing precious time and money. Infomir decided to change this.
Infomir's project is the first course dedicated to the business of local IPTV/OTT operators. We'll show you how real projects work. This experience will help entrepreneurs to save resources and run a successful service.
Infomir's Head of Marketing, Igor Oklander, talks about Infomir Academy and why taking this course is a must for today's operators.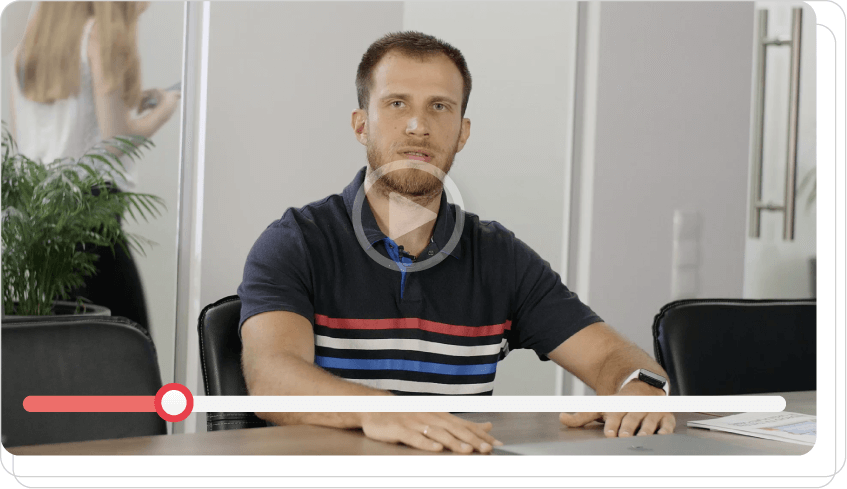 Materials for beginners and experienced operators alike
Our experience is extremely useful for IPTV specialists: pay-TV operators, internet service providers, distributors, and system integrators can all benefit. Among them are owners, technical directors, CEO, marketers, engineers, and technicians.
Each material includes an article and a video interview with a real provider. The course teaches how to:
build and develop a business

choose the best hardware and software solutions for your project

avoid unnecessary investments

offer relevant IPTV/OTT services

analyze subscriber preference to retain existing users and attract new ones.
Basic course: from project launch to user retention
The basic Infomir Academy course contains 16 materials. Articles and interviews are readily available on how IPTV and OTT work, what project architecture consists of, why middleware is the center of any service, and what linear TV, VoD, and playback control are.
In the second quarter of 2021, you will learn why you need to protect content, what depends on CAS/DRM, how to choose between Android™, Linux, and Android TV™, and what the STBs' price and performance depend on. Our experts will tell you what kind of personnel modern IPTV/OTT operators need, how to monetize a streaming service, and how to design subscriptions and tariff plans.
We will share our experience on how to choose the solutions to run IPTV/OTT projects, and what are the advantages of multiplay operators. Other materials will focus on the importance of the last mile in the network, audience retention, and viewer preferences.
By the 4th quarter of 2021, we'll have finished the materials on Android TV and marketing for operators
Android TV is a solution for modern projects. It allows you to create the best user experience, retain and attract viewers. A series of materials will help you implement the platform of the future today.
You will discover the advantages of the platform for business, what Google's requirements are for companies, how to choose between Android TV and AOSP, what the capabilities of the Android TV Operator Tier are, and how to implement devices in your project.
The marketing unit will show how to explore the market and competitors, learn about and attract audiences. You will know why the audience chooses specific operators, which channels help to attract the audience, and how to get the maximum profit from the subscriber.
The course is created by operators and Infomir experts
Each Infomir Academy material contains the experience of our engineers, developers, brand managers, project managers, and technical support staff. We share our experience from the point of view of STB manufacturer, middleware developer, and system integrator. IPTV/OTT operators will tell how this works in practice.
Join the experts — share your experience
Share your experience on the course, and you will help thousands of beginner operators. We promote the resource worldwide — readers from Europe, Middle East, Africa, Asia, North and South America will learn about your brand.
By helping to create the first course for IPTV/OTT operators, you will also be promoting your business. It creates a channel for marketing communications and advertises your brand. Your clients and partners will learn how you promote the industry by participating in educational projects and help start-up companies. Read about these and other benefits of cooperation in Infomir Academy's presentation for partners.
To share your experience in one of the materials, please email to a.vlasenko@infomir.com with your suggested topic and an interview of the project for our editors. We will prepare and approve the text with you. After that, it will be published on the Infomir Academy website.
Subscribe to be among the first to get the materials
The first six basic course materials are now available. Sign up so you don't miss new articles and interviews about IPTV/OTT business, Android TV, and marketing for operators.
About Infomir
Infomir is a European manufacturer of industrial and consumer electronics. The company makes smart TV set-top boxes as well as street lighting, and resource consumption metering solutions.
Linux and Android TV MAG set-top boxes are Infomir's key products. Since 2001, they have been powering over 4,500 IPTV/OTT projects in 150 countries. The API enables device integration with most middlewares and CAS. Support in English is also available.
Infomir's production facilities are located in Ukraine; its offices and distribution centers operate in the UAE, Estonia, and Switzerland. This ensures effective logistics worldwide.
The company also publishes the BROADVISION magazine and maintains its own educational platform, the Infomir Academy. It has also forged over 50 partnerships with chipset manufacturers and vendors of middleware, as well as CAS, DRM, and other technology solutions.
*Google, Android, YouTube, and Android TV are trademarks of Google LLC.