Commercial proposition
Select the purpose of request:
Product request
You are looking for a solution:
Select an option, and we will develop the best offer
for you
Anniversary issue of BROADVISION published on our new website
Published on 04/03/2021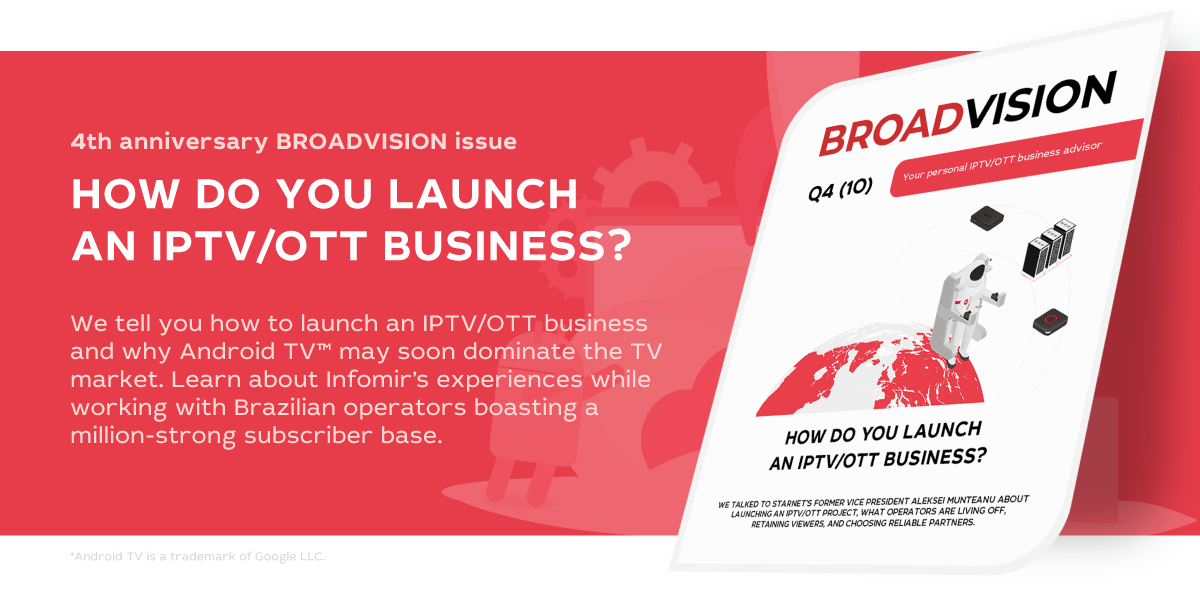 Infomir has published the 4th anniversary issue of BROADVISION. This is the world's first edition for IPTV/OTT operators. The magazine focuses on Internet TV, smart set-top boxes, and viewers' habits. Here we share expertise and unique content enabling our readers to learn how to launch competitive IPTV/OTT services as well as attract and retain the audience.
For a subscription, many companies only offer white paper solutions, short guides, or checklists. However, BROADVISION offers much more value. Subscribers get a 40-page magazine for free, while every article helps them develop their projects.
The Android TV™ and launching IPTV/OTT services edition
The 4th anniversary issue discusses why Android TV could corner the TV market, and how to launch IPTV/OTT projects. Also, we'll share the secrets of the Whooshi amplifier, and talk about our cooperation with Brazilian operators who have successfully connected a million users.
We've interviewed the former director of Starnet, one of the largest IPTV providers in Moldova, who told us what it's like to launch an IPTV/OTT business. You'll learn how to set-up an IPTV/OTT project, how operators make money, how to retain viewers, and how to choose a reliable partner.
The article on Android TV will tell you how the Internet of Things, the app store, and Google Assistant are helping the platform corner the TV market. You'll find out about our hardware start-up, Whooshi, a portable Bluetooth amplifier with personalized sound features. In the fourth article, you'll read how Infomir's solutions helped to connect 13 Brazilian operators and what makes the past, present, and future of Latin American TV extraordinary.
Our new website offering preview, archive, and issue filtering features
We've completely rethought the magazine's website and made it interactive—it now offers convenient preview, archive, and issue filtering features.
Before downloading, our readers can now access the overviews and the first pages of the main article. In the future, BROADVISION will bring you even more options.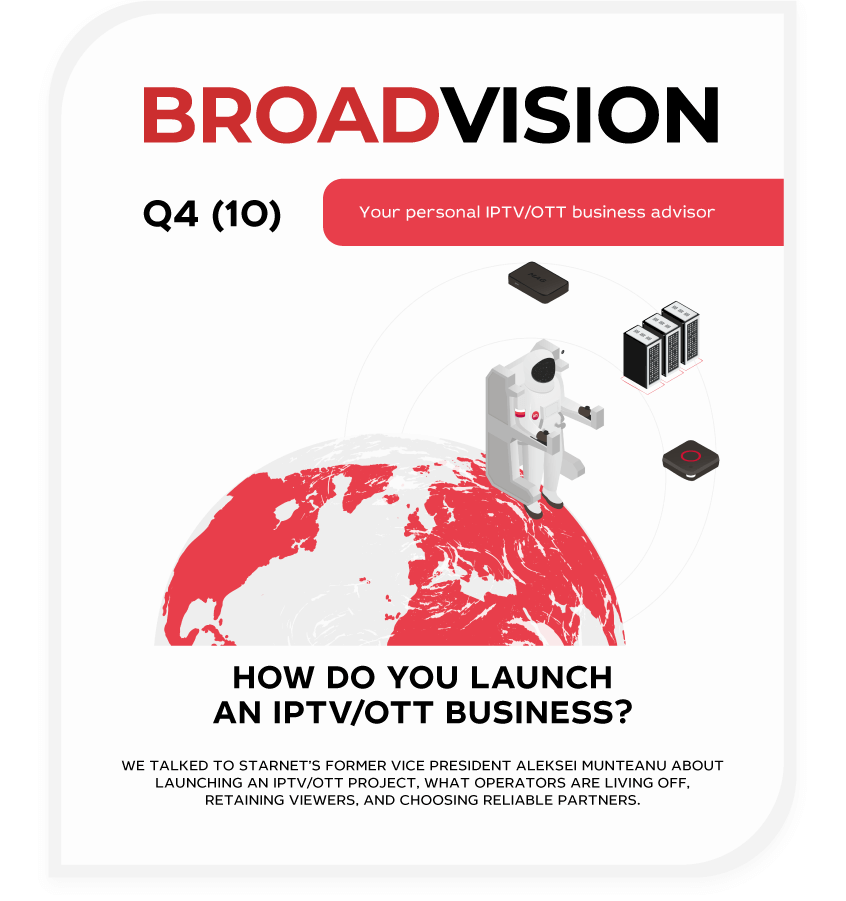 We developed the IPTV/OTT market with our unique edition
BROADVISION magazine is a unique media source. Initially, we tried to find similar IPTV/OTT editions, but there weren't any. Some electronics manufacturers only offered cumbersome and multi-industry magazines. They didn't help the operators, distributors, and system integrators at all.
We've created a truly useful magazine. Among its readers are owners, developers, engineers, and marketers. More than half of our audience are CEOs and CTOs of system integrators as well as telecommunications and distribution companies.
The employees of ZTE, Huawei, Sky Limited, 1+1, Orange, and UA:Pershyi regularly download the magazine. Our readers take every single printed copy at telecommunications exhibitions in the UAE, the Netherlands, the USA, and Brazil. The BROADVISION popularity has proven that the IPTV industry needs an edition like that.
IPTV/OTT is a complex industry, but our experts pass on information in simple terms. Our articles focus only on what's interesting to our audience. There are no similar editions in the world — ours is the first.
Share your expertise with BROADVISION readers
We'd be happy if you share your knowledge with our readers. By doing so, you can contribute to the industry and enhance your company's reputation. BROADVISION is all about the experience of CEOs, engineers, developers, brand managers, project managers, technical support staff, and other IPTV/OTT experts.
Our magazine is popular worldwide, so companies in Europe, the Middle East, North and South America, Africa, and even Asia will discover your brand.
To share your experience in one of the BROADVISION articles, please contact us at broadvision@infomir.com, with your suggested topic(s), and we will arrange an interview with the magazine's editors. We'll prepare the text and negotiate it with you. After that, we'll publish the text on the edition's website. The printed version will be available to the visitors at trade shows on several continents.
Coming up in the next issue: video codecs, voice assistants, niche services, and post-pandemic market
We'll soon publish the next issue of BROADVISION. You'll discover why video needs compression, how codecs came to be, why 4K and 8K videos depend on them. You'll also find out which compression technologies the future belongs to, how speech recognition evolved, what voice assistants can do, and why Google Assistant is one of the key advantages being offered by Android TV.
We'll share insights on how local and niche content can compete with the major streaming services, and why small operators will always have subscribers. Our experts will tell you how the IPTV market will grow, what prospects the SVOD model has, and how the COVID-19 pandemic has changed the way the local and large operators do business.
Please leave your email on the magazine's website and be one of the first to receive the next issue.
About Infomir
Infomir is a European manufacturer of industrial and consumer electronics. The company makes smart TV set-top boxes as well as street lighting, and resource consumption metering solutions.
Linux and Android TV MAG set-top boxes are Infomir's key products. Since 2001, they have been powering over 4,500 IPTV/OTT projects in 150 countries. The API enables device integration with most middlewares and CAS. Support in English is also available.
Infomir's production facilities are located in Ukraine; its offices and distribution centers operate in the UAE, Estonia, and Switzerland. This ensures effective logistics worldwide.
The company also publishes the BROADVISION magazine and maintains its own educational platform, the Infomir Academy. It has also forged over 50 partnerships with chipset manufacturers and vendors of middleware, as well as CAS, DRM, and other technology solutions.
*Google and Android TV are trademarks of Google LLC.