Commercial proposition
Select the purpose of request:
Product request
You are looking for a solution:
Select an option, and we will develop the best offer
for you
Infomir shows innovative user equipment for IPTV at IBC 2012
Published on 01/10/2012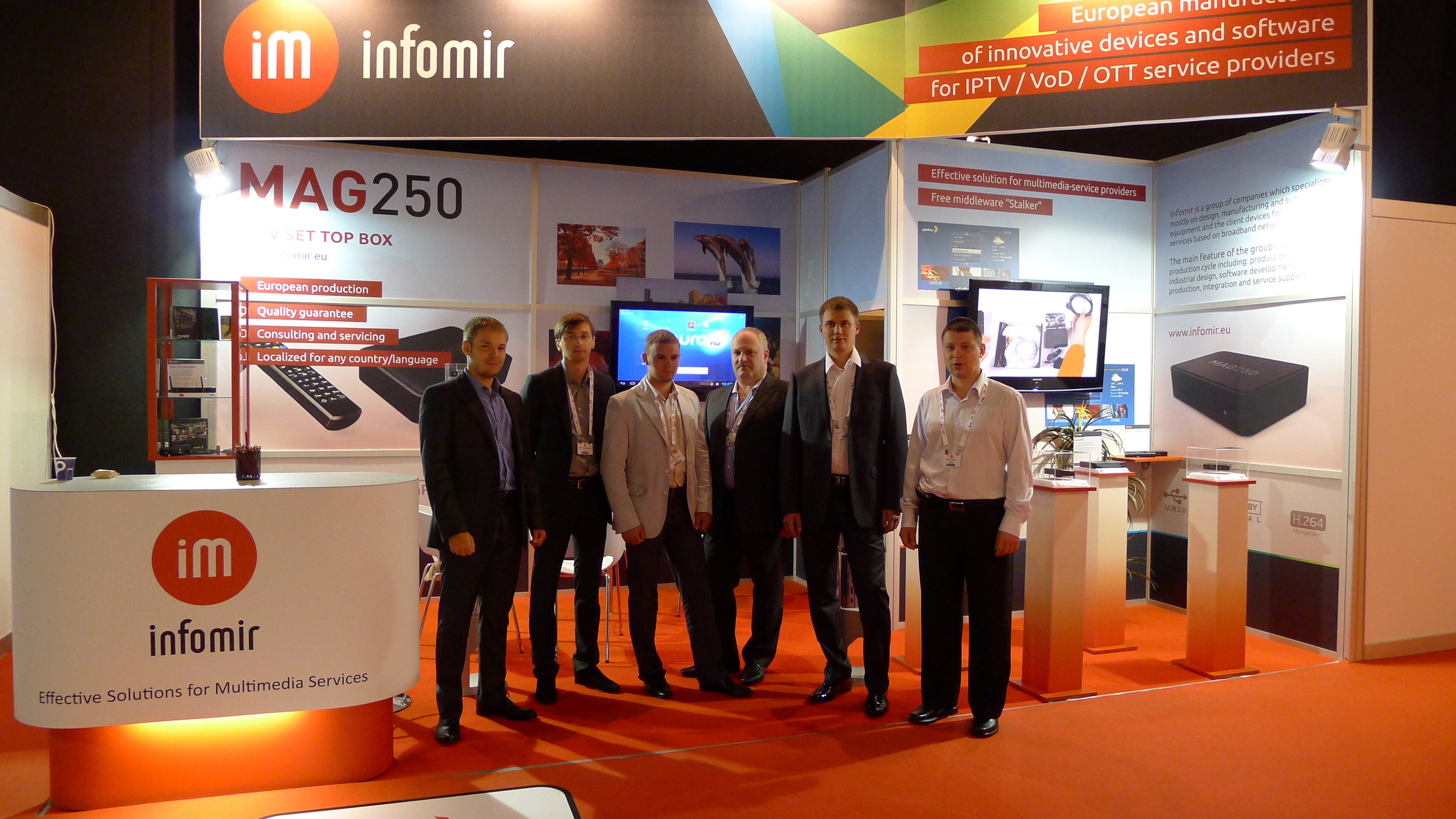 Infomir Ltd, Ukraine's first manufacturer of solutions for interactive digital TV in IP networks, has reported a successful debut at the electronic media tradeshow IBC 2012 that took place in Amsterdam, September 6-11, 2012.
RAI exhibition center –– the IBC's traditional venue –– hosted three categories of participants offering three related areas: content creation, management (control & administration) and delivery (including displays/presentation). Infomir's booth was located in the Delivery red zone, section of IPTV technology and equipment.
Live demonstrations of popular IPTV set top box MAG-250 Micro were a great success. The device is controlled by Middleware Stalker (now Ministra TV platform) – a free middleware developed by the company that allows providers to quickly start and support quality services of interactive TV for their customers. MAG-250 Micro is the company's most popular product, one of the best solutions in the set-top box segment of broadcasting through IP networks. MAG-250 Micro has proved its position of a robust and stable solution for providing IPTV/VoD/OTT services in 40 countries of the world, mostly in Europe.
Also, Infomir showcased new developments that meet changing and growing demand from both broadband operators and their clients. In particular, the company developers employed the advanced Android 4.0 OS with broad range of features for providers and viewers; considered the feedback from clients regarding the diversity of external interfaces and equipped some set top boxes with slots for hard drive and memory cards of various formats; the whole line of B2B set top boxes and customer media players have built-in module for mobile WiFi connection.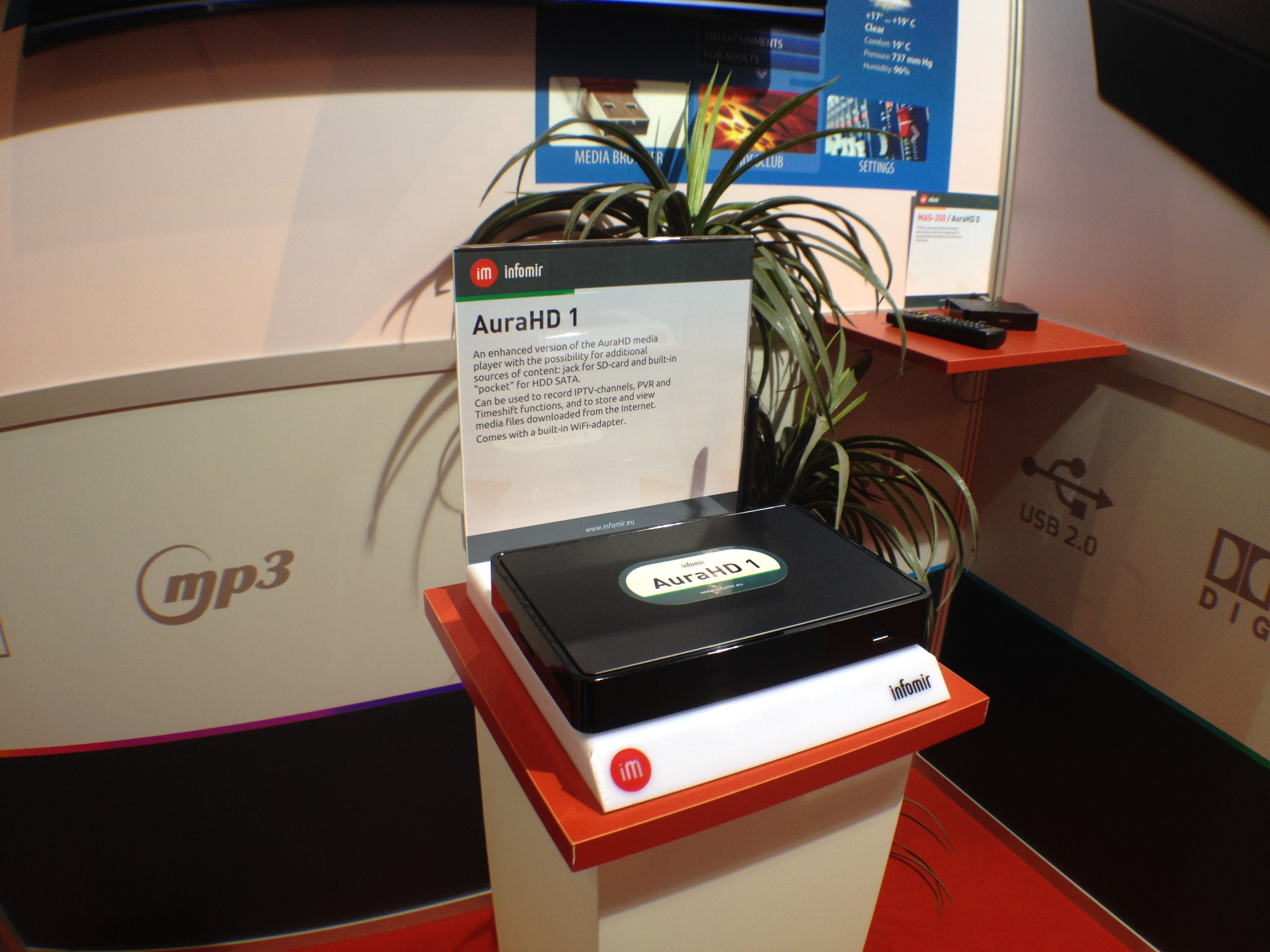 AuraHD1 is an extended version of the already well known network media player in a big box with a feature of connecting more content sources through SD-card slots, built-in HDD SATA slot and three external USB 2.0 inputs. All connected media can be used for recording IPTV-channels, PVR and Timeshift functions, and for storing and viewing the downloaded media files. The launch of this model is scheduled for December 2012.
MAG-260 set top box and AuraHD2 media player (with similar technical features) attracted the most of the IBC attendees' as the most successful balance between modern technologies and cost-effectiveness for providers and as the most successful solution for ОТТ-services. Accommodated in a traditional compact box (127x87x30 mm), the solution works on the Android 4.0 operational system, has a more powerful processor, 1GB OM and 4GB Storage. This STB is equipped with additional slot for microSD-cards to be used for storage and playback of the content. The device is expected in sale by the end of this year.
Based on STMicro processor compact STB MAG-275 model has standard technical characteristics, mostly inherited from its old ancestor – MAG-250 IPTV set top box, and is equipped with a basic set of external interfaces. Support of DVB T/T2 signal is the key difference of MAG-275 from the other models. The new solution is developed for cable operators considering an opportunity of transition from analog broadcasting to digital and providers of IPTV. The serial production launch depends on the contracts with foreign customers, and is tentatively scheduled for the first quarter 2013.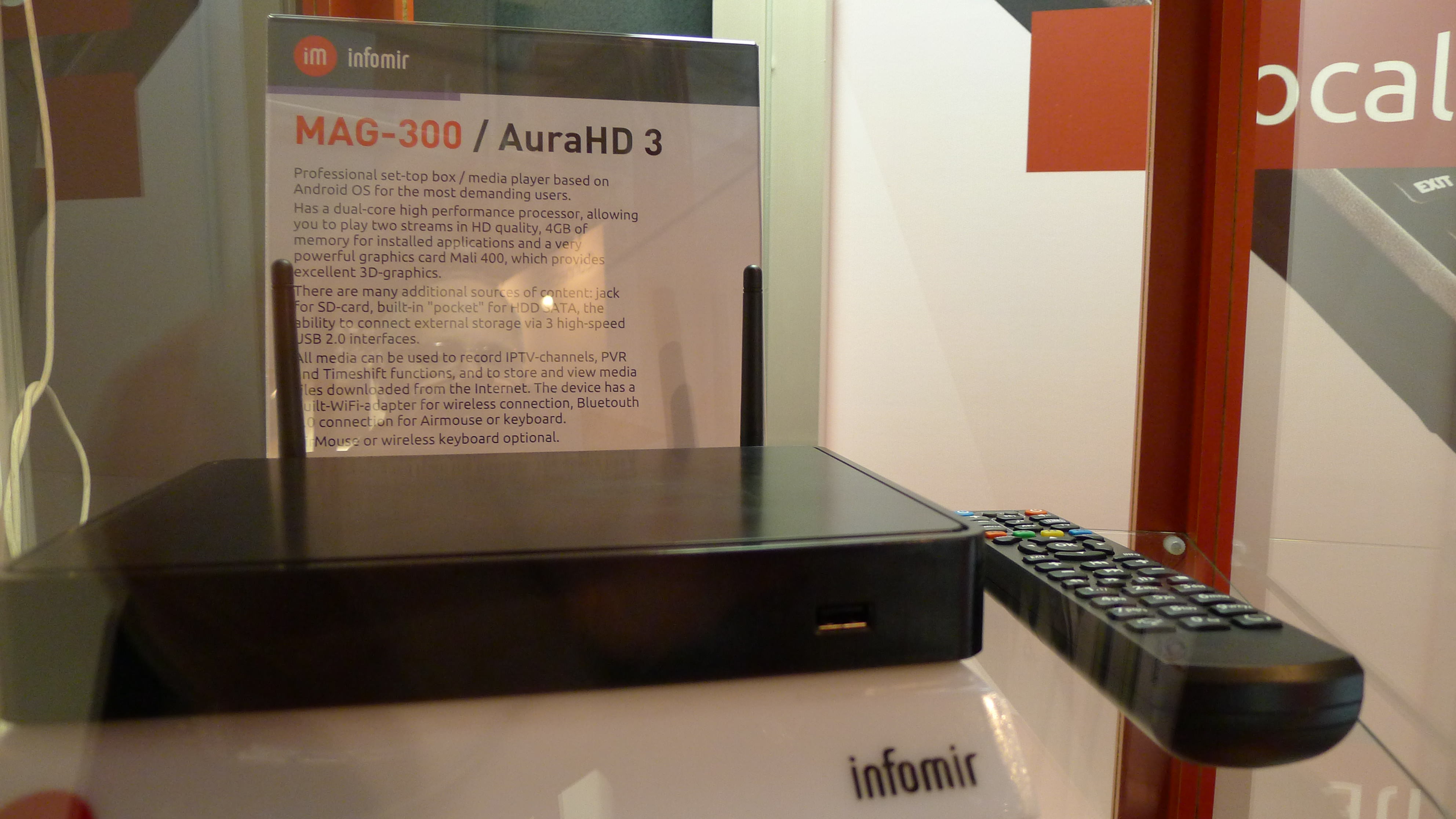 The professional Android-based set top box/media player MAG-300/AuraHD3, which is currently in development, is positioned by the company as a solution for especially demanding users. The device is larger than its predecessor (210x140x30 mm), being equipped with the most advanced technologies. MAG-300/AuraHD3 model has two core processors of high performance that allows to playback two HD streams, 4GB memory for installed applications and super powerful video card Mali 400 that provides good 3D graphics presentation. Additional sources of content can be connected through SD-slot, built-in HDD SATA slot. External media can also be connected through USB 2.0 (three slots). Just as the rest of the models presented at the IBC (except the special purpose functionally minimalistic MAG-275 for narrow niche), the set top box is equipped with built-in WiFi-adapter for wireless connection, and has Bluetooth 4.0 to connect Aeromouse or keyboard. The production launch is scheduled for the second quarter 2013.
The first tablet of AuraHD Mobility series from Infomir deserves a special attention: it boasts such revolutionary innovation for this kind of gadgets as integrated access to video services available via Internet. The company has developed and built AuraHD Mobility as an alternative device in the product line positioned as an additional mobile platform for services, integrated in the menu of TM AuraHD mediaplayers or offered directly to internet/IPTV-providers of its customers through ТМ MAG set top box. The operators offering IPTV or ОТТ services via Middleware Stalker platform thus can offer their customers a brand new opportunity – to use the services of interactive TV and stream video on a mobile device, a tablet. In fact, the same perspectives and interest from the end user are expected for the AuraHD media player – all integrated services and features now will be available both on a big TV screen and on a small yet mobile tablet. AuraHD Mobility also can be effectively implemented as an auxiliary device for special projects: in hotels for interactive communication with personnel, online orders and bookings, the same features could be implemented in hotels, medical institutions and HoReCa industry.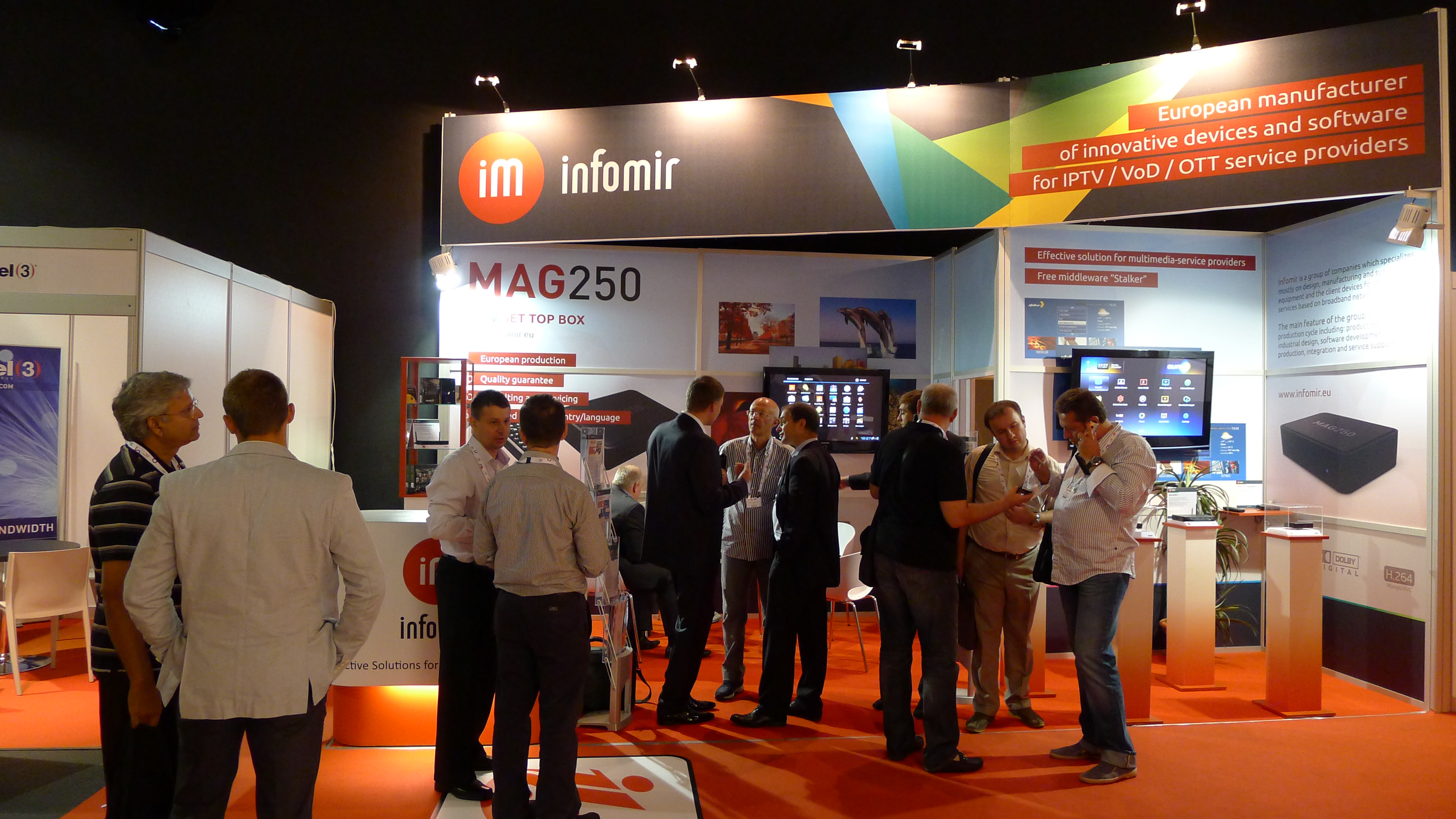 The company management is happy with participation in the IBC and finds the debut quite successful. According to Infomir's director Alexander Marakhovsky, within the framework of the show and business meetings, they managed to extend the partners' territory throughout the European Union, Middle Asia and the USA. Infomir received good feedback from potential and existing clients, and thus will be able to properly direct the ways of further product line development in the relevant course. Infomir's developers achieved agreement on cooperation with new partners in several perspective projects and agreed about integration with third part manufacturers of Middleware, DRM systems and service platforms.
In follow up of the show and conference, Infomir is happy to inform about its intention to extend the product line for telecommunications and broadcast markets even more, planning to double the production volume next year.
More pictures from the show are available in media resources section.