Geschäftsangebot
Wählen Sie den Zweck der Anfrage aus:
Product request
You are looking for a solution:
Select an option, and we will develop the best offer
for you
CABSAT 2017
Date 16/02/2017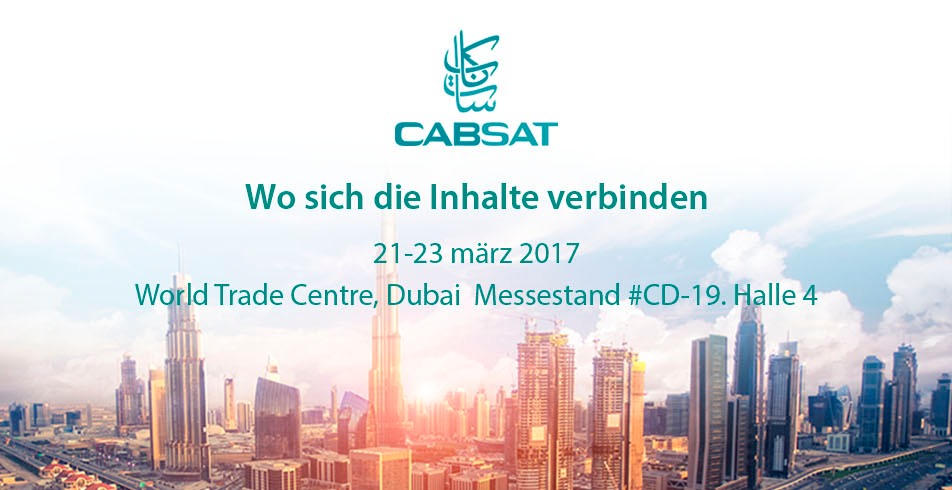 CABSAT ist ein Prioritätsereignis der digitalen TV-Industrie der MENA-Länder, welches die Vertreter der verschiedenen Sektoren dieser Branche vereint und die optimalen Bedingungen für ein Zusammenwirken und Erfahrungsaustausch schafft. Dieses Jahr findet die Messe CABSAT vom 21.bis zum 23.März statt.
MENA ist einer der schnell wachsenden Märkte der Industrie und Infomir nimmt aktiv teil an diesem Entstehen. Unsere Produkte und Service haben alle notwendigen Charakteristiken, um die Nachfrage in dieser Region zu decken und wir werden bereits zum zweiten Mal unsere Produkte auf der CABSAT präsentieren.
Testen Sie die Neuigkeiten von Infomir (MAG) auf dem Messestand CD-19 in der Halle 4 in Dubai World Trade Centre. Hier können Sie sich von den Vertretern des Infomir-Teams in technischen Fragen beraten lassen und die Perspektive der Zusammenarbeit ausdiskutieren.
Planen Sie Ihr Treffen mit Vertreter des Infomir-Teams bei CABSAT: