Commercial proposition
Select the purpose of request:
Product request
You are looking for a solution:
Select an option, and we will develop the best offer
for you
Cinema vs. Television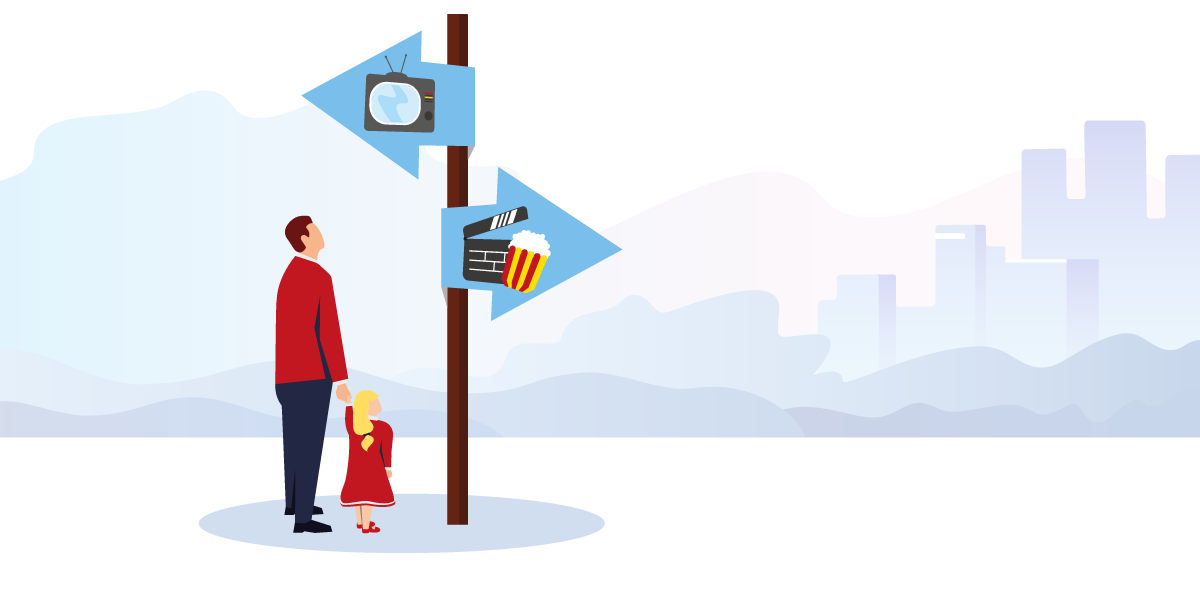 Throughout their history, Cinema and Television have fought for viewer attention. Always trying to outperform each other, the industries attracted fans with new technologies, genres, and opportunities. Who will win the war and how will the confrontation affect the development of the entire entertainment industry? We'll be delving into that question today.
Let's go back to the beginning
The period from the end of the 19th to the mid-20th century, we can safely call the golden age of the film industry. Black and white films with legends like Charlie Chaplin, Greta Garbo, and Rudolph Valentino – gathered thousands of enthusiastic fans. At this time, Cinema's only real rival was Theatre. It was significantly inferior to the new technology in both capabilities and accessibility. Having no other competitors, the studios competed with each other, astonishing audiences with more and more sophisticated scenarios and special effects.
Then, everything changed with the mass production of the Television set. Families who lived in the suburbs, away from city entertainment, in particular, welcomed this new «technological miracle» with open arms. Family evening in front of the TV – became a pastime.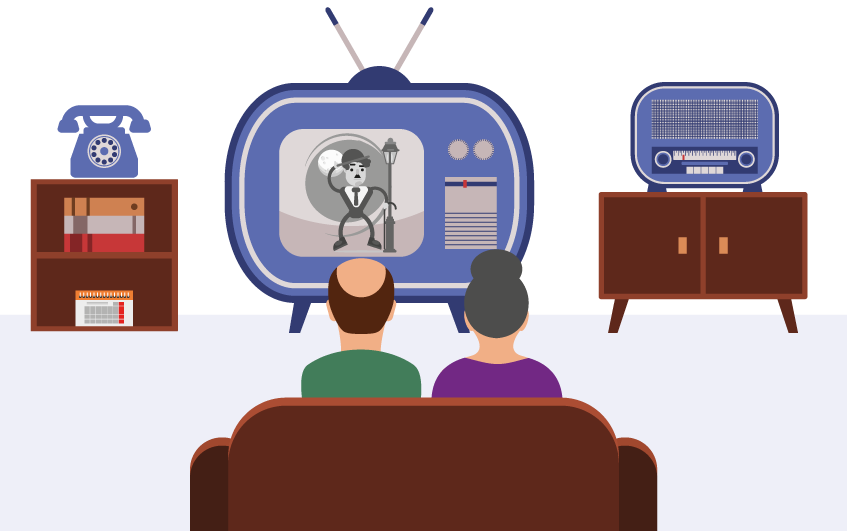 Many townspeople also prefered to sit in front of their own personal screen rather than spend time and money going to the cinema to see something that they might not even like. With their own television, they could easily just turn off the program and do something more pleasant. But the main thing was – the television was free!
The fall in film revenues made Hollywood nervous. To rectify the situation, they had to offer viewers something new.
From the 40s to the 60s, cinemas tried different tricks, for example, «CinemaScope» – a new widescreen format, became a real hit. The large curved screen with stereo attracted long lines of people, and the technology became a phenomenon of Western culture, about which even songs were composed.
The Smell-O-Vision system diffused odours in cinemas, in sync to screen events. It was first used in 1960, for the film «Smell of Secrets»: each of 30 unique aromas was accompanied by a different soundtrack.
Between the years 1952–1954, the first experiments with a three-dimensional cinema picture were undertaken. But, due to the high cost and imperfection of cinema's 3D-technology, the 3D film disappeared for several decades.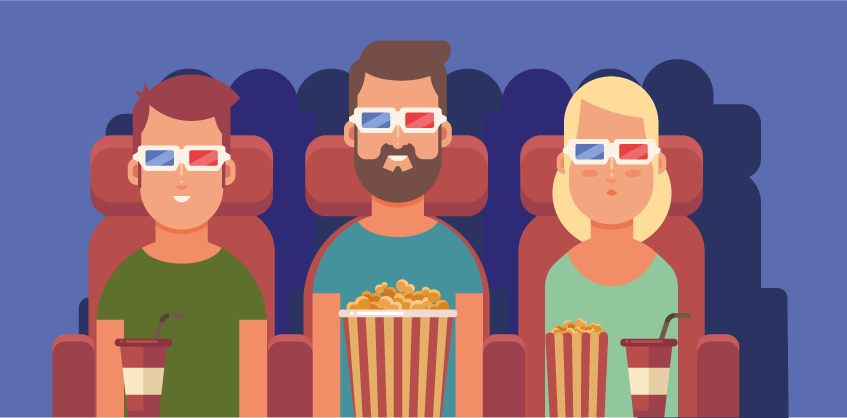 A successful solution to the competition was the division of audience niches. Hollywood began to focus on teenagers who wanted to get out of the house or go on a date. Especially popular were drive-in theaters. The content of the films also changed: teenage cinema had more rebellious characters, rock 'n' roll in the soundtrack, and the script could include dialogue and vocabulary, that was not suitable for TV.
Later, they compromised: TV-channels bought old films to broadcast, and the film industry began to use the advertising opportunities to attract people to premieres. In 1975, after a large marketing campaign, the film «Jaws» broke all records and laid the foundation for the summer blockbuster genre.
This collaboration served to create a television-film-quasi-audience. And now even streaming services are also involved in the process.
Who is the modern film and TV viewer?
In order to more accurately answer the question: «What do viewers prefer: cinema or TV», – we have to consider who the viewers are. TV and cinema segment their audiences in different ways, so let's consider each one in more detail.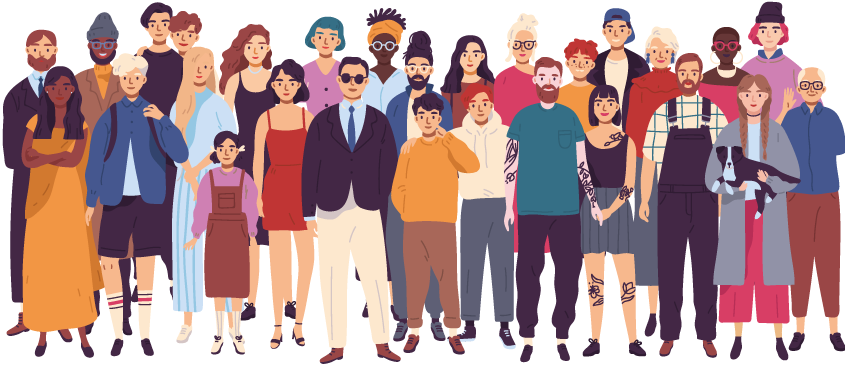 Film audience
The film industry uses several methods of viewer classification, but more often than not classifies viewers by age in a similar way to the film certification categories (U, PG, 12A, 15, 18).
Age group:
| | |
| --- | --- |
| | Children (5–11 years old) |
| | Families |
| | Teenagers / Young Couples / Students |
| | Adults |
UK AIM's committee study offers several new segmentations. The lifestage classification focuses on what each group expects from a visit to the cinema. For example, teens prefer to eat popcorn while watching comedies and horrors, while people over 40 drink good wine during a thought-provoking film.
Attitude classification aims to highlight cinema fans who often go to the cinema and encourage others to go.
Relation categories:
| | |
| --- | --- |
| | Enthusiasts / Frequent Spectators |
| | Those who go to the cinema due to boredom |
| | Those who aren't that interested in going |
| | Those who don't go to the cinema at all |
In addition to desire, the decisive factor is the ability to go to the cinema. For example, inhabitants of the suburbs would like to go to the cinema every Friday, but without a car, this is a problem. Big families often refuse to go because tickets, travel expenses and food can be too expensive. Then there are older people who rarely go to late sessions.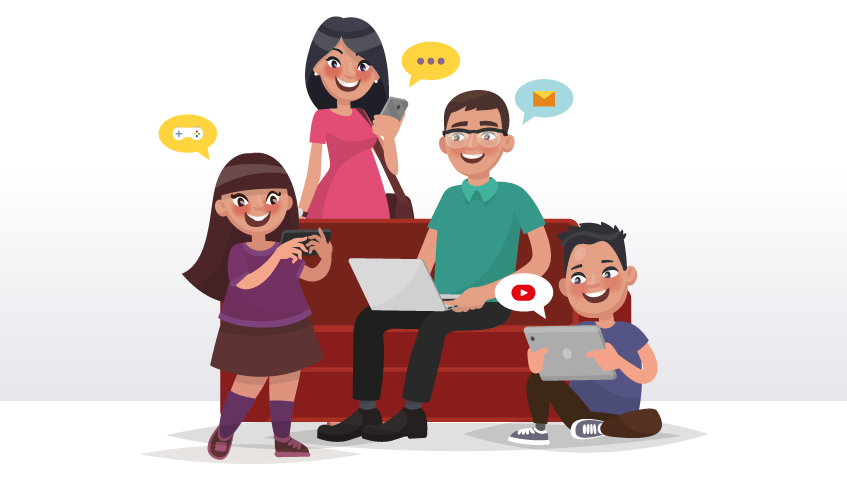 TV audience
Ericsson ConsumerLab has proposed one of the most popular ways to classify television audience. Depending on television habits and preferences, they divide users into six groups:
| | |
| --- | --- |
| | Couch Traditionalists – watch exclusively on stationary TV |
| | Screen Shifters – freely change the viewing device |
| | Zero – watch TV minimally |
| | Average TV Joes – watch TV average amount of time |
| | Mobility Centrics – prefer to watch on mobile devices |
| | Computer Centrics – prefer to watch on PC |
The fastest-growing groups are Mobility Centrics and Screen Shifters. This is a favourable trend for owners of modern services with multi-screen functionality.
In the struggle between TV and cinema, this feature is also one of the most powerful advantages. The ability to view content on any device is not available for cinema and attracts more and more subscribers to the TV/OTT streaming services every year.
The Streaming Video Alliance divided the audience into two age groups: millennials (18–34 years old) and people over 35 years old. The preferences of these categories are significantly different, that's very important during the launching and promoting of a new service.
| | |
| --- | --- |
| | Older people prefer traditional television. They have several favourite series and channels, and it's hard for them to give up their viewing habits. It is more likely that this group will pay closer attention to high-quality IPTV, with a large selection of channels, good signal and simple control. |
| | Millennials' favourite content is short videos (e.g. YouTube) and TV series. They are the main reason for empty seats in cinemas. Their reasoning is that a high-quality series delves more deeply into the plot and heroes of a story and is able to hold the viewer's attention for a long time contrary to a film. A film's duration, the amount of time that can be devoted to these aspects is very limited, that is why this group's interest in cinema is declining. |
What's it all about?
At the beginning of this decade, we may have been able to say with confidence that cinema audiences consisted mainly of youths, while TV focused on the older generation, but now the situation is not so clear. Yes, traditional TV is mostly watched by the older generation and this trend will continue. This is due to the fact that older people prefer the comfort of their own home to an exhausting trip to the cinema. The current youth, over time, will join the ranks of homebodies.
In addition to the increasing of an older audience, we can expect an influx of young users. They will be attracted by new features of modern services: free choice and growth of content quality, multiscreen, access to niche and unique content. The retention of TV audiences will also be affected by the development of genres that are impossible to show in cinema. For example, series and sports.
At the same time, we should not expect that cinema ranks will become empty. Studios have learned a lot from TV series creators. One of the most striking examples of studios learning from tv series is the creation of shared film universes (e.g. Marvel or Star Wars). Popular franchises captivate the audience and pay off.
Who is the revenue leader: cinema or TV?
According to the THEME Report, over the past few years – both have a steady growth. Over the past 5 years, cinemas' revenue grew by 13% and reached $41.1 billion in 2018.
Global 3D Box Office — All Films (US$, Billions)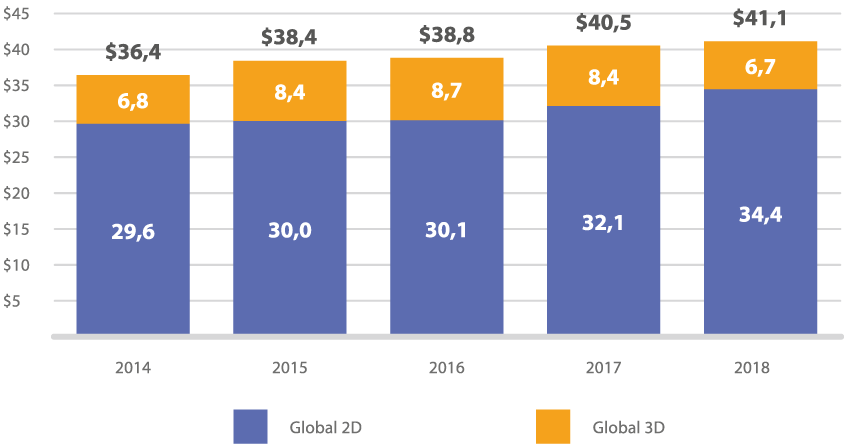 Source: THEME Report 2018
However, revenue growth is generated not by cinemas, but by streaming services. In 2018, online platforms generated 57.7% of total revenue, and total home viewing revenue was $55.7 billion (+16% compared to 2017). The growth came mainly due to online subscribers. The physical media part (e.g. Blu-ray discs) is decreasing.
Global Home Entertainment Consumer Spending (US$ Billions)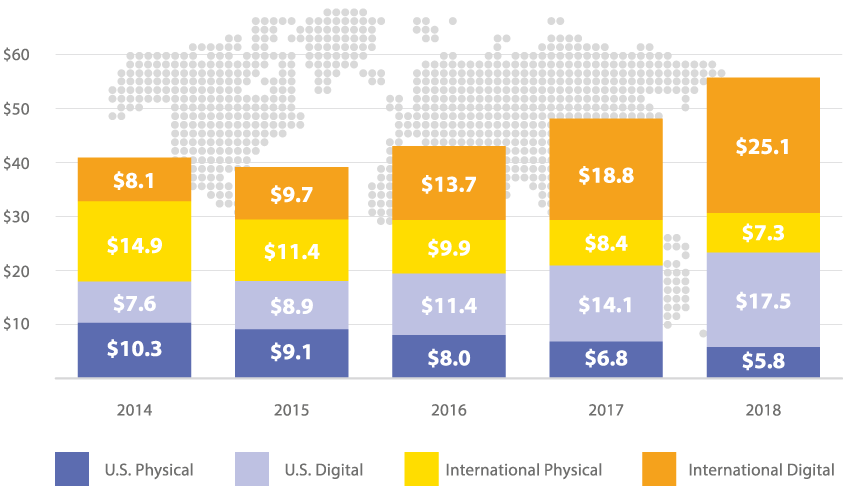 Source: IHS Markit
The largest increase occurred due to IPTV and online subscriptions (e.g. Netflix, Amazon Prime). The study indicated that most families use TV and online video simultaneously.
Global Pay TV & Online Video Subscriptions (Millions)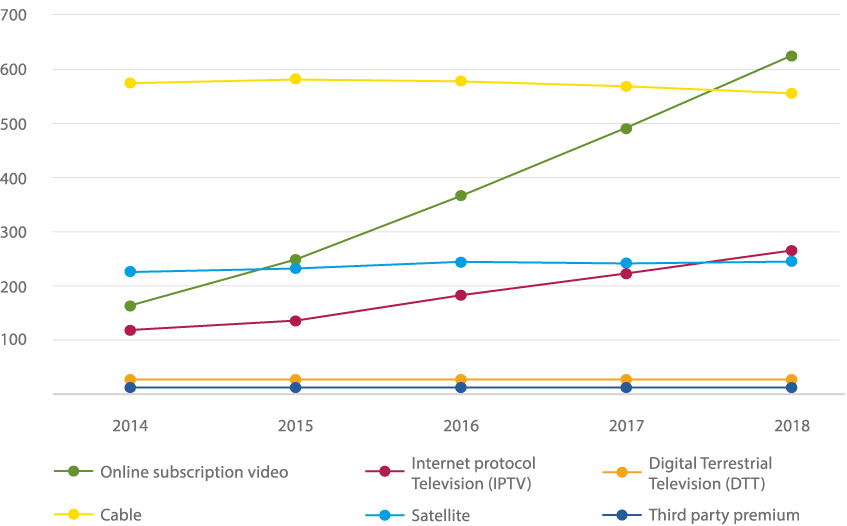 Source: IHS Markit
TV channel watching is still the most popular leisure: users watch TV more than 15 times more than films. However, cinema is growing a little faster.
U.S. Online movie views/transactions (Billions)

U.S. Online TV views/transactions (Billions)

Source: IHS Markit
Who is the winner?
In recent years, the income gap between cinema and TV services has widened, but we cannot say that television is a clear winner.
The long-standing confrontation has grown into mutually beneficial cooperation. Income from films is no longer limited to their broadcast in cinemas, as now many fans of home viewing have joined the ranks of film viewers. Online services, in turn, are increasingly releasing films for the big screen.
Competitors actively learn from each other's successes and mistakes, which allows them to provide viewers with the most appropriate content and services. All this positively affects the entertainment industry quality. So in conclusion: in the long confrontation between Cinema and TV, the winner is the viewer.
Recommended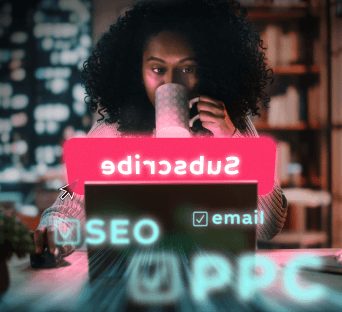 Technology provides entrepreneurs access to information from multiple sources: social media, the Internet, or databases. Combined with software, it helps them take into account numerous indicators and trends. All of this can be used to make your business grow.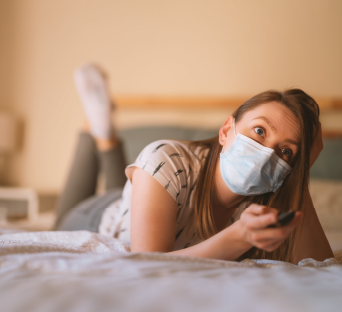 Two years of the COVID-19 pandemic have dramatically changed the paid TV market.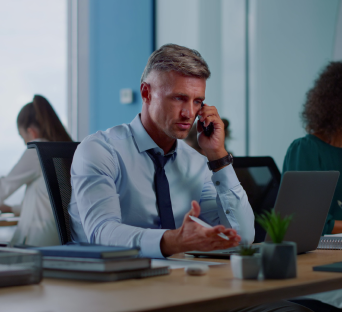 Adapting to consumers' demands is crucial for operators who want to remain relevant and sought-after.