Commercial proposition
Select the purpose of request:
Product request
You are looking for a solution:
Select an option, and we will develop the best offer
for you
Why does content need to be protected?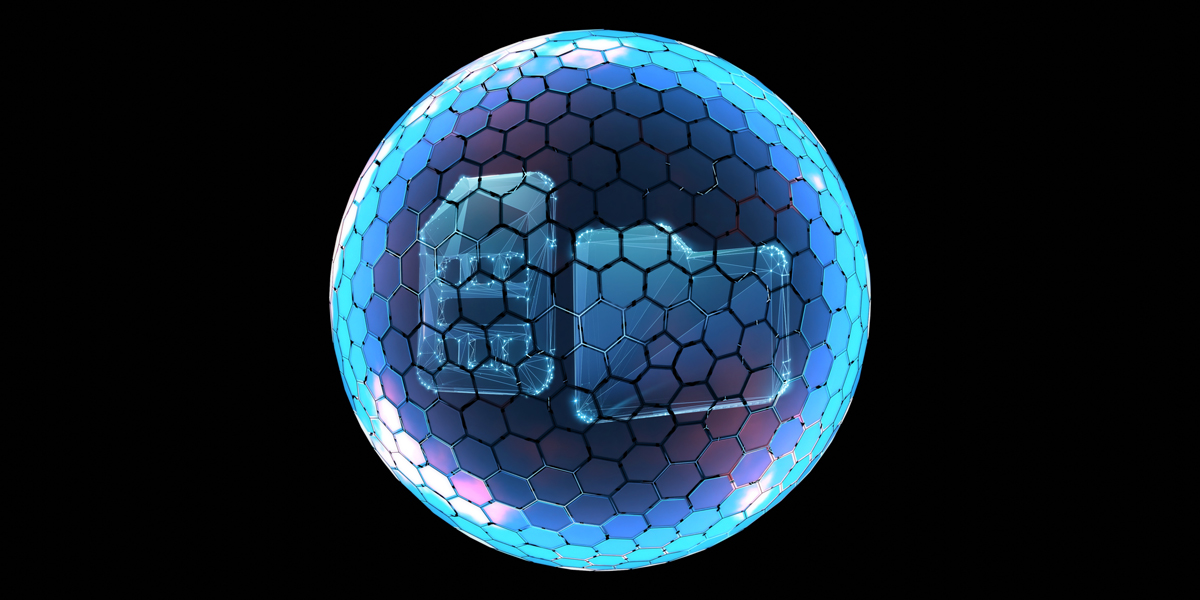 Copyright infringement is one of the biggest damagers to copyright holders and content producers. In 2019, the US Chamber of Commerce's Global Innovation Policy Center (GIPC) and NERA Economic Consulting compiled a report that estimated the losses to the US economy associated with theft and unauthorized copying of digital content. According to that report, pirated copies of films are watched approximately 26.6 billion times annually, and TV series a staggering 126.7 billion times. As a result, the US economy loses at least $29.2 billion due to the illegal copying of digital content annually.
Movies, series, and TV shows are expensive to produce, so content producers are constantly looking to reduce losses due to piracy. One of the most effective ways to fight against copyright infringement is content protection systems. If the IPTV/OTT provider does not use them, the copyright holder will not provide them with a license to cast their product.
How a provider can protect content
Content protection systems are software or hardware-software solutions that do not allow intercepting and copying a video stream on the way from the provider to the viewer. Typically, copyright holders specify which solution the provider should use to cast their films or series. There are two main types of content protection systems: CAS and DRM.
Conditional access systems (CASs). These are typically used in closed networks of IPTV providers where broadcasting is carried out using the multicast protocol, that is, several user IPTV set-top boxes are connected to one access point simultaneously.
CASs allow content to be received only by equipment included in the provider's network, subject to the specified conditions. For example, you can specify as a condition:
IP address;

the device's MAC address;

operating system;

browser type and version.
CASs are expensive systems. Their cost can reach $100,000 for a network of 10,000 subscribers. As such, a reliable CAS is only cost-effective for services with a large audience.
Digital rights management (DRM) is digital rights management tools that limit the number of views and copying of content. As a rule, they are used for OTT services. DRM operates not only in the provider's internal network but also when transferring data over the Internet.
For the viewer to watch a movie or program, their device requests a license key from the server. If the user is authorized to watch the requested video, the server will issue a key. Then, with its help, the device will decrypt the encoded video stream.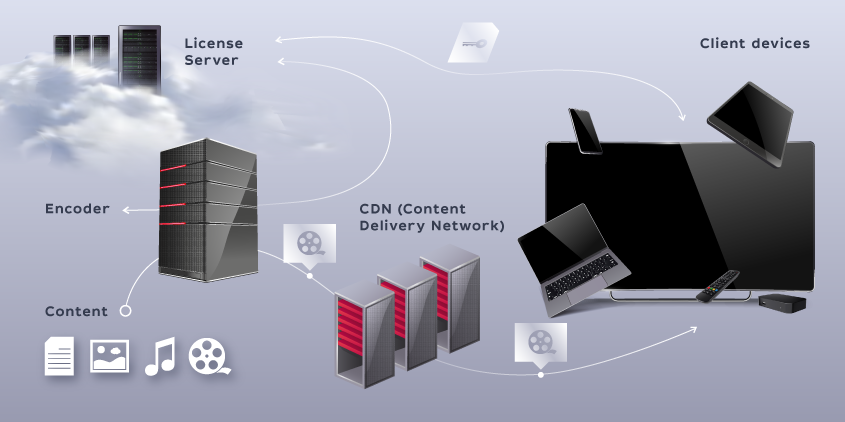 How DRM works: if the license server refuses to issue a key, the user's device will not be able to decrypt and play the content
What DRM solutions are on the market
OTT providers tend to use solutions created by the largest developers:
Google Widevine

Microsoft PlayReady

Apple FairPlay
All three of these solutions are designed for different device types: FairPlay only works with iOS, iPadOS, watchOS 7, tvOS, and macOS devices, while Widevine and PlayReady are compatible with most Android and Linux STBs. These systems are integrated into the MAG series set-top boxes. Additionally, DRM PlayReady supports Windows TV Boxes.
What DRM to choose
The choice of DRM depends on whether the provider offers their own set-top boxes or allows viewers to use other devices. For example, if the solution only uses AppleTV set-top boxes, it will be sufficient to use FairPlay.
However, most providers understand that users do not want to depend on just one device. According to the Cisco Annual Internet Report, there will be an average of 3.6 devices per person worldwide by 2023. This figure can reach 13.4 for the developed countries of North America and 9.4 for Western Europe.
Providers need to grant multi-screen support so that users can use their home computer, set-top box, smartphone, and other devices at any time. This requires support for all DRMs, but organizing this can be technically challenging. Therefore, multi-DRM is gradually replacing DRM.
One-stop solution for modern video services
Multi-DRMs are systems providing support for the most popular DRMs. In multi-DRM networks, the provider can allow users to watch movies and series through a TV set-top box and smartphones, laptops, and any other devices.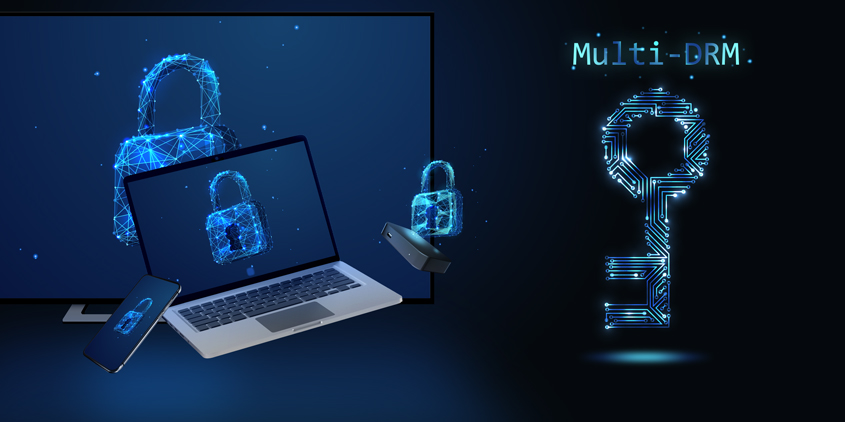 Multi-DRMs work in much the same way as regular DRMs: the user device asks the server for a key to decrypt the content. The difference is that the server automatically recognizes the device type and transmits the appropriate key. So, for example, the server will send the FairPlay key to the Apple TV set-top box and PlayReady to the Windows laptop.
Multi-DRMs are the most modern solutions for IPTV/OTT providers not planning to use their own devices. Universal systems are offered, for example, by Viaccess Orca, NAGRA, Irdeto, Verimatrix, and other companies.
To obtain a license to cast the best digital content, video service providers need to maintain a high level of protection against digital piracy. This necessitates implementing a content protection system. Depending on the type of service, you can choose CAS or DRM solutions. Modern trends show that multi-DRMs are becoming the most popular.
Please subscribe to the Infomir mailing list to receive more of our helpful content.
Recommended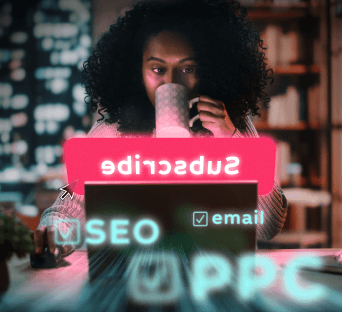 Technology provides entrepreneurs access to information from multiple sources: social media, the Internet, or databases. Combined with software, it helps them take into account numerous indicators and trends. All of this can be used to make your business grow.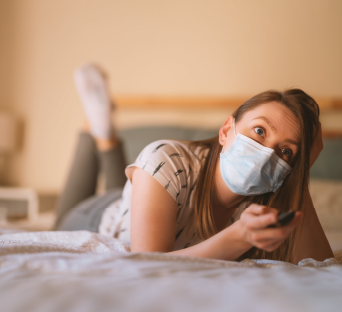 Two years of the COVID-19 pandemic have dramatically changed the paid TV market.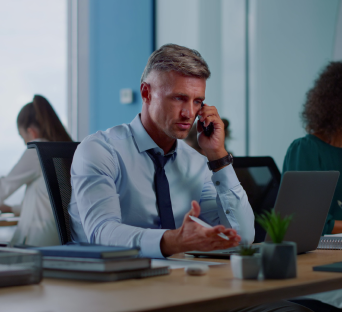 Adapting to consumers' demands is crucial for operators who want to remain relevant and sought-after.