Commercial proposition
Select the purpose of request:
Product request
You are looking for a solution:
Select an option, and we will develop the best offer
for you
UI/UX: Must-Do Things to Build a Modern IPTV/OTT Service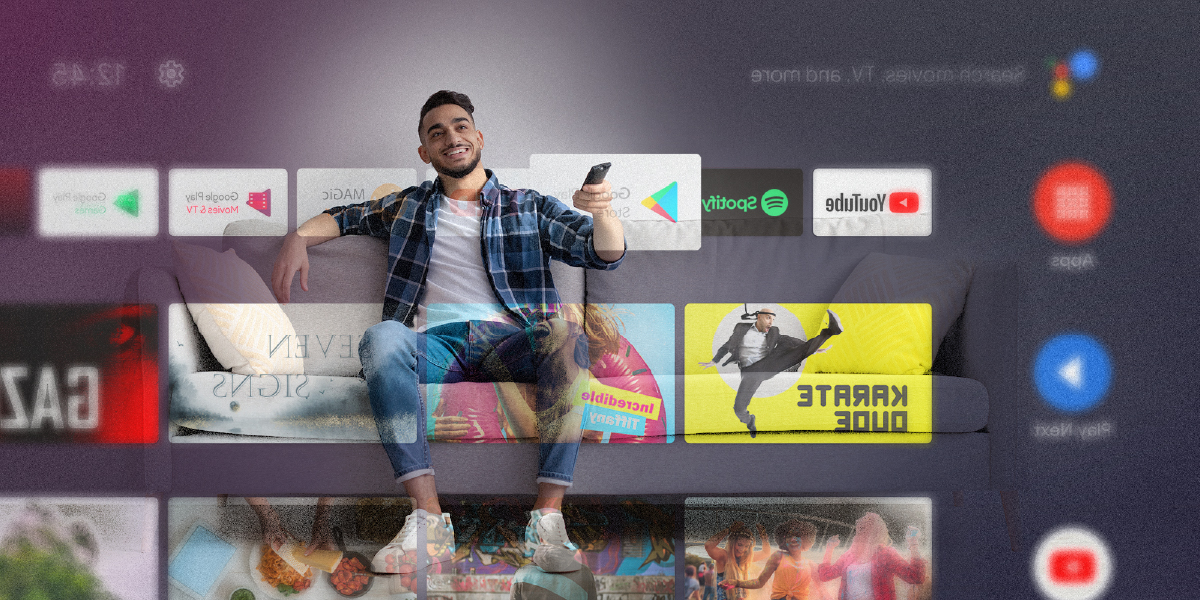 Interfaces are what users of IPTV/OTT services see every time they search for content, including TV channels, music, and video on demand. If interfaces are user-friendly, no one notices them – people of all ages are easily able to find and play what they want without the use of a guide.
Let's figure out what modern project interfaces should look like and how operators can avoid common mistakes.
Set-top boxes and TV interfaces complete hundreds of tasks
Users need to turn on the device, open the app, search for a channel, read the program guide, pick a movie or TV series from the catalog, and filter search results by year, country, or other parameters if they want to view content.
There are hundreds of possible scenarios on an interface and users enjoy being able to control their set-top box or TV not only by using the remote control, but also with an external keyboard or smartphone: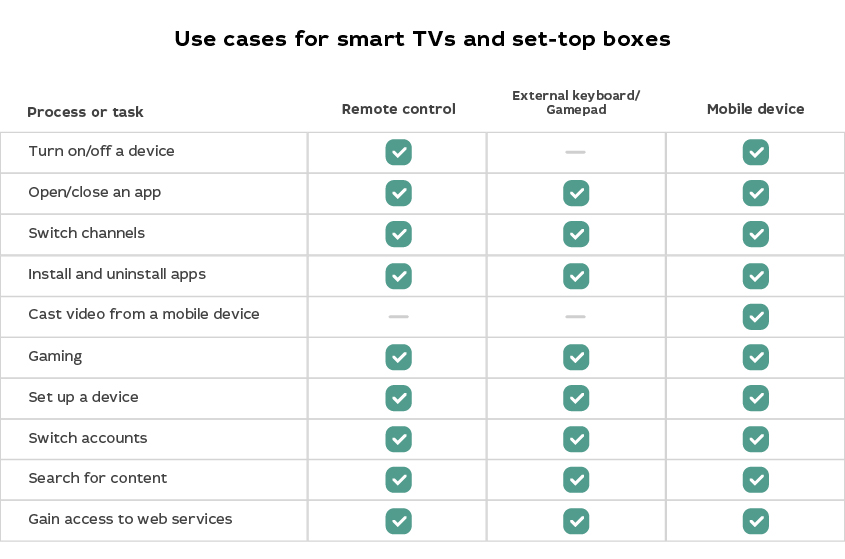 Table: infomir.eu
Modern TV interfaces are similar
Any smart TV interface solves the following problem: providing a high-quality user experience on the big screen. For example, 42–75-inch TVs were the bestsellers in the U.S. in 2022, but users don't sit three feet away from their TVs and need video services based on the 10-foot UI principle to watch content comfortably.

You can't place information on big TV screens as densely as on smartphone or tablet screens because UI elements will be too small and confusing. Image: infomir.eu
Android TVTM, tvOS, Amazon Fire TV, Roku, are all good examples of modern 10-foot UIs. Users want to conveniently control devices from several feet away. For that reason, you want to avoid placing small text, icons, and other smaller elements, which are a perfect fit for mobile devices and PCs, in OS and app interfaces.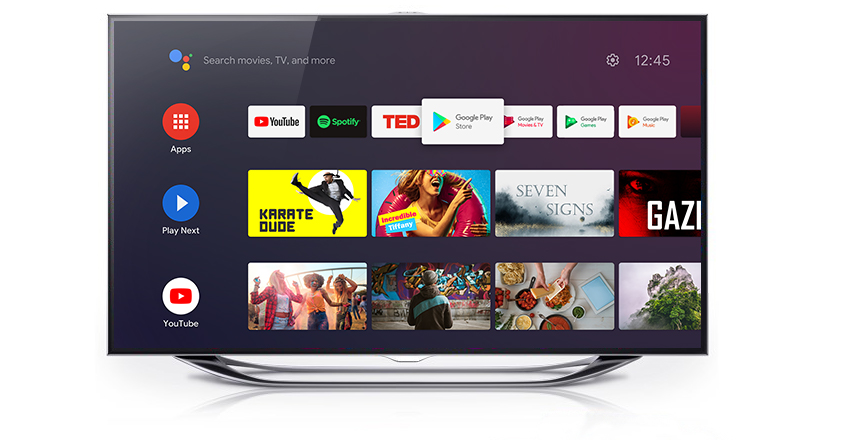 AndroidTV interface: content and app icons are styled as big tiles. There are no more than two dozen elements on one screen. Image: infomir.eu
The same principles underpin Apple's tvOS interfaces, Roku, Tizen, and other smart TV platforms.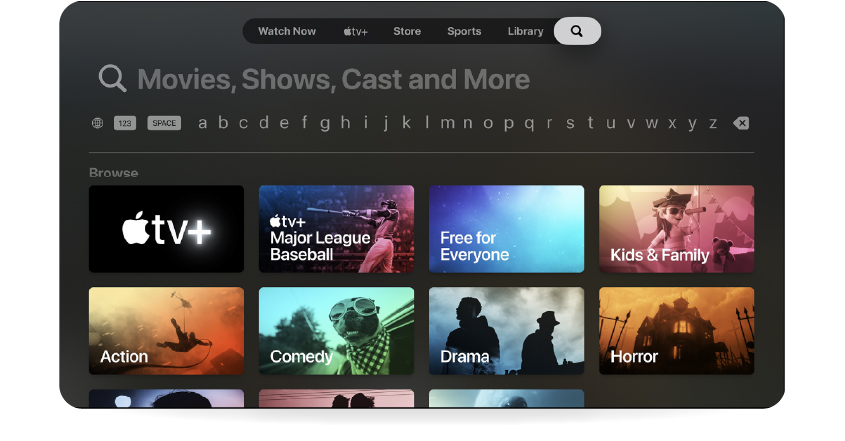 tvOS doesn't have too small elements either: they are all easy to view from several feet away. Image: help.apple.com
Users don't want to press buttons
When users search for a movie or TV series in a streaming app on a smartphone, they enjoy a full-size keyboard, so, for example, you can easily type the query 'The Good, The Bad and The Ugly' to find the Spaghetti Western.
But, if you type movie names in TV interfaces, you only have a remote control with a couple of buttons and an on-screen keyboard. You have to press the navigation wheel dozens of times to type several words. Many services offer search results as you type the first letters, but this doesn't completely solve the problem. Voice search is one of the solutions.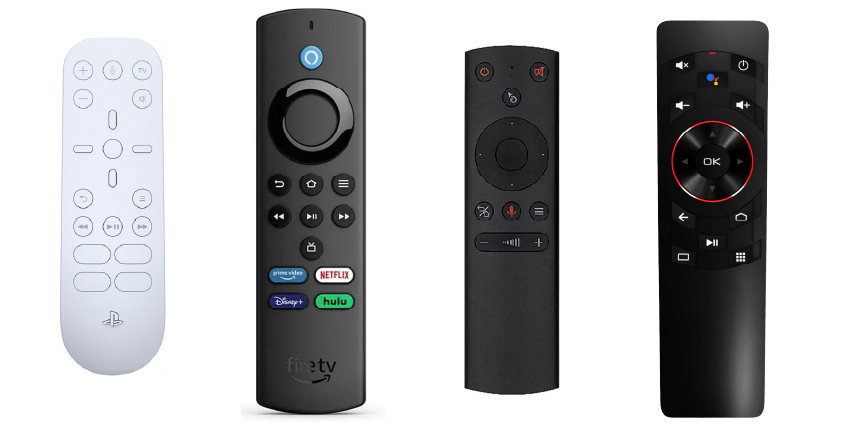 This is what modern remote controls for smart TVs and set-top boxes look like: no full-size keyboard, only volume control, navigation, and sometimes separate buttons for streaming services, but voice search is a must.
Even Google recommends that app developers focus on voice search rather than forcing users to type:
"AndroidTV is simple and user-friendly. Find and enjoy content and apps without too much fuss. Use a minimum of steps to complete actions. Build apps with as few screens as possible, from signing in to viewing content. If possible, avoid forcing users to type text; instead, let them use voice search."

Source: AndroidTV Design Guidelines
Apple recommends doing similar things: its designer and developer guidelines include ready-made templates for content catalogs, notifications, menus, and search screens. Like AndroidTV, it focuses on voice search.

Apple suggests using those templates when you develop apps for tvOS. It complies with the 10-foot UI principle. Image: https://developer.apple.com/design/human-interface-guidelines/foundations/layout
Amazon Fire TV provides original design guidelines for large-screen apps, which ask you to avoid placing crucial UI elements on the edges of the screen. Aesthetics and usability aren't the only reason as some TVs crop this area to make it invisible to users.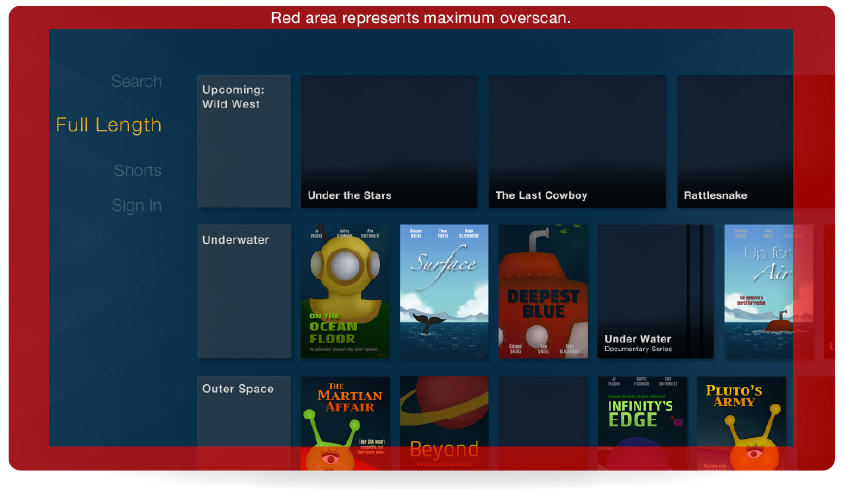 According to Amazon Fire TV Developer Guidelines, you'd better place any text and graphics inside the blue (safe) area. Image: https://developer.amazon.com/docs/fire-tv/design-and-user-experience-guidelines.html
Amazon Fire TV app developers are encouraged to use larger fonts. For example, the main font must be more than 19 pixels high for 720p interfaces and more than 28 pixels for 1080p interfaces.
Interfaces are getting more accessible
Interestingly, 10-foot UIs are designed for viewers with normal vision and thus aren't suitable for everyone: according to WHO, almost 2.2 billion people have visual impairments. More than 60 million visually impaired people live in the U.S. and Europe, but they still love watching movies and TV series.
In 2017, the telecom corporation, Comcast, conducted a survey and found that 96% of visually impaired people watched TV daily. But more than half complain that they find it hard to search for content.
For that reason, AndroidTV offers TalkBack, a system that voices everything that appears on the screen. AppleTV offers Zoom to magnify the image and VoiceOver to read aloud text from the screen. Roku has a built-in audio guide as well. Besides, all of these platforms and others offer voice search to ensure that viewers don't have to type anything using a remote control or keyboard.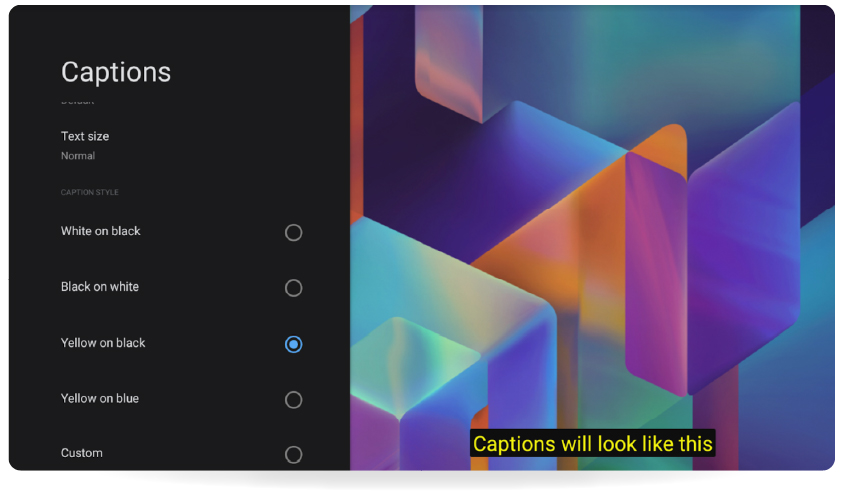 AndroidTV lets you customize the size and color for subtitling. Image: https://developer.android.com/
Platforms offer subtitles for hearing-impaired viewers and let their content come with these subtitles. Here we analyzed why users, including children and those who learn foreign languages, need subtitles.
Users are at the core of TV ecosystems. Operators create the best UI/UX to engage the elderly and attract new audiences as much as possible. Platforms such as AndroidTV, AppleTV, Roku, RDK, and even custom Linux solutions aim to offer people the best user experience. Today, we have voice assistants, screen magnifiers, and 10-foot UIs, but only time will tell what interfaces will evolve into.
Recommended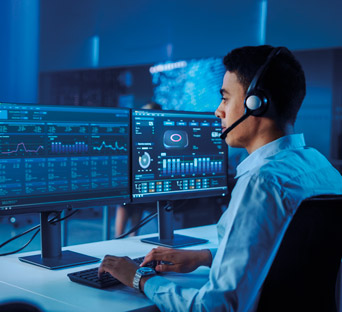 In this article, we'll delve into after-sales services — one of the tools to win the customer's trust and boost the company's income.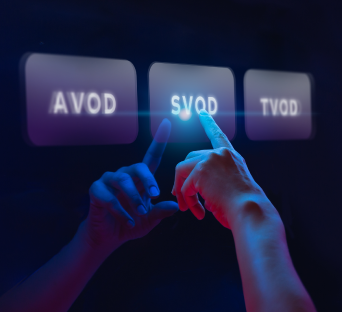 If you ask a young person whether they watch TV, their answer will most likely be "no". But young people spend roughly the same amount of time watching video content as older people. How is that possible?
Users of all ages are becoming less interested in what we call traditional TV: air, cable, and satellite broadcasting. These are being replaced by VoD services.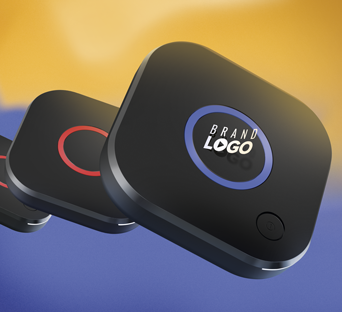 The term «customization» is used in many areas of production: from clothing to electronics. This word means tailoring a product or service to the needs of specific customers.