Commercial proposition
Select the purpose of request:
Product request
You are looking for a solution:
Select an option, and we will develop the best offer
for you
Infomir won the Grand Prix in the Best Corporate Media of Ukraine 2019 contest
Published on 07/11/2019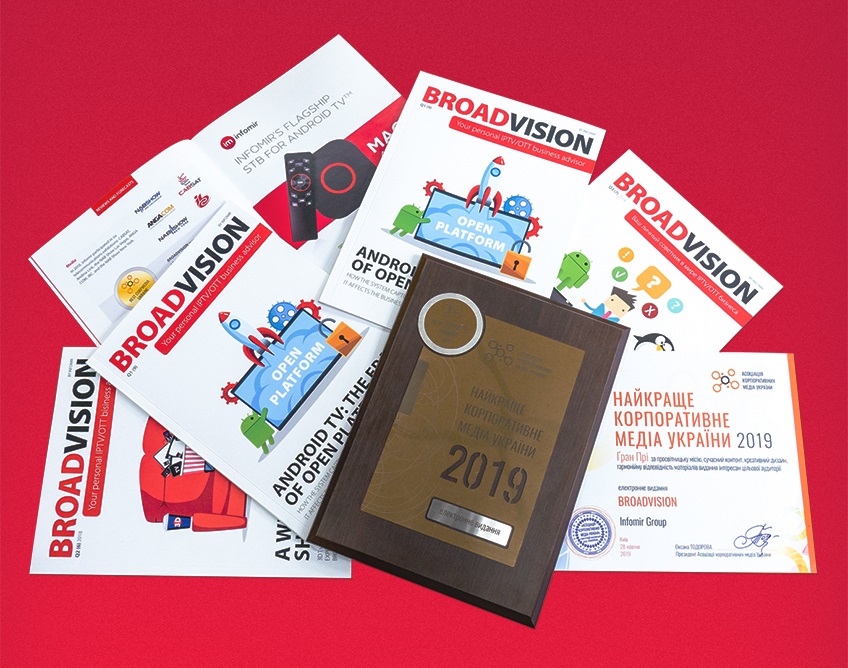 The Association of Corporate Media of Ukraine recognized BROADVISION magazine as the country's best electronic publication. One hundred and two domestic and international corporate media competed in this annual contest.
Infomir released its first issue of BROADVISION in January 2017. Since then, the magazine has published thirty-seven expert interviews, articles, analytical reviews, and success stories. Each publication shares the vast experience and knowledge of Infomir's technical specialists, marketers, and sales department.
Each issue contains four sections. In Reviews and Forecasts, the Infomir team imparts their expertise on the future of the IPTV/OTT, viewer habits, and market trends. In the Projects section, the team shares success stories. One of the stories, for example, is about the company helping Aknet grow from a local network to an international operator. The Dialogues section contains interviews with Infomir experts and partners; in Technologies, the articles talk about advanced technologies that can change the IPTV/OTT market.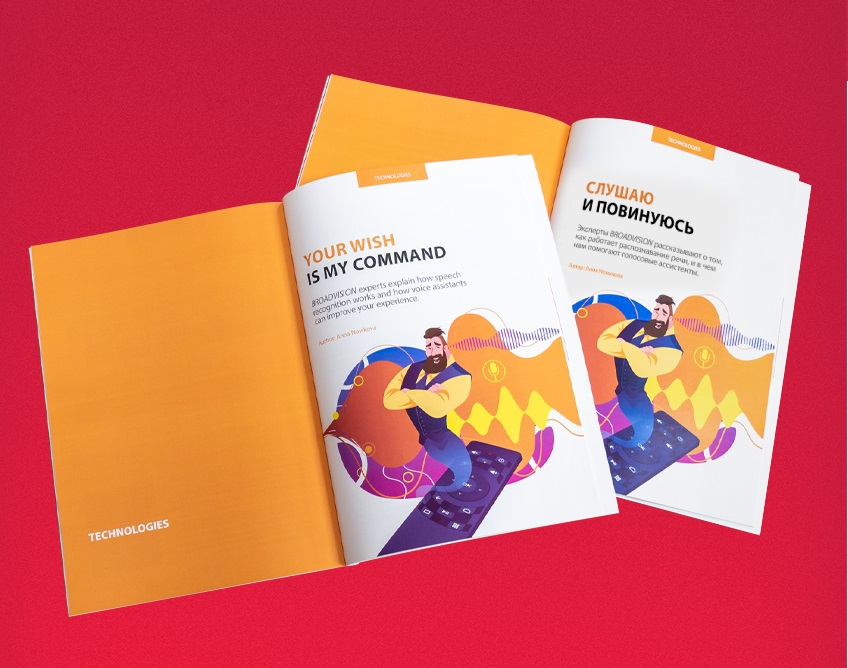 Infomir publishes BROADVISION in Russian and in English. Its readers are comprised of pay-TV operators, technical specialists, and marketers from a hundred and fifty countries around the world. More than 50% of the magazine subscribers are CEOs and CTOs of system integration, telecommunication, and distribution companies. Our readers include electronics manufacturers, streaming services, as well as leading companies in Europe, the USA, and the Middle East.
The e-version of the magazine is free. The printed version is available at the international exhibitions attended by Infomir. In 2019, the company has attended six events in the Netherlands, the UAE, Brazil, and the USA. BROADVISION was highly appreciated by communications service providers, electronics manufacturers, officials, content providers, and representatives of the media industry.
BROADVISION is made by numerous Infomir marketing specialists, analysts, hardware and software experts, as well as sales and technical support specialists. The company does its best to make the magazine as comprehensive and useful as possible.

«We strive to help our customers. We want to not just sell goods and services but also to create true value. In terms of content, BROADVISION occupies a challenging niche: we write for professionals, so our publications have to be expertly detailed, useful, and fairly easy to read. It is a challenging task, so I'm glad the jury have really appreciated our work.»

Igor Oklander, Infomir Marketing Director
Expert articles, analytics, interviews, and successful projects benefit our readers, so each issue is even better than the previous one. The BROADVISION Q3 (9) issue is dedicated to the Android TV platform, voice recognition, the 8K standard, and films vs television. You will be able to learn how these factors will change the IPTV/OTT industry forever.