Commercial proposition
Select the purpose of request:
Product request
You are looking for a solution:
Select an option, and we will develop the best offer
for you
Pre-order opening for the 5th generation of MAG set-top boxes
Published on 12/02/2021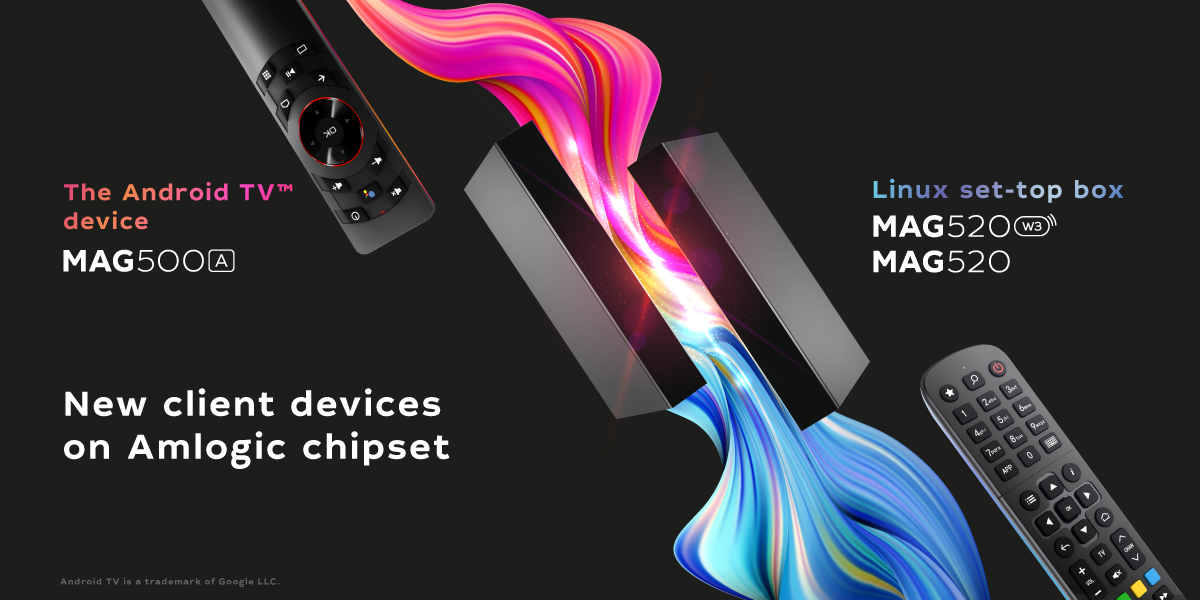 The long-awaited 5th generation of MAG set-top boxes is now available for pre-order. On the twentieth anniversary of its first set-top box, Infomir is opening pre-orders for a new MAG series. These new devices are 25% more powerful than our last generation of STBs. They are designed to help operators build competitive projects, provide uninterrupted service and the best user experience.
They can play content in 4K resolution at up to 60fps, they feature HEVC support and high dynamic range (HDR).
The new line includes Android TV™ and Linux-based devices. Operators, distributors, and system integrators will be able to choose the most suitable solution for their projects.
Supply starts in March, but you can order test devices right away. To order one, simply make a request on the product page or contact your sales manager.
The MAG500A — a next-gen Android TV device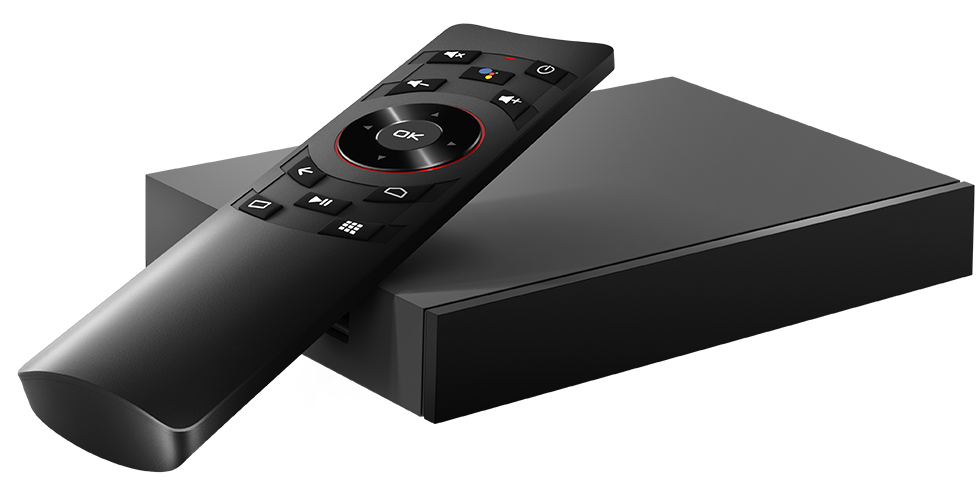 MAG500A is an Android TV set-top box for modern IPTV/OTT projects. The device has passed all Google's certification stages, so it features Google Play Store, Google Assistant, and personal recommendations.
The device plays 4K at 60fps, supports HDR, HEVC, VP9, and Dolby Digital Plus.
Main specs: Android™ 9.0, voice-controlled remote, 2 GB RAM, 16 GB eMMC, USB 3.0, USB 2.0, built-in 2.4 and 5 GHz Wi-Fi module, and HDMI 2.1 output.
The MAG500A advantages
Google Assistant

The application controls playback, answers questions, fetches weather forecasts, and finds content in all subscriptions at once.

Chromecast built-in

Thanks to Chromecast built-in, users can cast video, music, and even games from their mobile devices and PCs straight to their TV.

Android 9.0

The new OS boasts system auto frame rate, an improved Bluetooth remote, as well as updated applications and settings interfaces. An ultra-low energy-saving 'Shutdown' mode has been added, and the Google Play Music app has been replaced by YouTube Music. The system runs reliably and smoothly.

Built-in DRM solutions

MAG500A supports Widevine L1 and Microsoft Playready SL2000. These solutions help operators protect their content and facilitate negotiations with rights holders.

Wi-Fi and Ethernet interfaces

The device can be connected to the internet via both wired and wireless networks. It has an Ethernet port and an 802.11 ac Wi-Fi module. Wireless connection speed is up to 540 Mbps.

Eight-channel audio

MAG500A plays TV shows, movies, and concerts with both six-channel Dolby Digital sound and eight-channel Dolby Digital Plus sound.
With MAG500A operators can offer their audience the best UI/UX, over 7,000 applications and games, personal recommendations, and voice search.
Powerful Linux set-top boxes—MAG520/520w3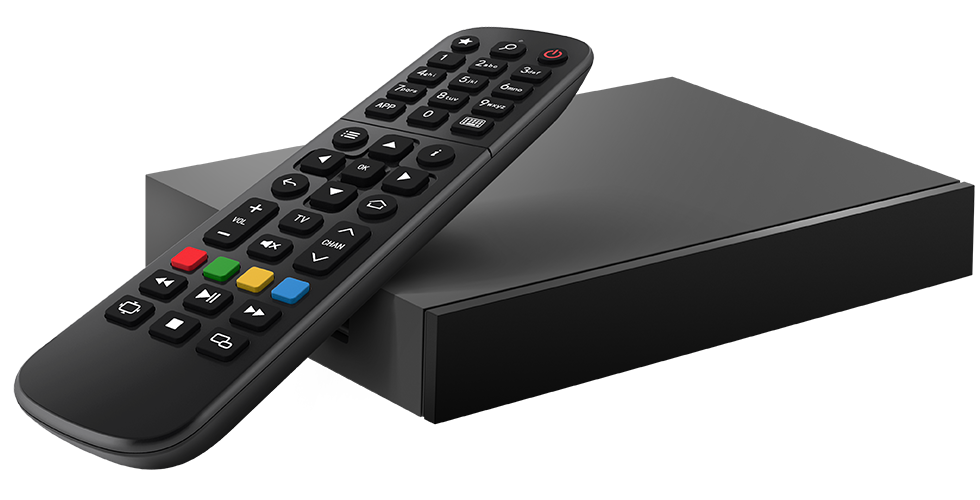 MAG520 and MAG520w3 are powerful Linux set-top boxes with 4K and HEVC support. These devices can run for months without rebooting, providing a high-quality user experience. The Linux operating system allows operators to customize the interface and develop their own applications easily.
Main specs: Linux 4.9, Amlogic chipset, IR-remote control, 1 GB RAM, 4 GB eMMC, USB 3.0, USB 2.0, built-in Wi-Fi module with 2.4 and 5 GHz range (only for MAG520w3), and HDMI 2.1 output.
MAG520 advantages
4K and HEVC support

MAG520 easily handles 4K HDR 60fps content and supports HEVC and other modern codecs enabling operators to deliver high-resolution content even over low-bandwidth networks.

Wi-Fi and Ethernet interfaces

MAG520 is equipped with an Ethernet port. MAG520w3 has a dual-band Wi-Fi module. Its speed can reach 100 Mbps in 2.4 GHz mode and up to 550 in 5 GHz mode.

API for integrations

Infomir created an API for easy software development and DRM/CAS integration.

Branding and customization

We customize set-top box software, brand interfaces, device casings, and packages.

8-channel Dolby Digital Plus™ sound

Viewers can enjoy high-quality audio on modern audio systems, home theaters, and TVs. The crystal clear sound provides the level of immersion that makes you feel as if you were actually in the film, TV show, or TV broadcast.

User-friendly remote

The MAG520 comes with an IR remote control included. The remote's body is made of anti-slip ABS plastic. Each key is designed to withstand 300,000 presses.
The Amlogic chipset, and easy migration
The new Amlogic chipset has made our new generation of set-top boxes 25% more efficient than the previous one. The interface and content playback are even smoother.
The chipset features a quad-core ARM Cortex-A53 processor and a Mali-G31 MP2 GPU. The frequency of the 64-bit CPU is 1.9 Ghz, its 12 nm process increases the CPU's thermal efficiency.
If operators already use MAG425A, MAG420, MAG424, or their modifications, they can simply switch to the new devices without any hassle. All integrations and applications will run on new devices with minimal adjustment.
Pre-order available, and shipping from March onwards
Pre-ordering is available from the MAG520 and MAG500A pages.
Order test set-top boxes right away
Order test devices and check how they work with your middleware, DRM and CAS. Evaluate applications and playback quality, and consult with Infomir tech support. To get test set-top boxes, contact our sales manager or leave a request on the product page.
About Infomir
Infomir is a European manufacturer of industrial and consumer electronics. The company makes smart TV set-top boxes as well as street lighting and resource consumption metering solutions.
Linux and Android TV MAG set-top boxes are Infomir's key products. Since 2001, they have been powering over 4,500 IPTV/OTT projects in 150 countries. The API enables the device integration with most middlewares and CAS. Support in English is also available.
Infomir's production facilities are located in Ukraine; its offices and distribution centers operate in the UAE, Estonia, and Switzerland. This ensures effective logistics worldwide.
The company also publishes the BROADVISION magazine and maintains its own educational platform—Infomir Academy. It has also forged over 50 partnerships with chipset manufacturers and vendors of middleware, as well as CAS, DRM, and other technology solutions.
*Google, Android, Android TV, Chromecast built-in, and other marks are trademarks of Google LLC.