Commercial proposition
Select the purpose of request:
Product request
You are looking for a solution:
Select an option, and we will develop the best offer
for you
Infomir continues to develop the European market: it's IBC again
Published on 27/09/2013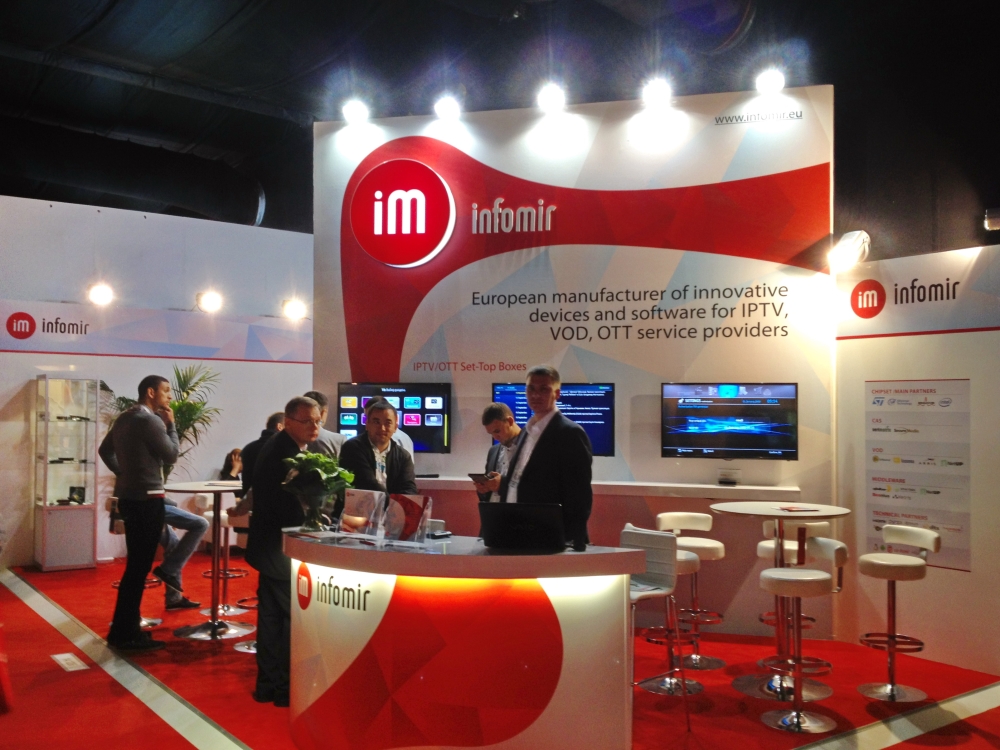 During September 12–17, Amsterdam hosted IBC 2013, the 44th annual TV equipment and technology exhibition and conference. Infomir participated with its own stand as the only supplier if IPTV solutions from Eastern Europe. We are happy to present a report on our participation and impressions from communicating with clients, colleagues, and fellow industry players.
IBC continues to be one of the major and most visited events for the telecom and TV market: each year the exhibition welcomes about 1300 exhibitors from 130 countries. This year the organisers reported the record-breaking number of visitors, conference participants, exhibitors, and media representatives: about 53 thousand people, 14 thematic halls, and more than 1,400 booths. Surrounded by numerous industry experts and innovators from all over the world, Infomir delegates felt both responsible and proud of their company.
The company's booth located in the ConnectedWorld Zone demonstrated previous-generation and brand new MAG Series Set-Top Boxes including fully functional production sample of the Android-based MAG260. Unlike older devices, this cutting-edge set-top box brings enhanced possibilities for operators developing customised applications using Android SDK. For end-users, it offers easy application installation. MAG260 has a high performance processor with a powerful graphic card, two USB ports, a microSD slot for connecting external media storage and content playback, a built-in WiFi adaptor. Apart from a standard feature set, MAG260 supports video streaming via the DLNA protocol.
With a pre-installed JavaScript API emulator of the basic MAG250 STB, MAG260 set-top boxes can be added to existing enivronments quickly and easily contributing to seamless integration into IPTV/OTT projects based on proprietary Stalker Middleware (Ministra TV) developed by Infomir or third party middleware from other suppliers using JavaScript API MAG250 Micro.
Visitors paid special attention to the new STB announced at IBC - MAG255 Micro STB, a modernised version of a basic model. At the booth, Infomir technical experts demonstrated a beta integration project combining the new STB and BeeSmart Middleware, well-known to European providers. Since BeeSmart Middleware holds a strong position on the market enjoying consumer popularity, Infomir has chosen Beenius as a sound and reliable partner for further strategic cooperation.
It was also annouced that the MAG250 Micro STB will soon be integrated with the Opera browser engine. The company's developers underline that Opera supports a comprehensive usage of HTML-5 и CE-HTML functionality offering broad opportunities for application and interface development.
The booth visitors also saw a preproduction beta MAG270/275 hybrid device for IPTV/OTT/VOD (+DVB-C/T/T2) targeted mainly at the cable TV market. The MAG270 STB with a more powerful processor offers high-speed image processing and supports the latest audio and video stream formats including 3D video, Dolby TrueHD sound and DTS-HD Master Audio.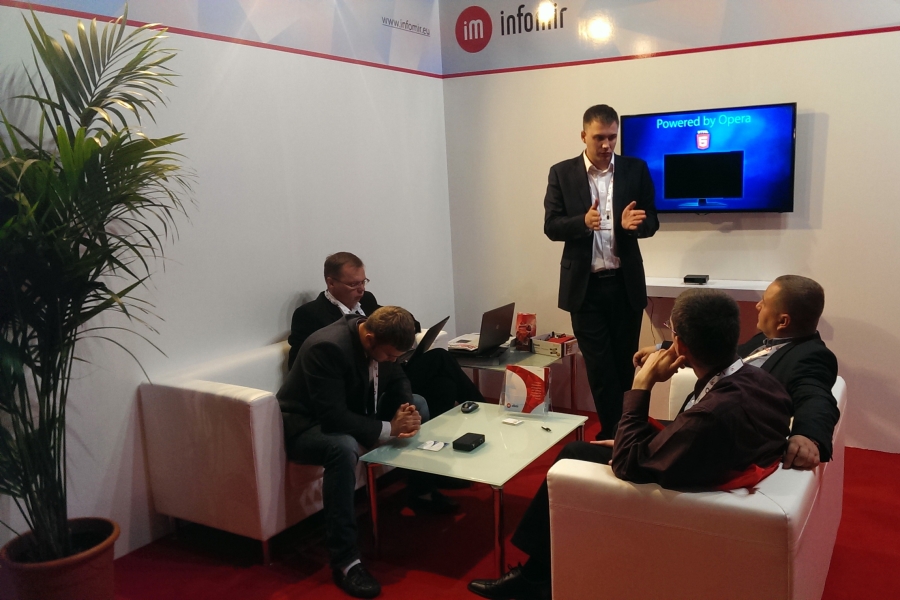 This year Infomir did not limit its activities to a booth exposition. The company presented a comprehensive MAGic Solution based on MAG devices, Stalker Middleware and server shareware for streaming and transcoding. MAGic Solution was specially developed for a quick launch and basic maintenance of IPTV projects. While the presentation was scheduled only for the end of the third exhibition day, the conference hall was fully occupied by interested visitors during the presentation. Free Stalker Middleware surprised and impressed industry members as ideally suited for start ups due to the absence of hidden payments (unlimited server installations; no client license charge).
During IBC-2013, Infomir team paid visits to booths of all major vendors and partners to exchange new ideas and experiences with developers. Meetings with STMicro, Intel, Microsoft, Opera, Access, Netrange, Minerva, Espial, SPB TV, Broadcom, Netris, Netup, SmartLab and other companies have set a clear path for further joint development and modernisation of IPTV technologies. A new strategic partner of Infomir, Beenius, was officially announced at the exhibition. The cooperation aims to jointly promote the companies' products on the worlds markets.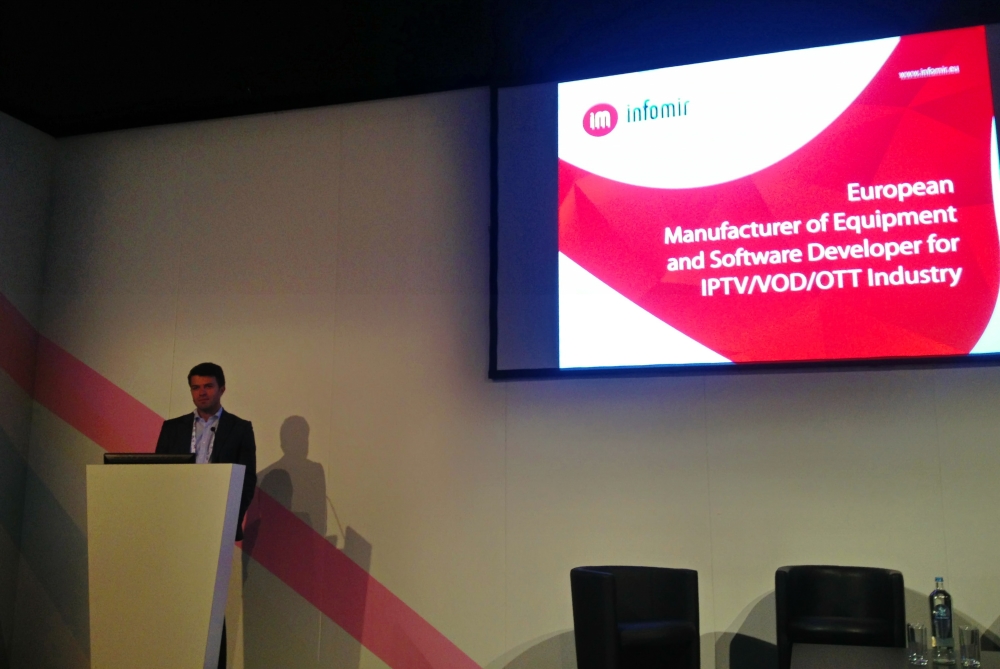 Another important event for further growth of IPTV business was a meeting with Broadcom, one of the leading suppliers of cutting-edge platforms. The talks ended with a mutual agreement on production of high end devices supporting the latest-generation formats 4К, 2К, USB 3.0, 3 HDMI (one in for additional content sources, two outs for connecting two TVs or other output devices).
At IBC-2013, Infomir delegates were positively impressed to see that their brand became much more recognized compared with the last year. Stronger market positions resulted in a tight schedule of meetings with potential customers. Numerous interested industry representatives added to high activity at the company's booth. We also noticed a high share of major telecom operators from Russia, Belarus and Kazakhstan among exhibition visitors. Moreover, their share was much higher compared with specialised exhibitions held in CIS countries. In general, the industry shows a clear positive trend. The market players are interested in new technologies. We are especially glad that products and solutions by Infomir are among them.
With IBC exhibition being a real inspiration, next year we will be glad to present to the European market more cutting-edge, value-added developments which will be still closer to perfection.
See you in 2014, Amsterdam!