Commercial proposition
Select the purpose of request:
Product request
You are looking for a solution:
Select an option, and we will develop the best offer
for you
Ukrainian Set Top Boxes at TV Connect in London
Published on 03/04/2013
This past March Infomir premiered its exposition at the TV Connect exhibition and conference (formerly known as IP&TV World Forum), the most popular and unique event for sharing technologies and solutions for IP television services. Traditionally held in London, the exhibition united about 400 leading manufacturers, over 200 exhibitors and attracted more than 7,000 visitors.
As one of the major events for European IPTV industry, TV Connect wields powerful influence on development trends of its participants. For Infomir, it was really important to present its achievements and plans to the global public. The company's representatives were positively impressed by a clear positioning and a highly specialised nature of the exhibition. The environment helped to focus on the target audience and industry experts. The exhibition results proved that solutions offered by Infomir are able to hold a strong and reputable position at the global market backed by many years' experience in the industry and continuous in-house development of highly promising technologies.
The company's booth demonstrated four totally different ТМ MAG IPTV set top boxes and consumer-oriented AuraHD network media players.
A classic MAG250 Micro set top box used by our customers in 50 countries of the world became a base for a modified MAG255 model with a more powerful processor, additional RAM and an HDMI 1.4 А interface. The new, upgraded version plays video content in nearly any digital format and supports resource intensive interactive applications. Its capabilities enjoyed strong interest from potential customers. Representatives of Infomir had to assure visitors over and over again that the model will soon enter the world market.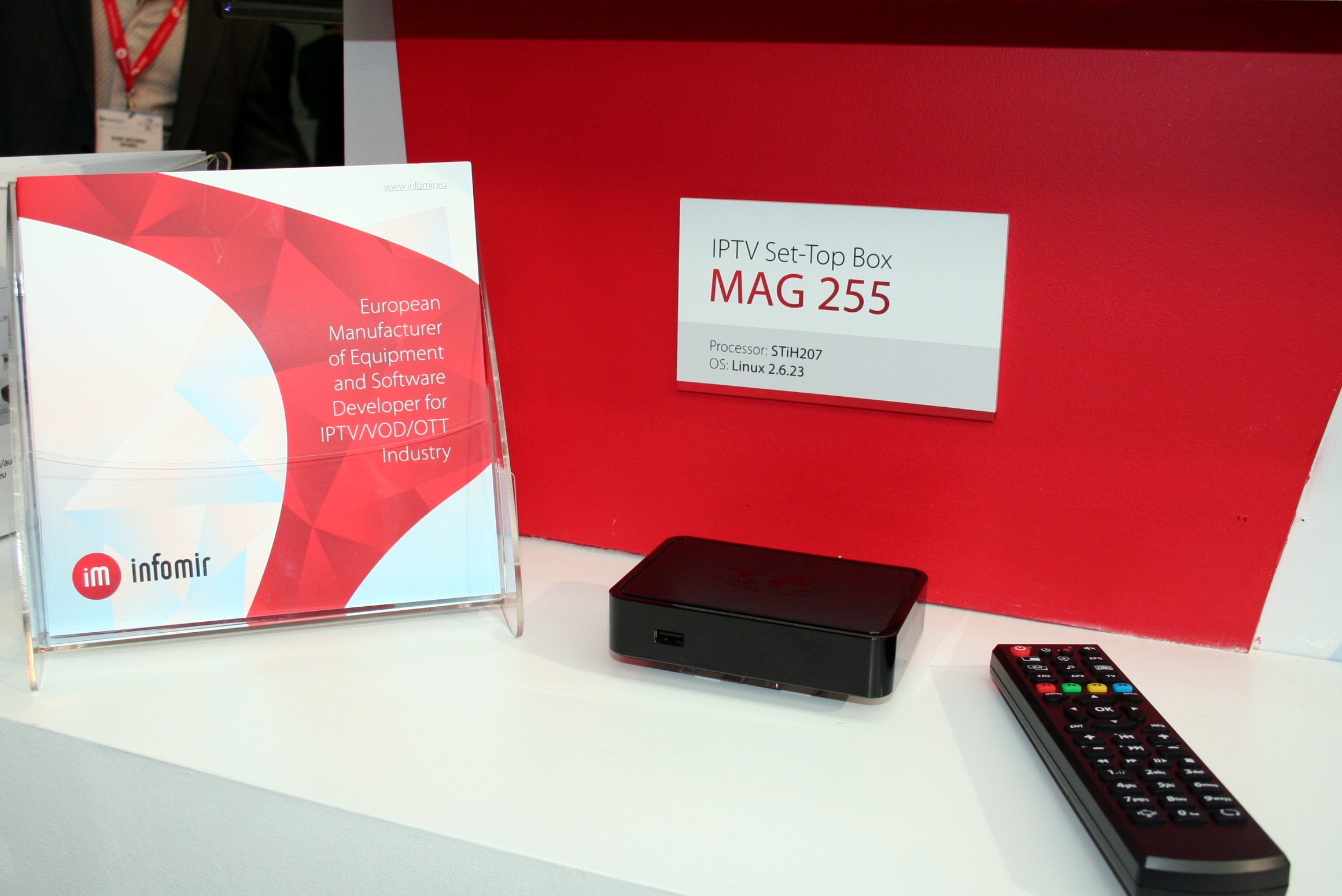 MAG270, a hybrid set top box with an in-built HDD bay, DVB-C and DVB-T support, is scheduled for production launch in the middle of this year. A high performance processor ensures rapid processing for any stream format. Due to additional space reserved for a HDD, SD cards, DVB-C and DVB-T interfaces, MAG270 set top box is slightly bigger compared to MAG250 (210mm x 140mm x 30mm). The device is aimed for professional usage by cable operators.
TV Connect event in London proved that Infomir had chosen the right development strategy focusing at the development of hybrid solutions. At present, this product segment shows a strong and stable demand growth. Most providers appreciate flexibility brought by hybrid technologies and their high value for end consumers.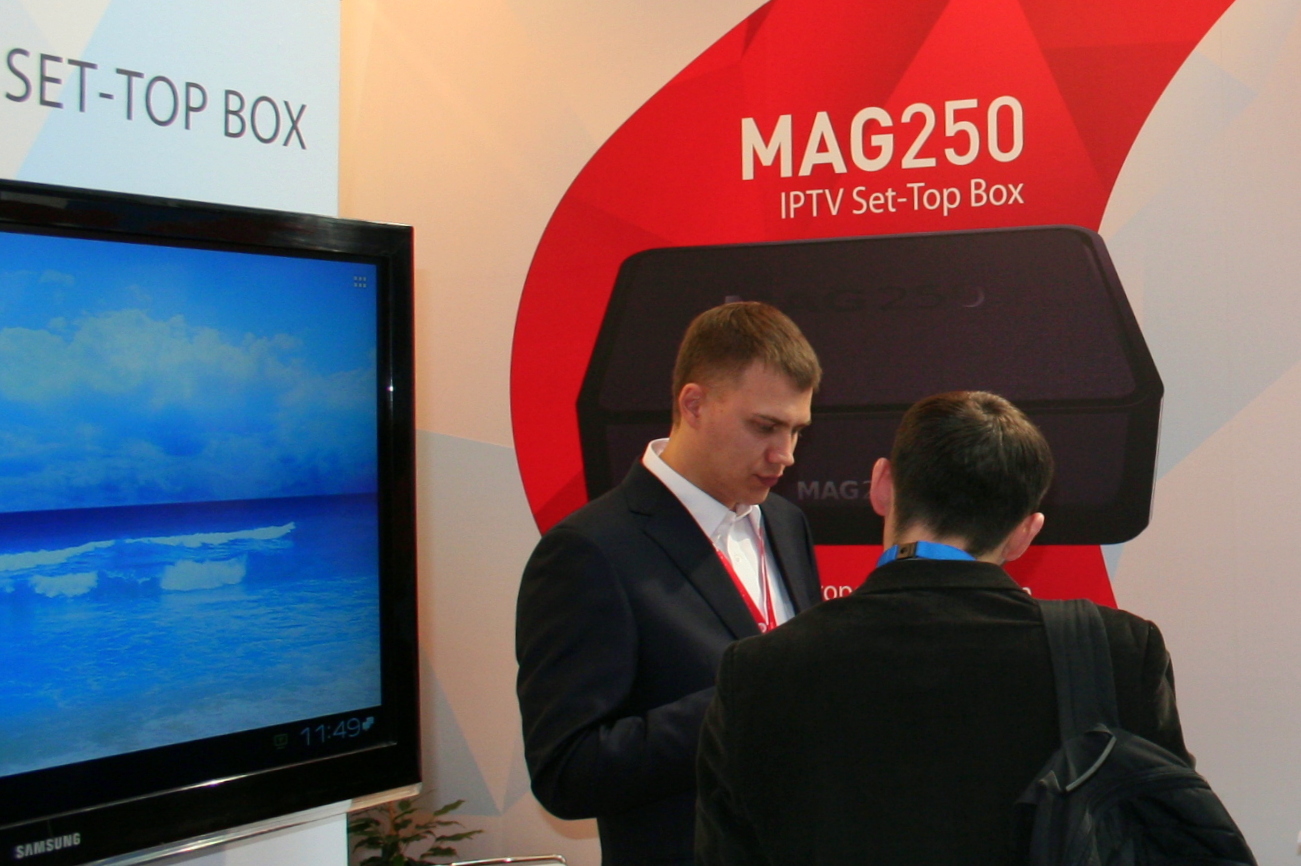 The exposition included another market-driven hybrid solution, MAG275 in a compact case supporting every digital TV format that is possible: IPTV, DVB-T/T2, DVB-C. Powered by a STMicro processor, the device features interfaces for additional signal sources along with a standard set of external interfaces including two USB 2.0 used for connecting digital media storage and file playback on a TV screen.
The company's flagship product is an Android-based set top box offering end users a highly individual style they value. The high-end MAG260 model is not a cost-efficient basic variant for an average user. But sophisticated customers will appreciate its highly versatile settings available only with Android-based solutions. Moreover, the set top box features a high performance processor, A10 Cortex A8 or A20 dual core Cortex A7 with Mali-400 MP2 graphics. The casing houses a microSD slot for connecting external media storage and content playback. The device offers a built-in WiFi adaptor for wireless Internet connection.
Both hybrid models and the Android-based MAG260 received a very warm welcome from exhibition visitors who liked their back compatibility and interchangeability with previous generation devices and basic solutions offered by Infomir. At present, IPTV services market continues to show strong dynamics. For many operators, the possibility of a seamless and breakeven modernisation becomes one of the key criteria in their choice of equipment supplier.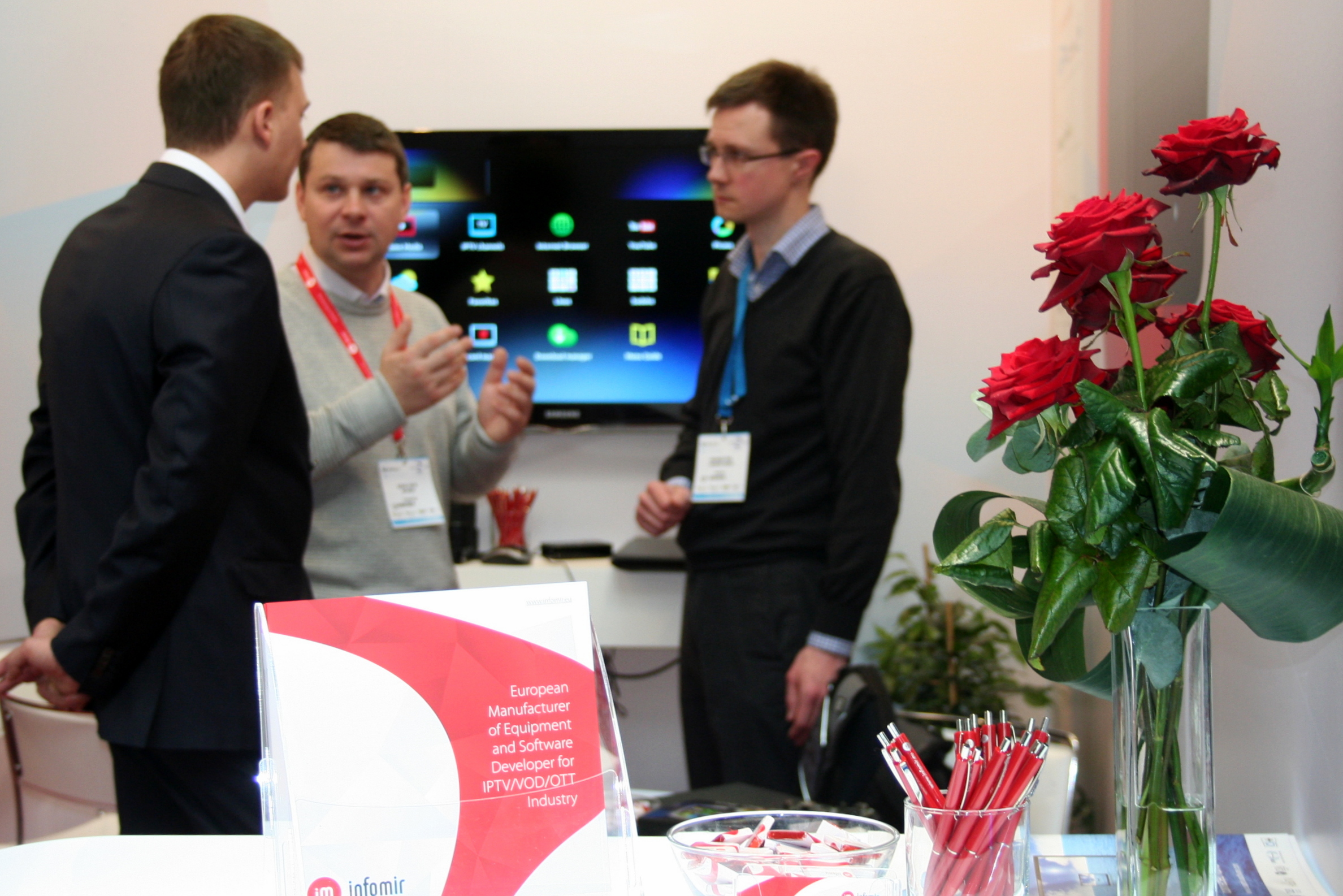 The exhibition gave the company an opportunity to visit booths and expositions of our colleagues, current and future partners, which turned out to be a really useful experience. TV Connect is a unique event where one can meet manufacturers of STB components including SoCs (Intel, ST Micro Sigma Designs, Broadcom), essential accessories (remotes) and system solutions for integration with set sop boxes (access protection systems, CAS). Business meetings and talks during the industry event helped to analyze market trends and possible innovations going to hit the market during this year. Apart from cooperation offers received from major suppliers, our team successfully outlined key priorities for our future activities.
Three exposition days were filled with conversations: experts and representatives of Infomir had numerous meetings with our European clients integrating MAG set top box series into their systems. Certain ОТТ and IPTV operators control their workflows using proprietary Stalker middleware (Ministra TV) by Infomir. Its open API ensures seamless integration with other solutions while many suppliers prefer to build systems using branded software of their own or by other developers. At the same time, "third party" middleware developers showed their interest in future integration with Infomir set top boxes. Their affordable price and consistent operation made the devices popular and demanded at the global market of interactive video services.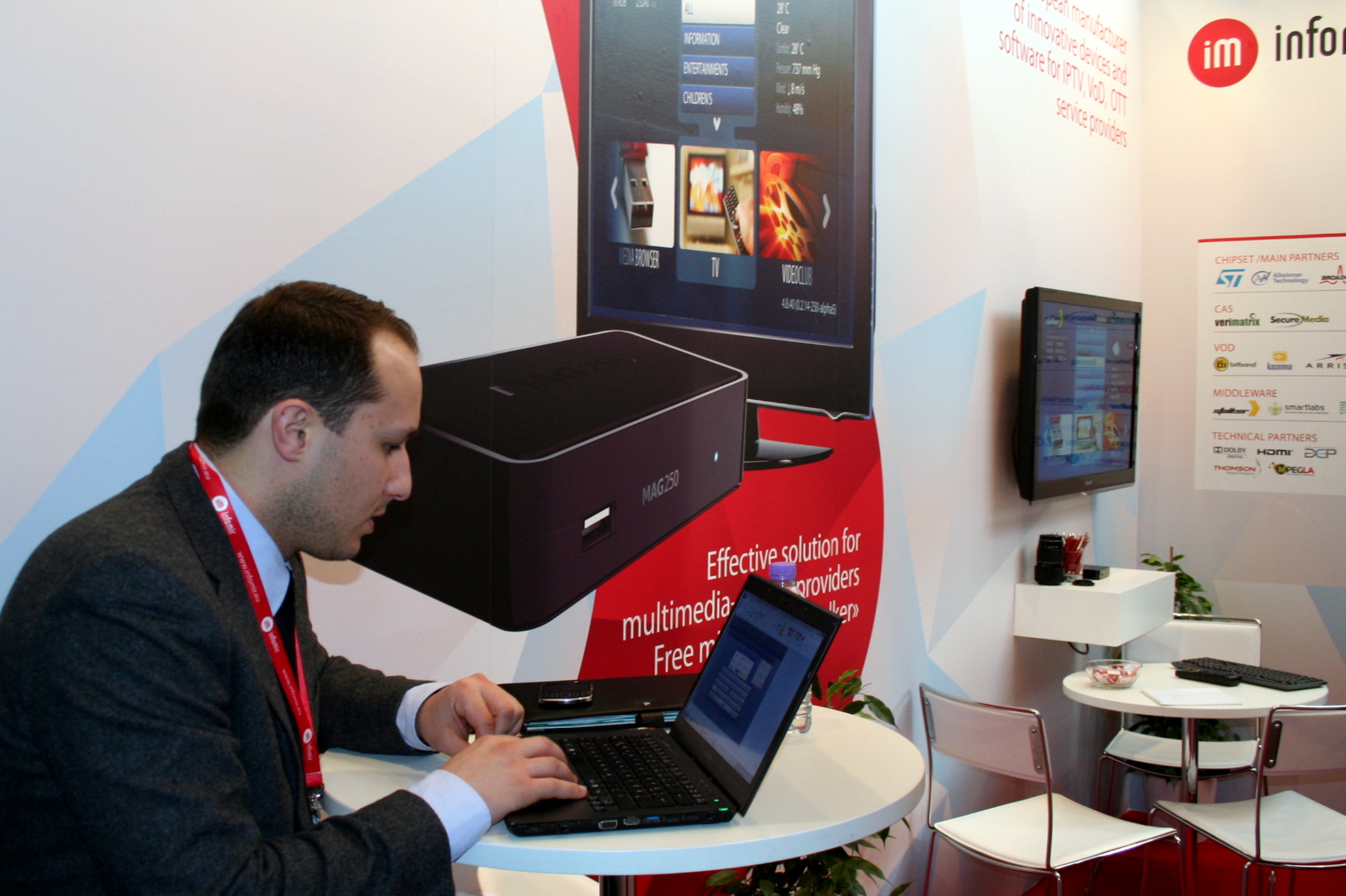 After all the talks and meetings during the exhibition, Infomir decided to pursue further integration with third party software making it one of its short term priorities. HeadEnd system integrators were among the companies, which expressed a strong desire to integrate their solutions with Stalker middleware. Efficient talks with OTT service providers showed their active interest in Infomir technologies and transformed into a number of preliminary offers and agreements.
Analysis of information from London helped our developers define their preferences. Now they see that the product line should be expanded, and mainly with hybrid solutions. A versatile multifunctional high end device meeting needs of any operator and its users became another priority.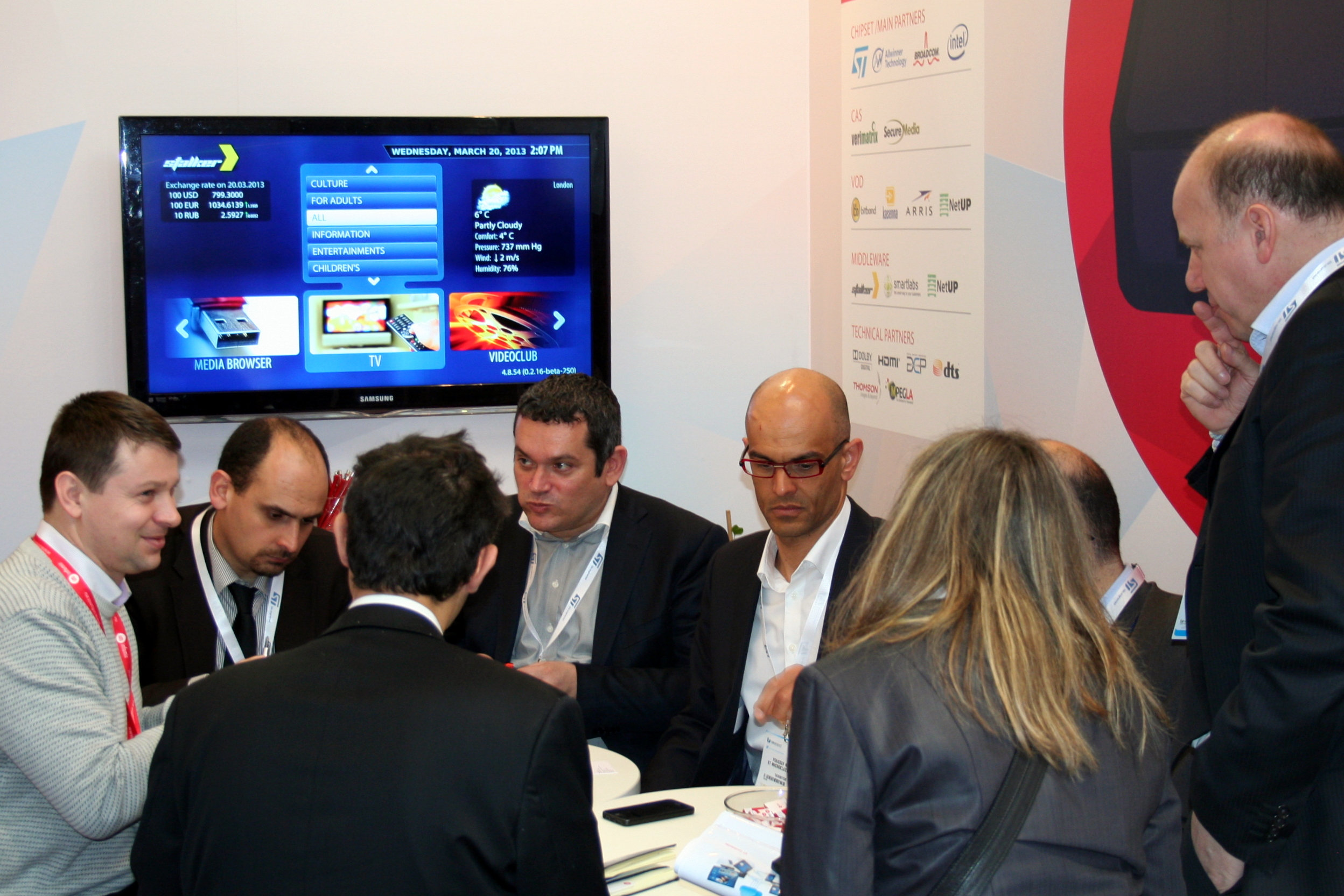 In general, the manufacturer is very pleased with the results of TV Connect show, which confirmed our status as a competent international supplier. Infomir has already reserved a booth at TV Connect 2014, which will be twice as large—we shall be glad to see you in London next year!