Commercial proposition
Select the purpose of request:
Product request
You are looking for a solution:
Select an option, and we will develop the best offer
for you
Developing A Mobile App: Nine Steps To Success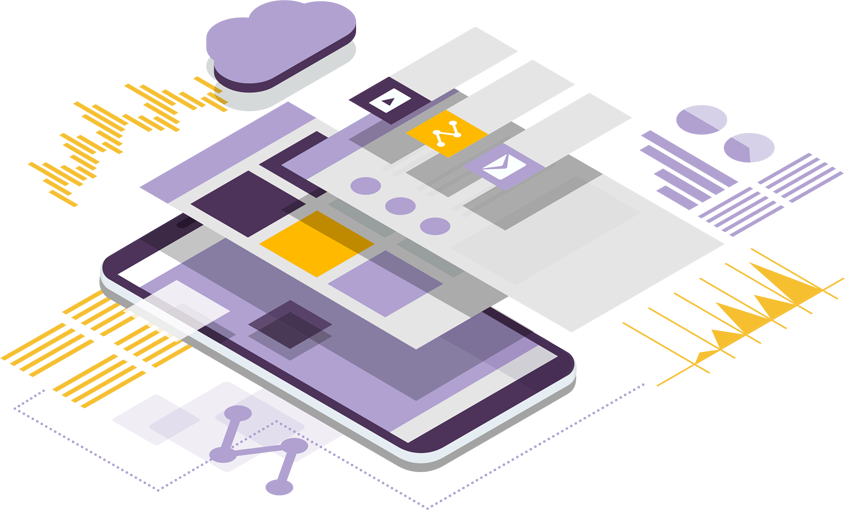 Over the last decade, mobile applications have become business tools that are as important as corporate websites. At times, when applications fail to provide returns on the investment involved in developing them, companies become disillusioned—all because of a failed strategy.
In the company's Mobile Advertising Forecasts 2017 report, Zenith claims that almost everyone in the Netherlands, Taiwan, Hong Kong, Norway, and Ireland owns a smartphone. At the beginning of 2019, approximately 66% of the inhabitants of the world's largest countries owned one. Tablets are not as popular and only 20% of the population of these countries own them.
Fifty percent of smartphone owners use their smartphones for more than five hours a day, and people spend most of this time using apps.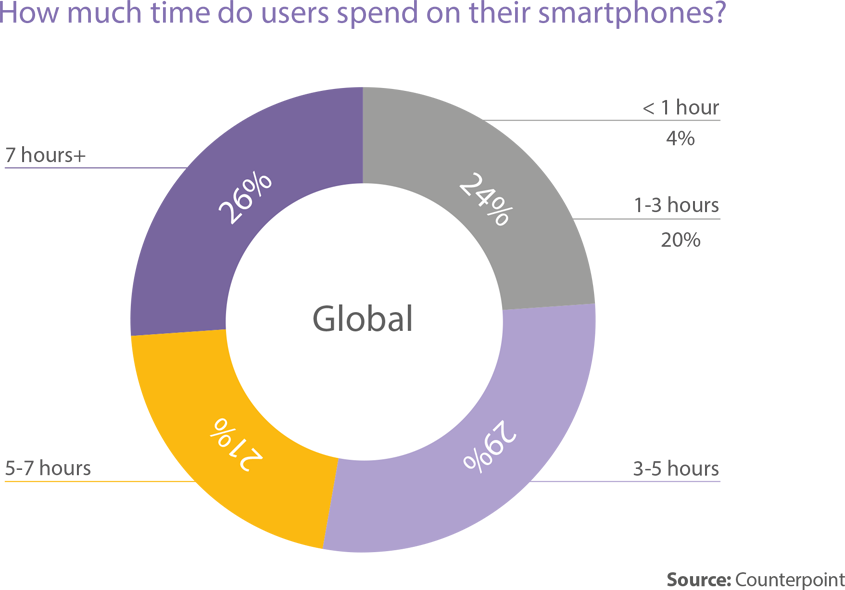 Since 2012, mobile traffic has grown almost fivefold, and it is expected to increase. In 2018, smartphones represented 52.2% of global Internet traffic.
Mobile apps help businesses attract new customers and retain existing ones. They can be used to access content from anywhere in the world, instantly, seven days a week. In addition, maintenance apps allow companies to save millions of dollars a year on labour costs.
In 2019, 72% of online video views were made via smartphones and tablets. The lion's share of viewers want to watch videos anywhere Internet access is available, and TV operators should allow them the opportunity.
Start with a strategy
Why do most mobile apps fail? There are 2,4 million of them on Google Play and 1,7 million in the App Store, but only 16% of all apps generate revenue. The reason is simple: app developers ignore the importance of strategy and neglect marketing. As a result, their apps either aren't downloaded at all or are deleted within the first three days of installation.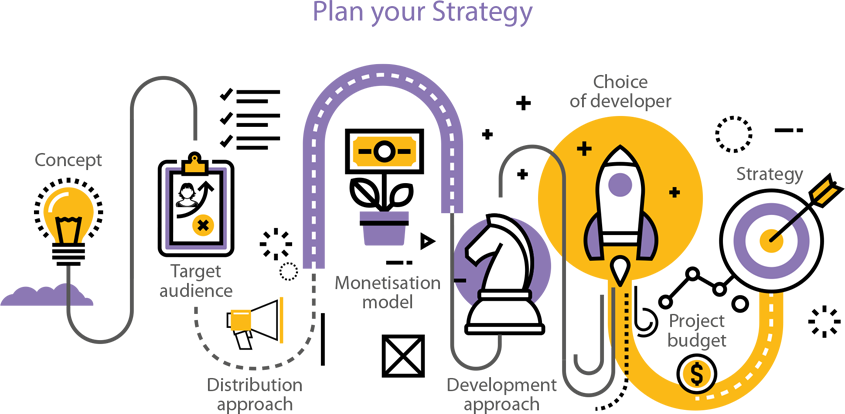 1. Check your concept
A successful app solves problems for customers, companies or employees. Games serve a different function: they entertain users. Does your product do either of these two things?
Study your competition from Google Play and the App Store. What problems do their apps solve? How popular are they? Pay attention to the apps with the best reviews and high download numbers. Find out what's different about your idea when compared to other solutions. Analyse this and make a comparison table.
Don't try to stand out with unnecessary features, and don't be tempted to turn your app into a Swiss Army knife. It should have one key task.
Turn to developers, industry experts, and marketing specialists for advice. Show them your presentations, design layouts, content, and videos to help them get a sense of the essence of your application. They will help you improve your idea or let you know if they think you should abandon it.
Find out what users think. Present a concept and application layouts, either through social media, surveys, or a landing page with targeted traffic. Collect feedback to see if your app concept has a chance to be successful.
If the idea has a lot of potential, go ahead and develop it.
2. Select the distribution method
Most often, mobile apps are distributed through Google Play and the App Store. There are already over 4.1 million applications available in these two stores, which are popular in Europe and the United States. In other regions, they have a smaller share of the app market. Google Play, for example, represents only 3.6% of the Chinese app market.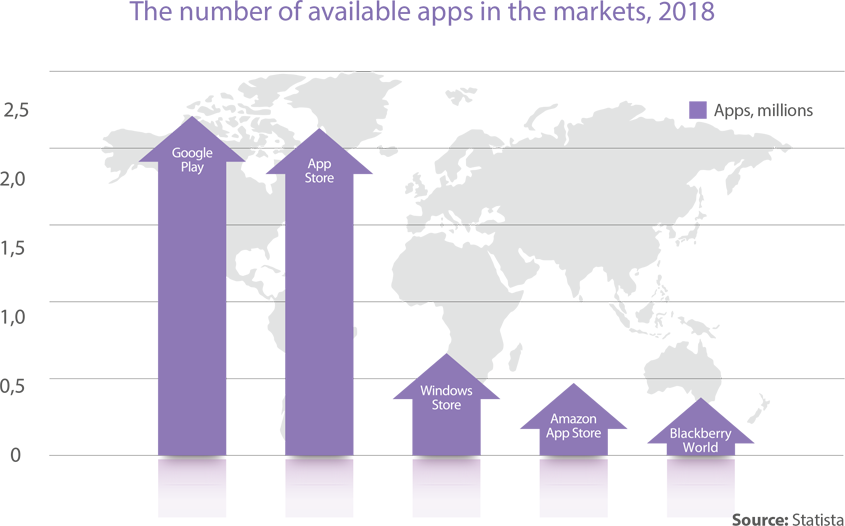 There are only 300 large app stores in the world. Most of them are universal, but some specialize in games, business applications, or other niches.
It's not enough to just put an app in the store. You have to invest some effort in it for your application to become popular. For example, ratings on Google Play and the App Store are affected by the design of your app page, the number of installations, and the number of positive reviews. To attract a larger audience, make the icon eye-catching, include a compelling description, and add beautiful screenshots to enhance the application page. It's important that the app's description in the market matches user queries.
There is even an art to presenting mobile apps in the markets so that they can be easily found through keyword searches. It's known as ASO—App Store Optimisation.
You don't have to limited yourself to stores. Maintenance apps are often distributed via email or through corporate websites. Large companies can negotiate with device manufacturers to have their apps pre-installed in a device.
3. Choose a monetisation model
According to App Annie, a global provider of app market data, mobile applications will generate $139 billion by 2021. And more than 90% of apps are distributed free of charge.
App developers earn their money through advertising, paid subscriptions, selling premium functionality, and through sales of virtual and tangible goods. Paid subscriptions are relevant for content sales services, and only popular apps have significant advertising revenue. Another way to monetise is to encourage your audience to become users of other applications or customers of other companies.
Seventy to ninety-five percent of new users are lost in the first three months. To retain your audience, don't monetise your app to the detriment of its UX.
4. Select a platform
Around 76% of the world's smartphones operate on Android and almost 19% use iOS. However, iOS-based apps generate more profit.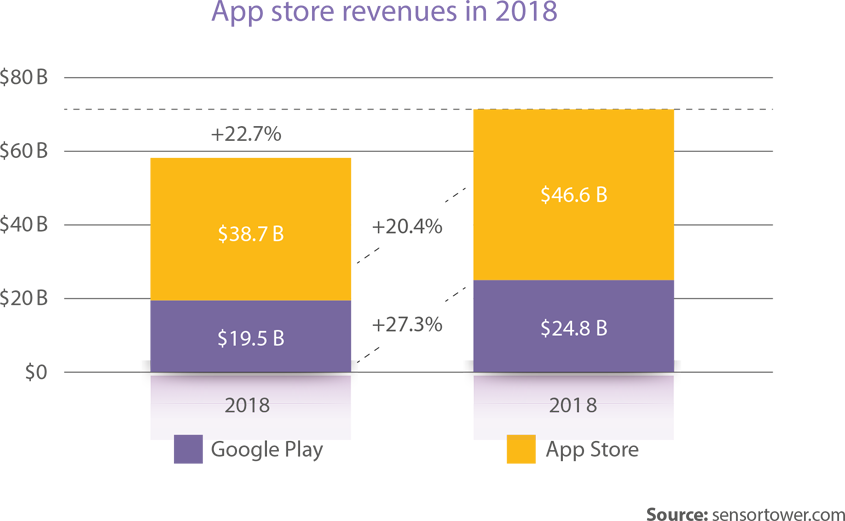 In 2021, users will spend $32 billion on Google Play and $60 billion at the App Store.
Find out which platform your target audience is using and focus on it. You don't have to simultaneously release an app on both platforms. Instagram for Android and iOS came out a year and a half apart.
5. Native app or hybrid app?
Native apps are developed for a specific platform. Objective-C and Swift are used for iOS, while Java is more generally used for Android. Native apps use all the features of the OS they were designed for; they have high running speeds and provide the best user experience. The disadvantage is that apps for Google Play and apps for the App Store have to be developed separately.
Hybrid applications are web pages enclosed in a native shell. They are easily adaptable to any platform because they are built on JavaScript and CSS. The disadvantages of hybrid apps are that they have slow interfaces and less advanced UX. These apps can only operate when users have Internet access.
Each approach has its advantages. Native apps are more expensive, but the output is a high-speed, more user-friendly product. Hybrid apps are perfect for urgent projects and MVPs.
6. Select a developer
When developing your app, choose developers with extensive experience and respectable portfolios. Find out if they can implement your idea. Ask key questions about the development process. Who on the team will need access to your business data? Why? Find out how the developers will ensure the safety of the application.
The design of any application consists of two parts: the look and the feel—the UI and the user-friendliness, or UX. Who will be in charge of the design? You or the studio? We discussed the meaning of UI/UX previously in the Think Like the User article, published in the third issue of Broadvision 2017.
7. Estimate your budget
The app's development budget depends on the chosen platform, design, type of application (native or hybrid), and its subject matter. To properly assess the costs, you have to involve a business analyst, a product manager, a designer, and developers.
On average, a simple application will cost $10–50 000 to produce; complex solutions may require an investment of $100 000–500 000.

Source: clutch.co
You should specify the deadlines for development of individual components and the application as a whole in your budget estimate. If the price seems too high for you, don't compromise on quality. Simplify the application's functionality a little or increase the development timeline.
8. Create a minimum viable product
An MVP (minimum viable product) is a simple but full-featured application capable of solving user problems. We discussed MVPs in detail in the Implement and Conquer article in the first issue of Broadvision 2018.

Don't forget that the main goal of an MVP is to showcase an idea's potential. It will help you determine whether your customers are ready to use it and if they're willing to pay for it. Developing an MVP will help you clarify which functions are lacking and what direction to take in terms of further development.
9. Create a final application
Work on the product. Participate in the development and evaluate the application's interim releases. Approve the order of construction of the UI, the navigation, security components, and other application modules.
Be sure to test your app. If the functions of the app work the way they're designed to and there are no fatal errors or concerns about the UI/UX, it may be ready for distribution Use the method you chose in the second step.
Remember it's not enough to just develop an application. You need to create and implement a marketing plan to make it a success. Then the product will accomplish the goal you had for developing it.
A white-label app
Because of the high cost of development, small business owners may think it's a monumental undertaking to create their own applications. But this is no reason to abandon the idea. Choose a ready-made app that can be adapted to your needs. Taxi booking services, restaurants, hotels, and other companies use branded applications.
This approach has been used for a long time in web development: web developers create multiple websites based on templates, which are adapted to the needs of specific projects.
You can adapt an app for your brand in a week.
Large TV services aren't lagging behind the mobile trend, and many have created their own apps. But local operators can also give viewers access to their content from literally any place with Internet access. For the reasons we've outlined, branded players are perfect for small operators. Despite the cost of maintenance and updates, using a branded app is still much cheaper than developing your own.
In conjunction with Ministra TV platform, Infomir offers operators the Ministra Player—a client app for viewing content on TV set-top boxes, smart TVs, smartphones, and tablets. We release branded versions for iOS and Android platforms.

Mega iTV from Aknet, Teleport TV from Teleport, and Orange TV from Orange Palestine are all branded versions of Ministra Player.
By following these important steps, we're sure you'll be able to design and implement your application successfully, plan your marketing strategy, and control your app's development. Best of all, your application won't be lost in the depths of Google Play or the App Store; your audience will find it and it will help you to improve your business. All you have to do is build it.
Recommended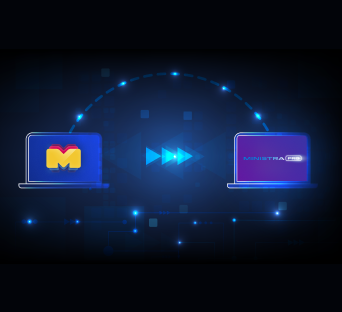 Ministra PRO is a modern cross-platform middleware that allows operators to conveniently manage services while providing users with an up-to-date service. The platform has a number of pros compared to the already familiar to IPTV/OTT service providers Ministra TV Platform. In this article we are going to cover the advantages operators get by making the Ministra PRO migration.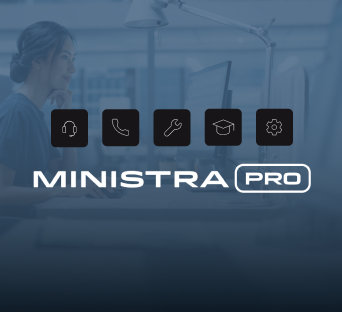 Successful middleware deployment in IPTV projects depends on two essential aspects: pre-sales and post-sales technical support. In this article, we will explain how pre-sales and post-sales Ministra Pro support makes interactive TV projects successful.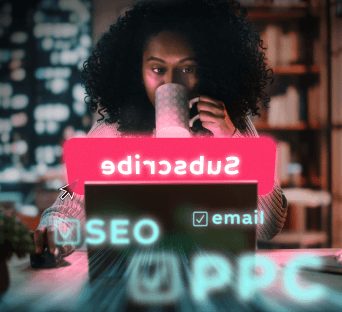 Technology provides entrepreneurs access to information from multiple sources: social media, the Internet, or databases. Combined with software, it helps them take into account numerous indicators and trends. All of this can be used to make your business grow.