Commercial proposition
Select the purpose of request:
Product request
You are looking for a solution:
Select an option, and we will develop the best offer
for you
ANDROID TV IS THE FUTURE: TOP 5 REASONS WHY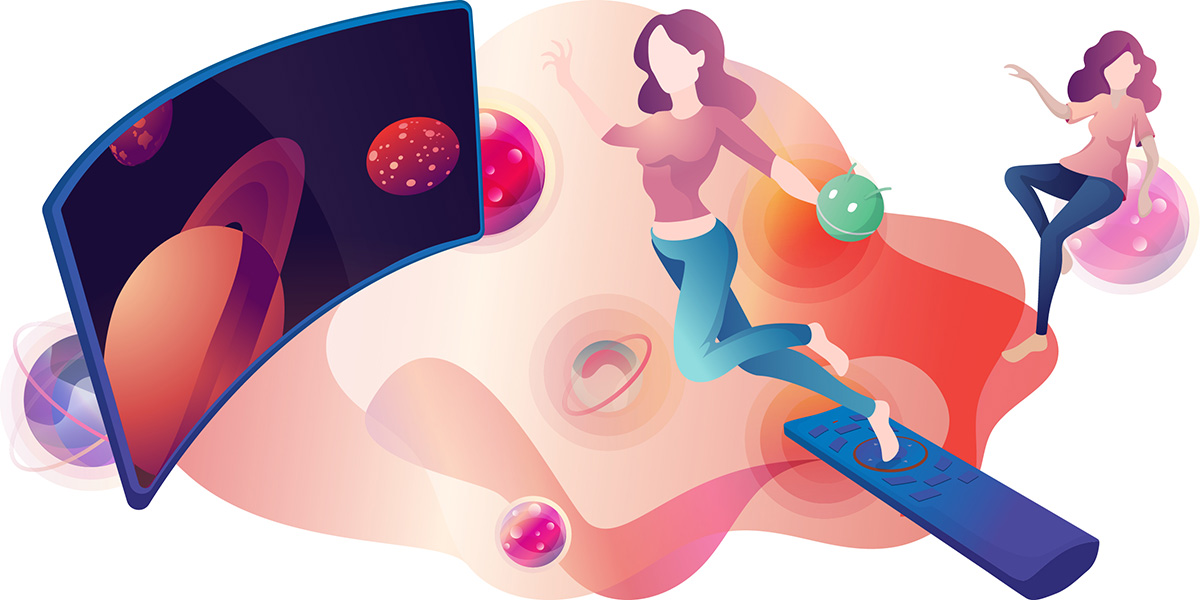 According to Statcounter, Android™ accounted for 76.67% of the mobile operating systems market. Now that Google's platform has conquered the mobile sector, can Android TV do the same in the TV device market?
Android TV is designed for smart TVs, set-top boxes, and other multimedia devices. The system features Google's integrated services, a content-oriented launcher, voice interface, personalized recommendations, and app store, right out of the box.
Android TV Operator Tier is targeting operators. It supports interface customization, promotional content on the home screen as well as in search results and user accounts, billing, and analytics management. Furthermore, it ables operators to build services with unique UI/UX.
The head of Android TV, Shalini Govil-Pai is convinced that it will help operators build better user experiences, maintaining existing audiences while attracting new ones. And it is this particular niche that the platform currently occupies in the smart TV market.
"For operator partners, in particular, we learned early on that flexibility and customisation are key components for our engagements. Our operator tier has allowed our partners to customise the launcher user experience with their branding and content. Since then, we have seen extraordinary momentum due to offering a unique, differentiated solution in the marketplace. We are also working on turnkey tools for faster time to market and offering more monetisation technologies."

Shalini Govil-Pai, Head of Android TV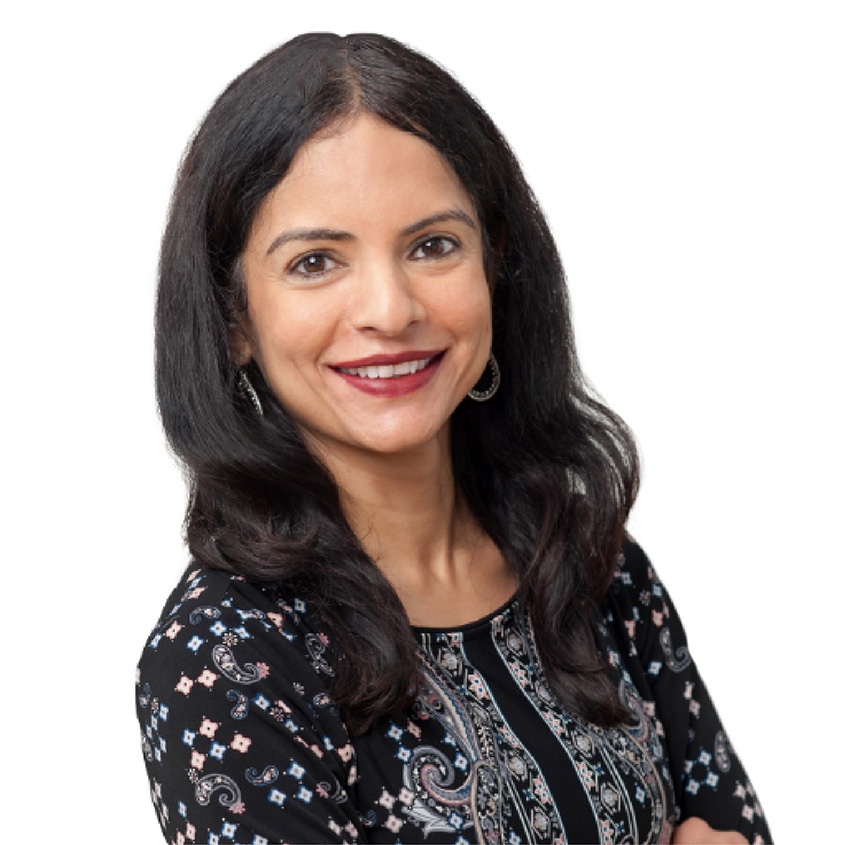 Google is committed to developing the retail set-top box and Smart TV sectors. Their Android TV's standard launcher is focused on content — linear programming, films, videos, and series are all accessible from the home screen. Then there is the Google Assistant which controls home devices, checks the weather, answers questions, and finds content.
So, here are the five reasons why Android TV is the future of television:
1. Operators are embracing the platform
In 2016, only three operators used Android TV, that number grew to 100 by December 2018. At IBC2019, the Head of Android TV said that tens of millions of people globally own Android TV devices, most of them being in Europe and Asia. By April 2019, 140 operators in 60 countries were using the platform, and their numbers have grown even more recently.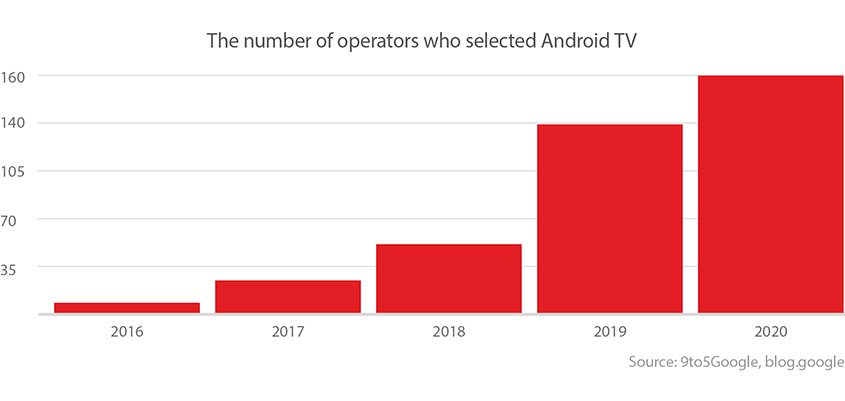 According to Rethink TV, by the end of 2022, over 99 million devices globally will be running Android TV.
Over half of 2019's Android TV projects were launched in Asia-Pacific, and the platform also enjoys popularity in EMEA.
Despite the pushback from major cable operators, Android TV keeps expanding its market shares. In response, Liberty Global, Comcast, and Charter Communications have created Reference Design Kit (RDK)—an open-source solution for pay television providers.
Even big brands have seen the potential of Android TV and are investing in it—seven out of ten leading smart TV producers have made it their platform of choice: Sony, NVIDIA, TCL, SHARP, Xiaomi, Hisense, and Funai (Philips). Besides smart TVs and set-top boxes, Android TV even powers laser projectors and soundbars.
The popularity of Android TV is also boosted by operator solution suppliers like MobiTV, TiVo, Evolution Digital, and Amino. Compatibility with Android TV clients is a must for modern middleware, and certain platforms are embracing it.
2. Easily customizable UI
Android TV provides the best big-screen user experience. The platform's Material Design is built on the 10-foot UI concept so that it remains easily readable from 2.5 to 3 meters away— the distance users usually watch their TVs from. The UI is designed to avoid straining users' eyes. Viewers want to relax in front of their TVs, and Android TV enables that. The most important thing is keeping it simple.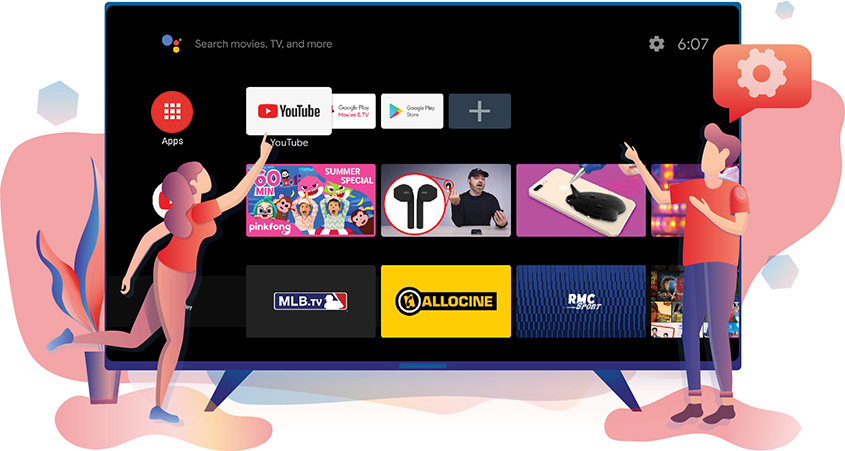 Within the standard launcher, every app promotes its content through a dedicated "channel" on the home screen. Over time, the system learns the users' preferences and starts showing only the things that might be interesting to them. The Operator Tier edition though, enables operators to promote their content, allocating space for it in recommendations and search results.

To keep the look & feel consistent between their apps and the home screen, operators resort to creating custom launchers. Google's design requirements still apply for apps, but it's generally up to providers to ensure the UI is laid out and branded the way they want while remaining user-friendly.
"Android TV is simple and magical. It's all about finding and enjoying content and apps with the least amount of friction. Minimize the number of navigation steps required to perform actions. Build apps with the fewest screens possible between app entry and content immersion. Avoid making users enter text whenever possible, and use voice interfaces when you require text input."

Android TV design principles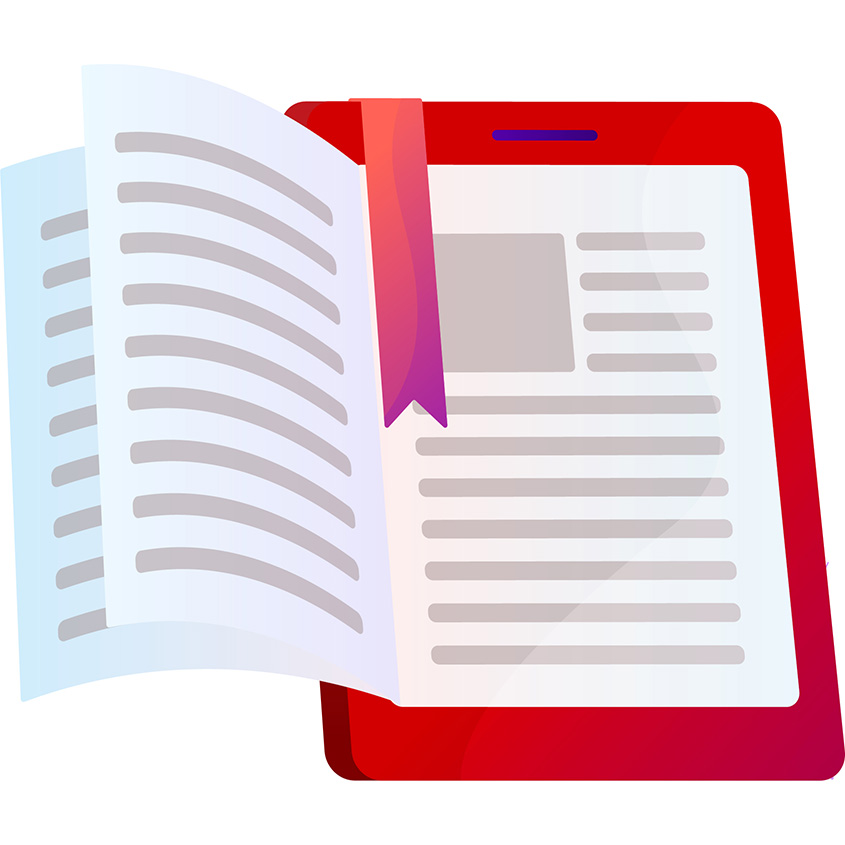 At IBC 2019, Google presented its joint project with AT&T—one of the largest American telecom operators. Their new streaming service will be launched in the USA in 2020. The AT&T service's UI is a departure from standard Android TV—the launcher is built around the operator's programming and streaming apps like DC Universe. The search results feature AT&T's content first.
Users are now at the center of the television ecosystem. Operators revamp UI/UX to engage their audience and reduce subscriber churn as much as possible. And Android TV has all the tools to help them do that.
3. Google Assistant
The current trend is to make it easier for us to interact with our devices, e.g. through voice control. And it's especially important for home appliances. AI helps home appliances actually hear us and understand what we say. This has greatly enhanced the diversity of commands available, improving the quality of life for regular users and people with disabilities.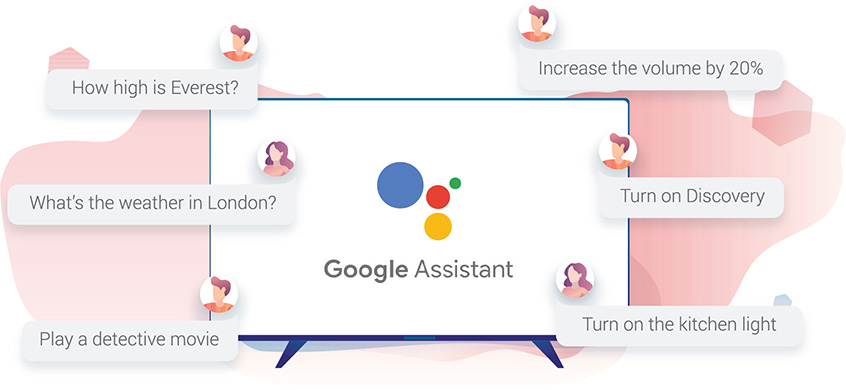 The Android TV Google Assistant looks up content in all apps, answers questions, controls smart home devices, plays music, and retrieves weather forecasts. The Voice interface takes interaction with video services to an entirely new level, changing the way users consume content.
4. Google Play Store
One of Android TV's main advantages is its app ecosystem. Google Play Store's range of content for big screens has already exceeded 5,000 game and app titles. Android TV devices support games and Bluetooth gamepads — giving this platform big gaming potential.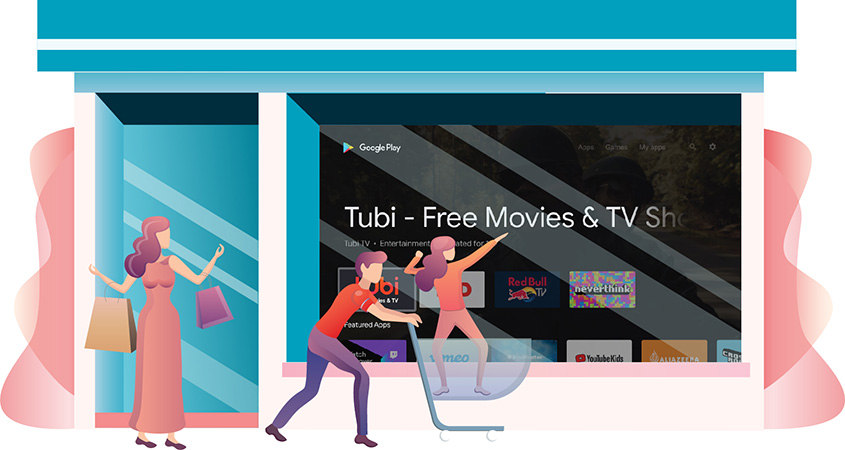 According to OVUM, most operators see the app store as a big advantage of Android TV. Out of 300 pay-TV professionals surveyed, 84% did not consider access to an app store a factor of subscriber churn.
Operators can't disable the installation of competing apps. They need to promote their own content to fight competition. For this, Android TV Operator Tier enables them to feature it on the home screen and in search results.
5. Smart home solution
OTT operators compete for users that don't require them to set up a separate network. Competition like that is loss-making for traditional IPTV services. Providers cut subscription fees, but viewers still expect more features from their services.
Operators need a new way to boost revenue, reduce subscriber churn, and attract new audiences. This is where smart home services can help.
There are over 26.6 billion IoT devices running worldwide. By 2025, the figure will rise to 75.4 billion, up fivefold from 2015.
Hubs, sensors, and other smart devices help people remotely control their door and window locks, provide surveillance, notify about smoke conditions and water or gas leakages, control air conditioners and heaters, etc. Smart home services open wide monetization opportunities for operators.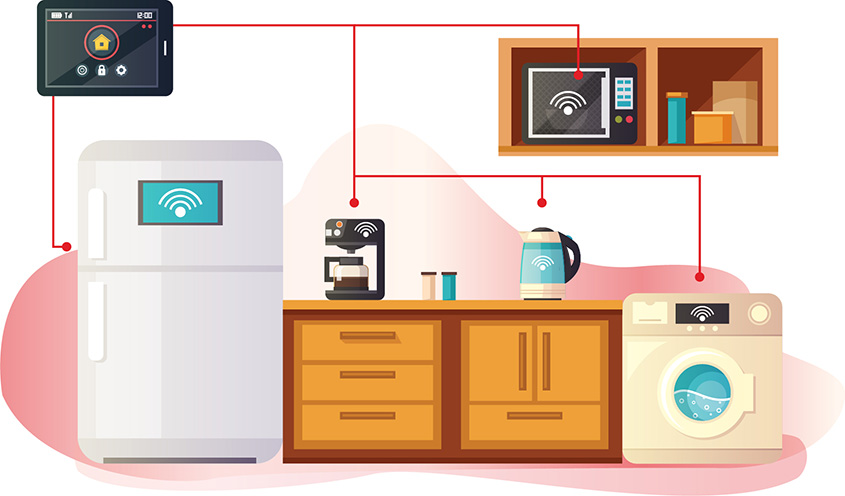 There are multiple reasons why it is multiplay operators that deploy smart home solutions. Their audience is paying for television, telephony, and the internet already and may very well take an interest in the new service. Besides, smart home solutions are best integrated as a part of the existing infrastructure—operators have a network of their own, as well as a sales department, customer support, billing, etc.
If the user has an Android TV with his favorite content, a set-top box can easily become a smart home hub.
In partnership with Google, YouGov surveyed 2,000 internet users about their viewing habits. 79% of respondents said they would like to control their smart homes from the TV, primarily adjusting lighting and air temperature as well as controlling video surveillance and audio systems.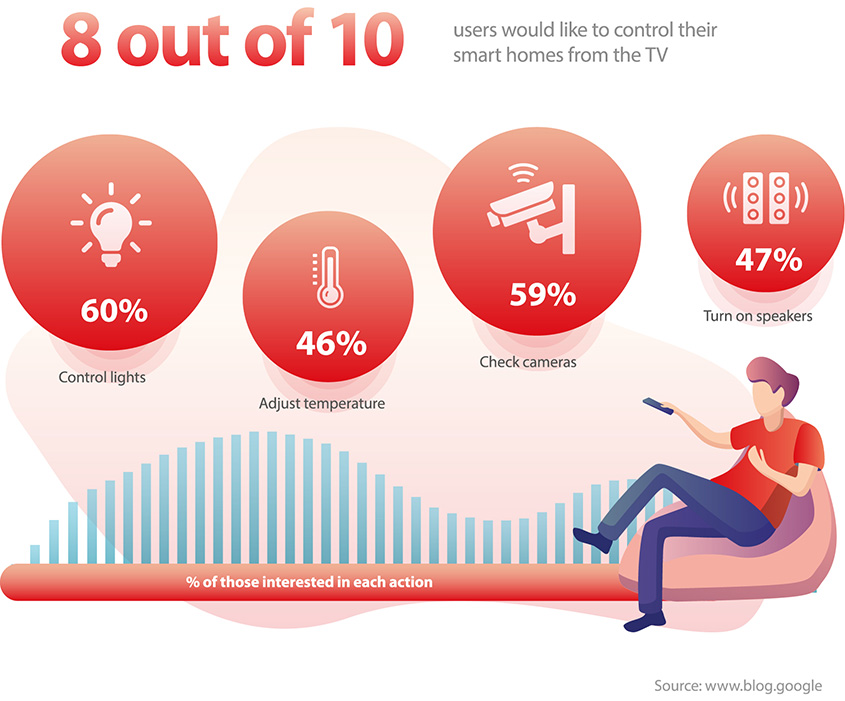 What future holds for Android TV
"We'll continue to bring innovations to the platform and improve the quality and reliability of the Android TV experience. We also strive to make the overall user experience better, including on the home screen and the Play store, and make it easier for users to find and purchase content. We believe that providing the best smart TV experience possible, and working closely with our operator and OEM partners to offer more choice, will lead to more users choosing the Android TV ecosystem. This will ultimately help our partners build successful businesses and developers reach a new audience."

Shalini Govil-Pai, Head of Android TV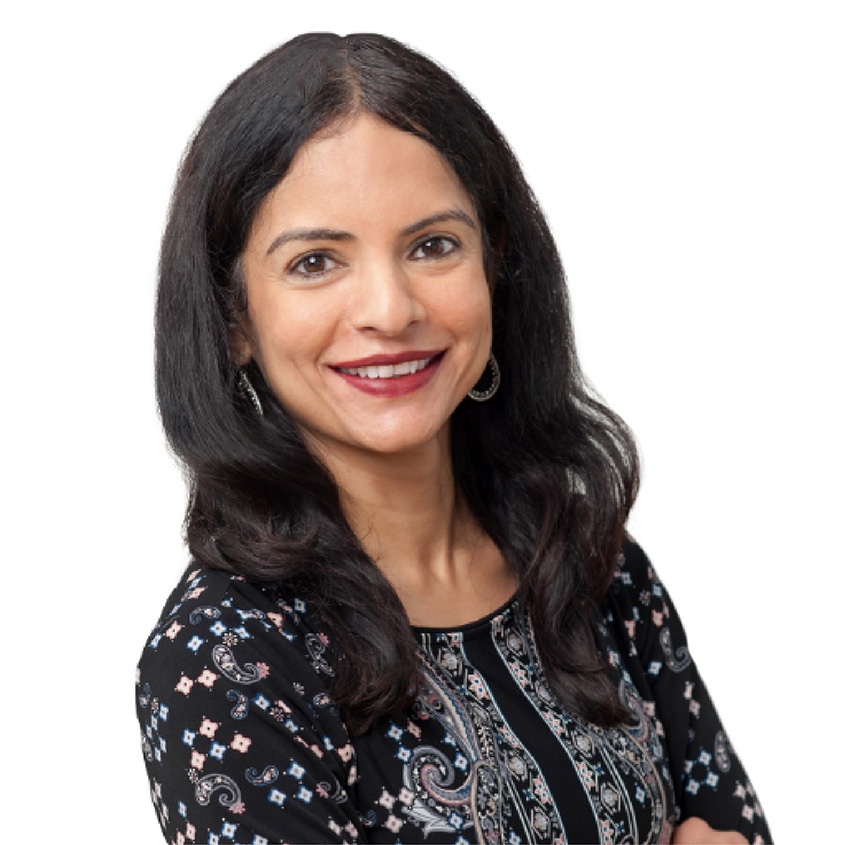 Infomir has embraced the platform's potential. In June 2019, the company launched its first Android TV device—MAG425A, a 4K set-top box. In December, Infomir's logo appeared in the Android TV Global Partners list on the platform's official website. The company is currently hard at work, creating a new generation of set-top boxes powered by this platform.
Android TV tackles the operators' primary problems. A universal platform, it enables them to launch projects fast and on a moderate budget. Even local providers can leverage this solution to provide their audience with the best user experience with thousands of apps, advanced voice control, and personalized recommendations—things that used to be available only to telecom behemoths. Android TV does have every chance to become the future of television.
*Google, Android, Google Play and Android TV are trademarks of Google LLC.
Recommended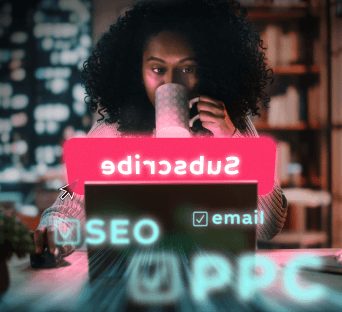 Technology provides entrepreneurs access to information from multiple sources: social media, the Internet, or databases. Combined with software, it helps them take into account numerous indicators and trends. All of this can be used to make your business grow.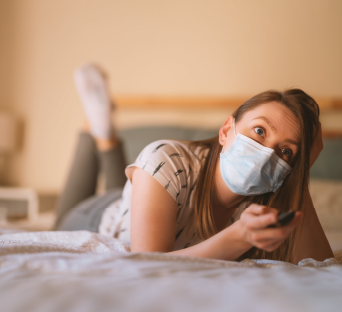 Two years of the COVID-19 pandemic have dramatically changed the paid TV market.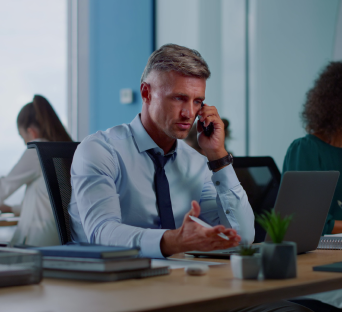 Adapting to consumers' demands is crucial for operators who want to remain relevant and sought-after.