Commercial proposition
Select the purpose of request:
Product request
You are looking for a solution:
Select an option, and we will develop the best offer
for you
Infomir presents MAG425A—our flagship Android TVTM device
Published on 03/06/2019
Watch Shows, Movies, and Series in the Best Quality 4K HDR. Enjoy the Advantages of Android TV, Voice-controlled Remote, and Access to Google Services.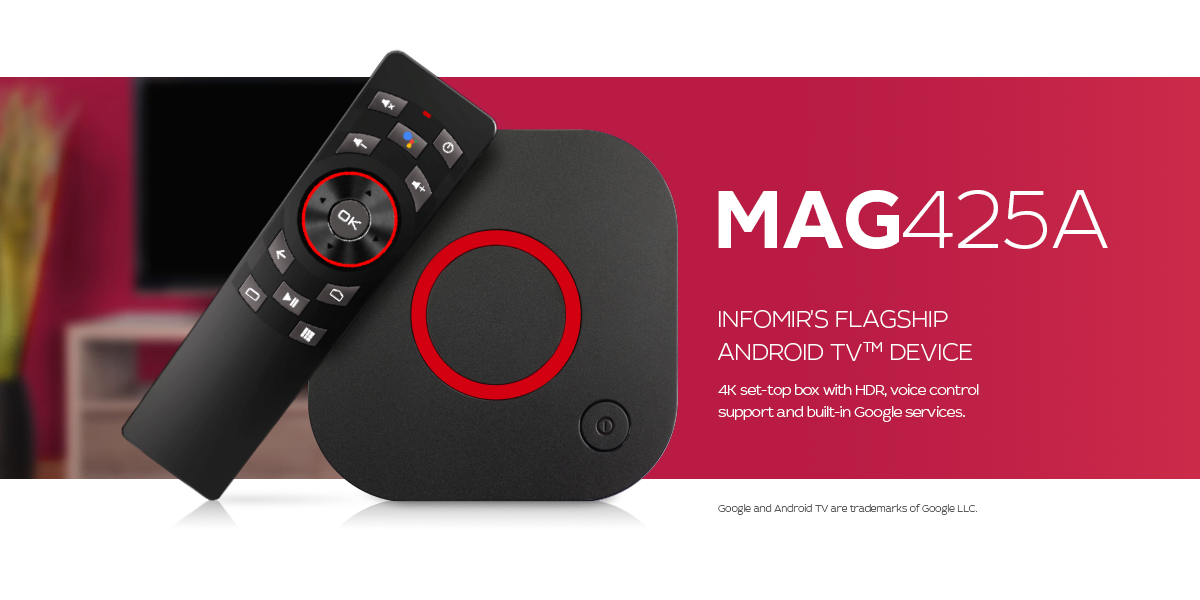 MAG425A is the first Infomir-produced Android TV device. It represents a balance of reliability and performance.
This set-top box supports Google services and thousands of big-screen applications. It offers more features than any other Smart TV device. Voice search opens up new possibilities — finding content and managing applications are now easier than ever.
It features the highest 4K 60fps quality and high dynamic range (HDR), making it a relevant media player for the next decade. The efficient built-in HEVC video-compression algorithm allows you to play the highest quality content, even with low-speed Internet connections. The device can be installed in any part of your home—the built-in Wi-Fi module operates in the 2.4 and 5 GHz bands and provides reliable signal reception at speeds of up to 867 Mbps. MAG425A can be connected to the network using an Ethernet connector.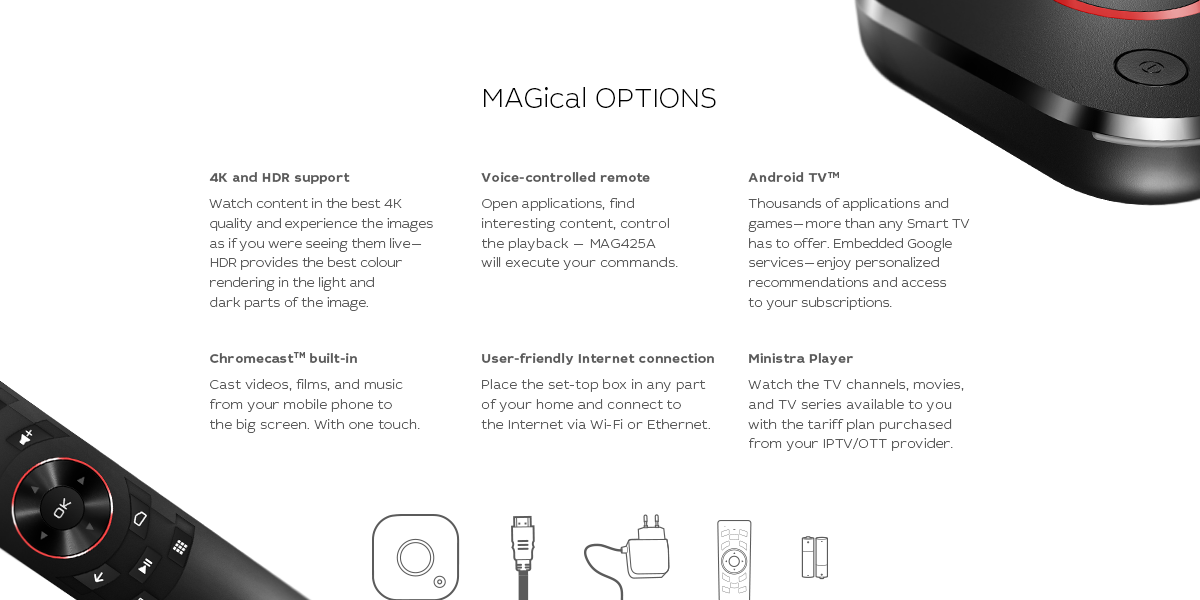 New features available with the MAG425A include Android TV, Google services, voice-controlled remote, 4K 60fps support, HDR, and the built-in HEVC codec.
A modern MicroFusion design for any interior
The compact MAG425A combines style with cutting-edge technology. This set-top box easily complements the interior of a bedroom, living room, or any other room in your house or apartment.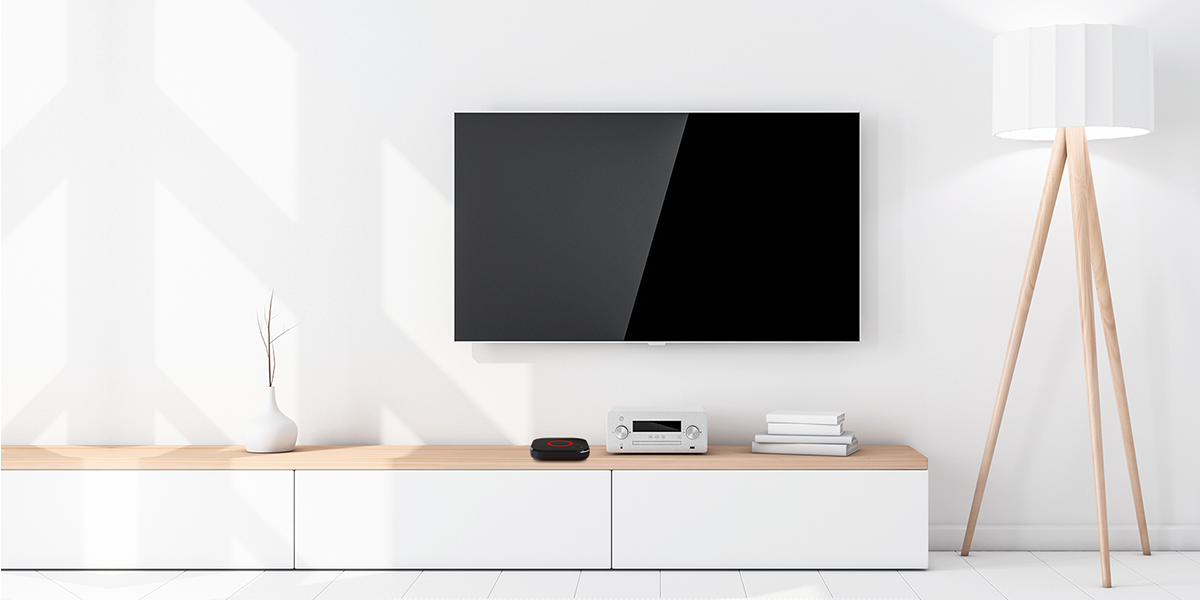 Flowing lines and MicroFusion design make the MAG425A look great whether you're using it in a high-tech studio or your home.
User-friendliness and thousands of content sources
Android TV and built-in Google services allow you to search for and watch content in a completely new way. MAG425A provides users with access to both content from local IPTV/OTT providers and a library of streaming giants. In addition, the set-top box plays media files from local storage.
Finding interesting content with voice-controlled remote is easier than ever: personal recommendations and Google subscriptions are available to the user right from the start. Thanks to Google Assistant, MAG425A supports voice queries, allowing you to search for movies and TV shows by name, genre, rating, cast, or popularity. All you have to do is say, 'Play House of Cards', and MAG425A will search through the installed applications and suggest the most convenient app to watch it on. Voice commands allow you to adjust the playback, check the weather, and control other useful features.
The integrated Chromecast built-in option allows you to send music, movies, video, and even games to your TV, right from your mobile device. All you need to do is connect the set-top box and your smartphone to the same network.
MAG425A also offers a completely new gaming experience. The device supports games from the Google Play Store for Android TV and Android-compatible wireless BLE gamepads. The number of paid and free games for Android TV is growing by the minute.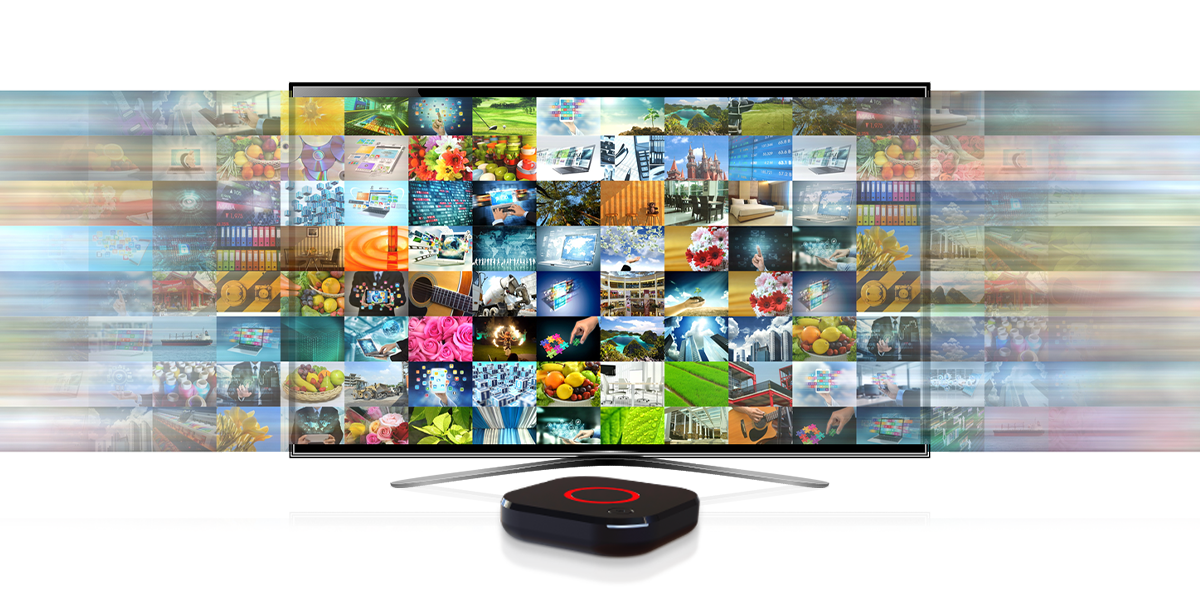 MAG425A lets you choose from even more content sources. Android TV gives you access to thousands of games and applications—and built-in Google services.
Pre-installed services available only with MAG425A
MAG425A has a preinstalled Google application package that gives you access to Live Channels, YouTube, YouTube Kids, and a range of apps, including Google Play Store for Android TV, Movies, Music, and Games.
The device also contains pre-installed Infomir applications. These include Ministra Player—a functional, user-friendly client application for the Ministra TV platform. You'll also get the MAGic Files file manager, the advanced MAGic Player video player and the MAGic Audio player.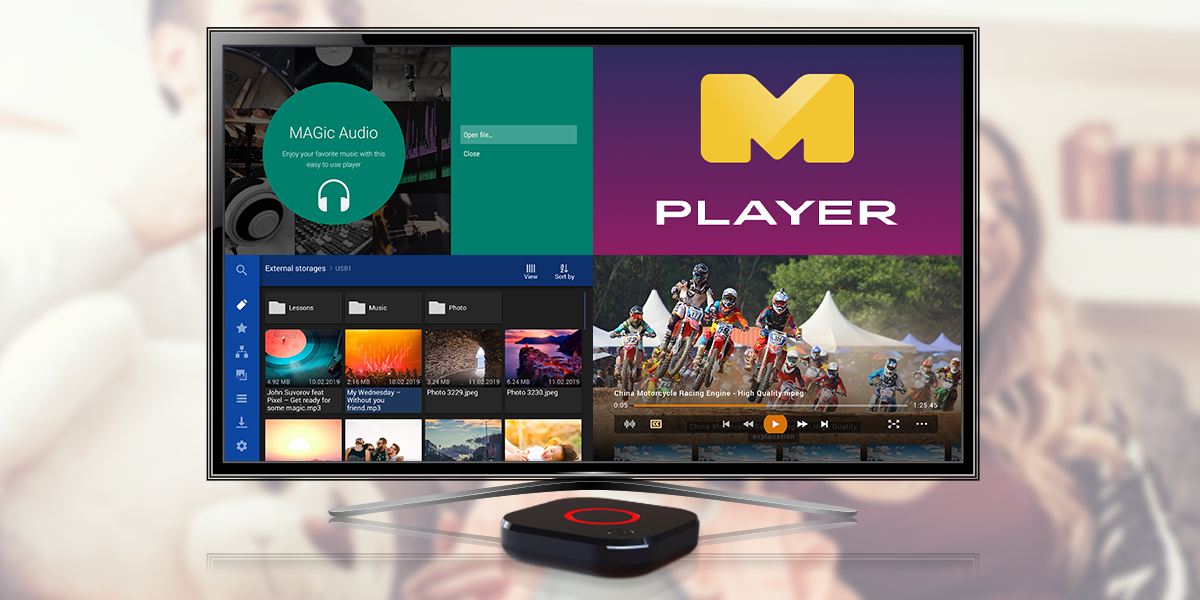 All the applications you need are pre-installed 'out of the box' in the MAG425A.
New viewer experience powered by 4K HDR
MAG425A allows users to immerse themselves in the world of highly realistic movies and TV series in 4K 60fps quality and HDR dynamic range. The device renders the image in a completely new way, providing natural colour rendering in light and dark areas of the image. Both the highlights and shadows of the shot are displayed in high contrast. A high-quality image immerses viewers in the action as if they were experiencing it live.*
*Compatible TV and 4K-resolution HDR content are required.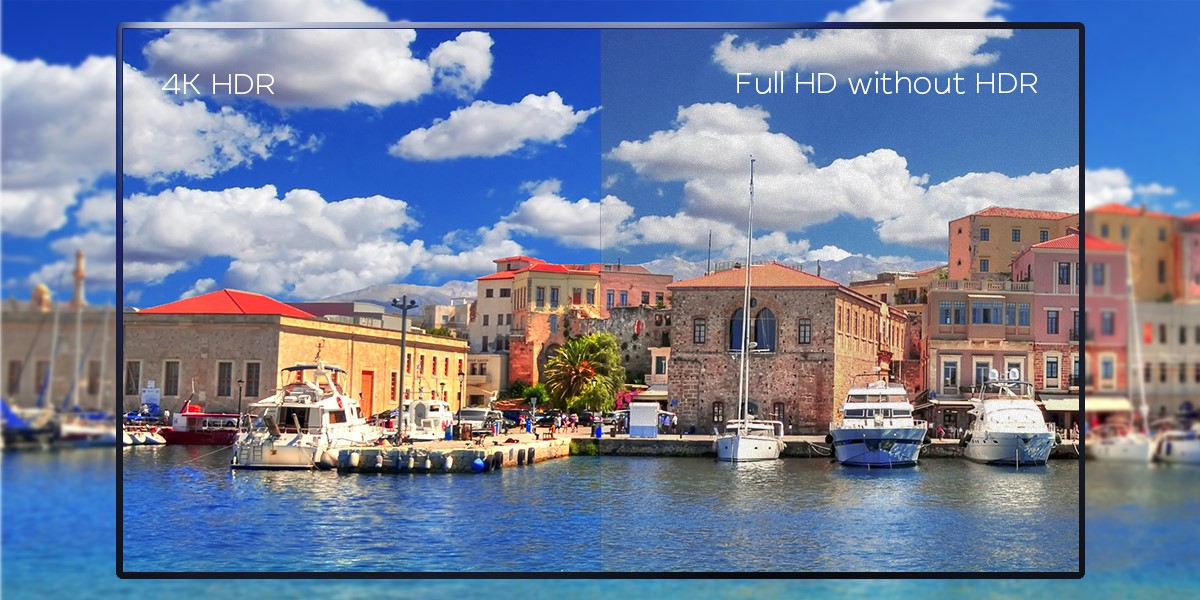 MAG425A is a set-top box for the next decade. 4K 60fps support, HDR, and a built-in HEVC codec provide you with the best experience when viewing your favourite content.
Media content
About Infomir
Over 4500 IPTV/OTT projects in 150 countries successfully operate using Infomir-produced set-top boxes. Today, Infomir is the only Ukrainian manufacturer of set-top boxes and software for interactive TV providers. Our company has offices and logistics centres in Germany, Switzerland, Estonia, the USA, and the United Arab Emirates. The Infomir team creates high tech products that advance the television industry.
*Google, Android, Google Play, YouTube and other marks are trademarks of Google LLC.