Commercial proposition
Select the purpose of request:
Product request
You are looking for a solution:
Select an option, and we will develop the best offer
for you
Beyond the TV screen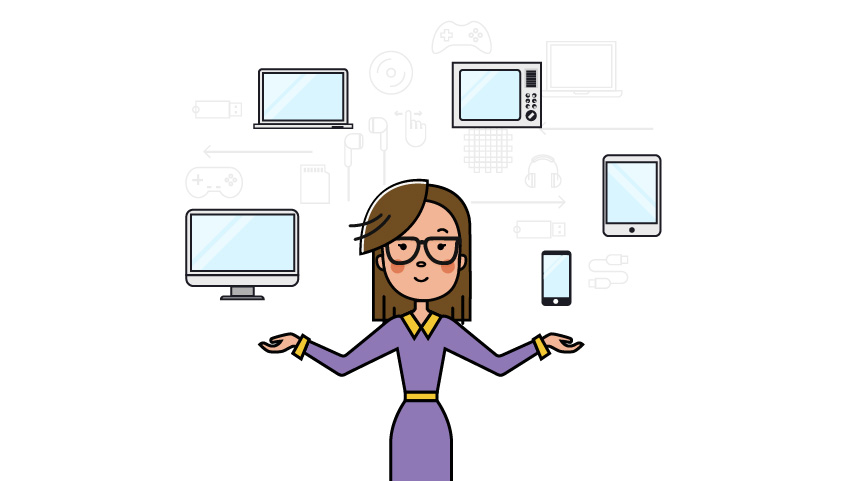 When choosing Middleware, what should you be looking for? Why would an operator have multiscreen? How has this technology developed, and what excites people about it now? We've conducted the research to answer all of these questions.
When screens multiplied
With the arrival of the home computer and smartphones along with the internet, the TV lost its place as the centre of attention. The TV set first lost its monopoly on information and then on entertainment content all due to the WorldWide Web.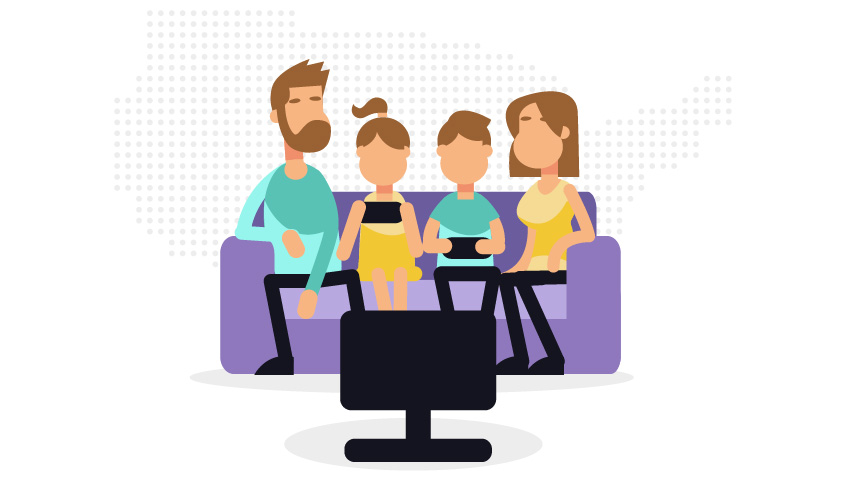 In 1975, there were only 11% of American households that had three or more TV sets. By the year 2015, that number had risen to 39%.
But don't let that fool you. The average number of TV sets per household is in steady decline. The average number of TV sets per household in the US decreased from 2.6 in 2009 to 2.3 in 2015. This, of course, is facilitated by the multiscreen.
With the arrival of the first 3G networks in 2003, streaming videos using the mobile network became possible. In a very short time, an entirely new category of viewer was born.

In 2005 the US-based company Sling Media Inc. released the Slingbox set-top boxes, and as such were the first to catch this wave. Thanks to this, content from one's cable or satellite subscription could be viewed on a laptop, smartphone, or pocket PC anywhere with Internet access.
That same year YouTube was born, and a year later—Amazon Video. Then in 2007, The Netflix streaming service was launched. OTT services just kept on growing. Amazon Video has over 100 million subscribers, YouTube is now watched by more than 1.8 billion people, and Netflix has over 25 million more subscribers than Amazon Video, totalling around 125 million.
In 2017, studies conducted by Ericsson ConsumerLab revealed that the Television set has ceased to be the main source of information for 57% of viewers. Out of the people who were polled, one group preferred smartphones and tablets, while the other group actively switches between smartphones, TV and computers.
In 2020, a quarter of all video viewings will occur on smartphones. This constitutes a 160% increase over the year 2010.
Some things that excite us about multiscreen
The TV industry over the past 10 years have seen several important events:
In the 1970s, Video recorders were created.
The 90s saw the development of digital broadcasting and the HD standard.
In 2005, Place Shifting technology appeared.
Place Shifting allows any viewer with a high-speed Internet connection to watch TV channels on any device: computer, laptop, smartphone, tablet, or even another TV set.
According to Screen Australia, 80% of VoD viewers watch content at home at least once a week. A third of these viewers also watch content at other places. Some popular places to do so are at work, on the commute, while travelling, or while studying. Those who watch videos outside the home are mostly men around the ages of 14 to 34 years old.
Multiscreen technology gives operators the chance to increase loyalty among old customers and to attract new ones. This is especially the case for people who spend most of their lives away from home and therefore do not usually watch one specific TV set.
It's predicted that in the year 2020, a quarter of all video viewings will be from smartphones. Which consists of an increase of 160% over 10 years.

Source: Ericsson ConsumerLab
Viewers should always be given the choice of device they want to watch content on, and of course, they should have the ability to switch between devices easily. In everyday life, people use many different devices for different purposes, for example, after having read an email from a smartphone, someone might reply to it from a computer. People want the same experience from television also, such as the ability to pause a video on their smartphone and then continue watching it on a TV set.
Global streaming VS local operators
Local operators always have content to offer to their viewers. Their particular audience is interested in local news, programmes, films, and Live-TV in general—all the things that global services do not provide.
Although the market has an abundance of service providers, there is still an opportunity for new TV operators to occupy a niche. Provided of course, that they provide good content through a convenient service, timeshifting and multiscreen functions, and provided that they give thorough thought to their tariff policy.
You don't have to become the next Netflix, Hulu, or Amazon Prime. You need only reach your niche of loyal viewers.

What to look for in multiscreen Middleware
One of the many popular ways to launch a multiscreen service is to choose a ready-made platform or create your own.
The general requirements for platform functionality, reliability and speed have piled up so much that it is not very justifiable to develop your own Middleware from nothing. Not only does it involve a long time to develop but there is also the high cost of labour to consider. More and more operators are choosing ready-made solutions. With this method, large projects are able to refine the internal functionalities and the client interface to suit their needs. And small to medium sized projects are able to have a fast installation of their ready-made solution.
How to choose the multiscreen middleware
If you are currently deciding on the platform for your project:
Find out the reliability of the supplier. Do they have expertise in telecommunications?
Find out the system support terms. Is it an open or closed platform? This is an important factor that affects your ability to adapt the functionality to suit your needs.
Pay close attention to the amount of connected device types. Compatibility with set-top boxes, media players, smart TVs, along with mobile and desktop platforms give you the opportunity to acquire more viewers.
In terms of resources, what will it take to launch a project? Choose a platform that will allow you to launch quickly and at minimum cost, but of course while preserving functionality and stability.
Middleware prices:
One-time fee for platform deployment
Regular payments for using the platform
One-time or regular subscriber activation fee
Payment for support
Payment for finalising functionality
How it works on the Ministra TV platform
With Ministra TV platform support, multiscreen for your project can be implemented within a day.
| | |
| --- | --- |
| | You will need to purchase the License Keys, while your subscribers will have to install the Ministra Player application on their devices. It is available for free on app stores for iOS, Android, Samsung Smart TV, Apple TV, Tizen, WebOS, and Roku. |
| | |
| --- | --- |
| A big advantage of this model is that there is no need to purchase additional equipment and then send it to the subscribers, since most viewers already are in possession of a smart TV or media players with which to connect to your service. | |
Ministra TV platform is distributed free, that is it does not require payments for use and support. You only pay for subscriber adding. Free support for MAG set-top boxes.
Multiscreen is no longer only an attribute of OTT services and large operators. It is now available to all providers, and, is in more and more demand. We hope that our recommendations help you in building your own modern and efficient TV service.
Recommended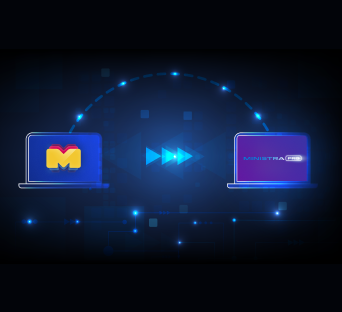 Ministra PRO is a modern cross-platform middleware that allows operators to conveniently manage services while providing users with an up-to-date service. The platform has a number of pros compared to the already familiar to IPTV/OTT service providers Ministra TV Platform. In this article we are going to cover the advantages operators get by making the Ministra PRO migration.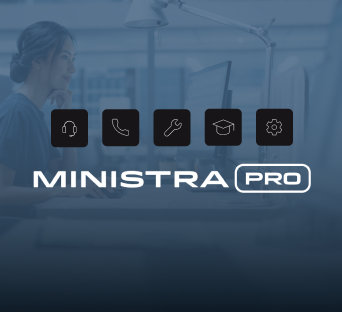 Successful middleware deployment in IPTV projects depends on two essential aspects: pre-sales and post-sales technical support. In this article, we will explain how pre-sales and post-sales Ministra Pro support makes interactive TV projects successful.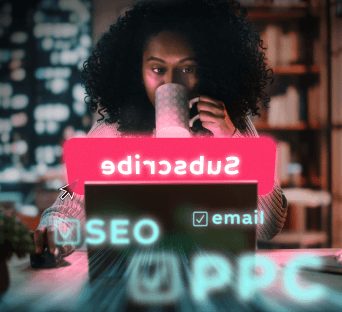 Technology provides entrepreneurs access to information from multiple sources: social media, the Internet, or databases. Combined with software, it helps them take into account numerous indicators and trends. All of this can be used to make your business grow.