Commercial proposition
Select the purpose of request:
Product request
You are looking for a solution:
Select an option, and we will develop the best offer
for you
Why hotels need in-house IPTV/OTT services

IPTV — streaming content in a local network
IPTV is a technology for streaming video in a local network via an Internet protocol. IPTV services and client devices have a two-way connection: a viewer requests and then receives content.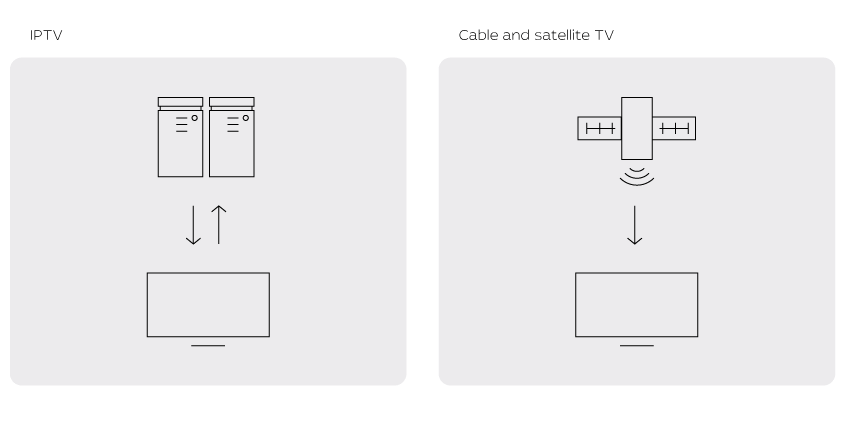 Cable and satellite operators almost always provide one-way communication with the clients, which means the viewer only watches what is broadcast.
Why hotels need in-house IPTV/OTT services
In a hotel with cable or satellite TV, guests can only watch a scheduled broadcast and cannot stop, rewind, or rewatch videos.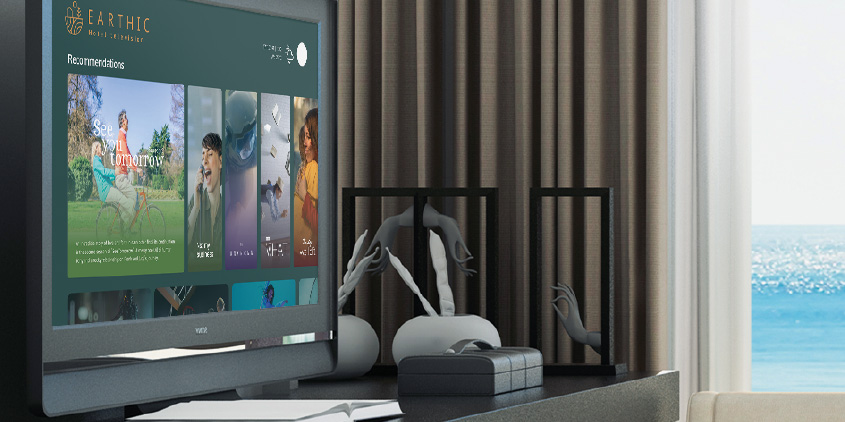 With IPTV, hotels can offer their guests not only channels with the TimeShift option (pausing or rewinding content) but also TV archives and videos on demand. Additionally, IPTV solutions can integrate with hotel PMS systems—hotel-managing software—and therefore provide even more features:
Using a TV to order services

IPTV helps companies provide more services. For example, guests can order room cleaning or find out if the hotel has a swimming pool using their remote controls.
Hotels advertise their services

Everyone benefits: while guests get their services quickly without distracting the front desk, the hotel advertises its restaurant, bar, or fitness center.
Best service for foreign guests

Your foreign guests can change the TV interface language or select their audio language to watch a channel or a movie. Also, guests can call a taxi or book a table in the restaurant using an app in their language.
Hotels earn from showing content

Your company can also make money from content, e.g., by putting access to TV channels and streaming services on the bill.
Easy multi-screen integration

Guests can watch IPTV/OTT content not only from a set-top box in their suites, but they can also install the client app on their phones and watch TV outside the hotel so long as they have internet access. This is especially attractive where the Netflix library has regional restrictions.
In 2020, guests in hotels watched TV 49% more often than they did in 2019. As a result, there was increased demand for TV channels and streaming services — Netflix, YouTube, and HBO Max.
Source: Enseo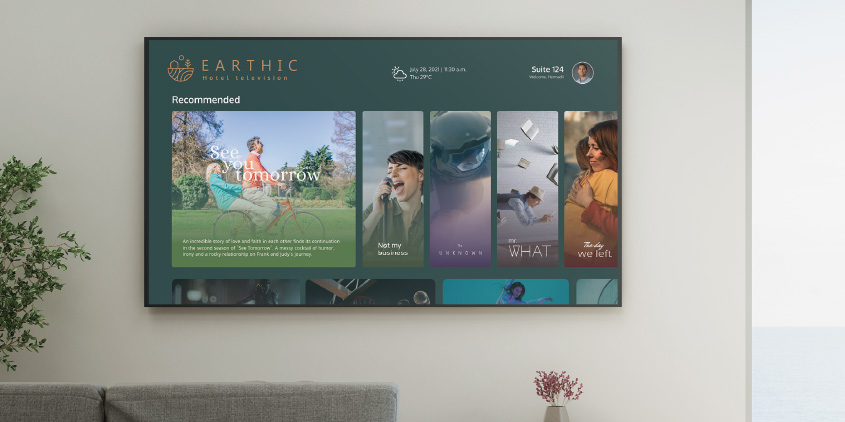 An example of a movie catalog on a hotel TV. Besides the content, the screen shows information about the suite number, hotel name, weather, and email notifications.
Not only channels and movies
Apart from content, IPTV also allows hotels to show their guests welcome messages, send notifications and give them access to guides, maps, weather forecasts, bill details, and provided services.
Welcome message. When turning on the TV in their suite for the first time, guests can learn about the services the hotel provides and how to order them.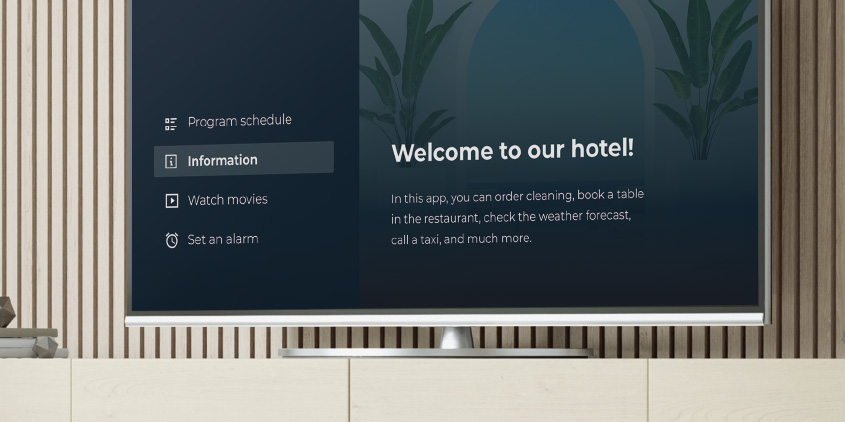 The welcome message says that the hotel has a restaurant, while guests can use the app to watch TV or movies, call a taxi, or check the weather forecast.
Notifications from the front desk. Notify all guests simultaneously about available tables in the restaurant, plus they can book them from the app. Additionally, guests will receive a notification if they need to pay the bill or check out before a specific time.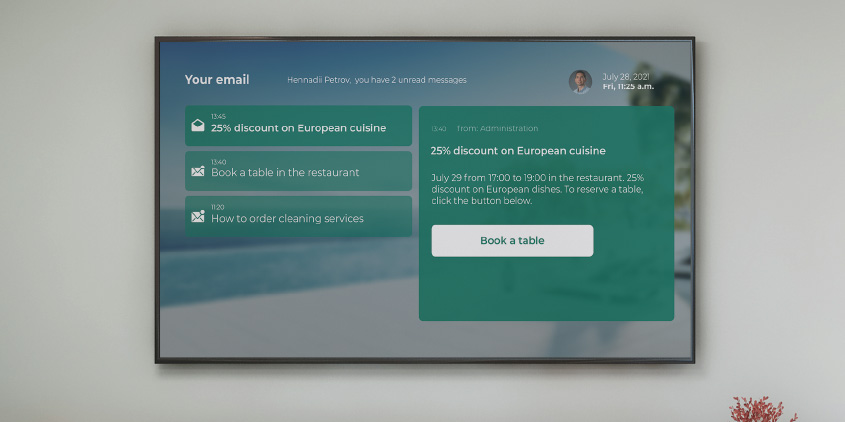 Right on the TV screen, guests will see news about discounts and bills.
Additional services. Many hotels have restaurants, gyms, spas, saunas, laundries, conference halls, and other facilities. Any service can be booked and paid for from the app.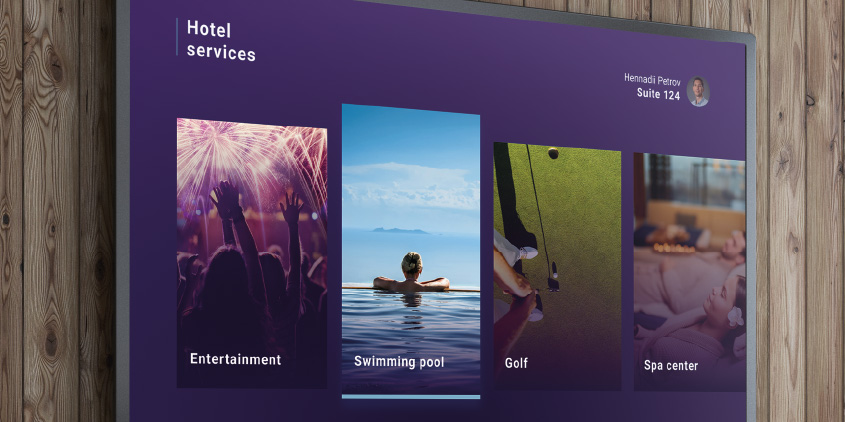 Here is how a hotel services page may look.
Room service. Guests do not have to call the front desk to order food, housekeeping, or ask for an extra pillow or towel.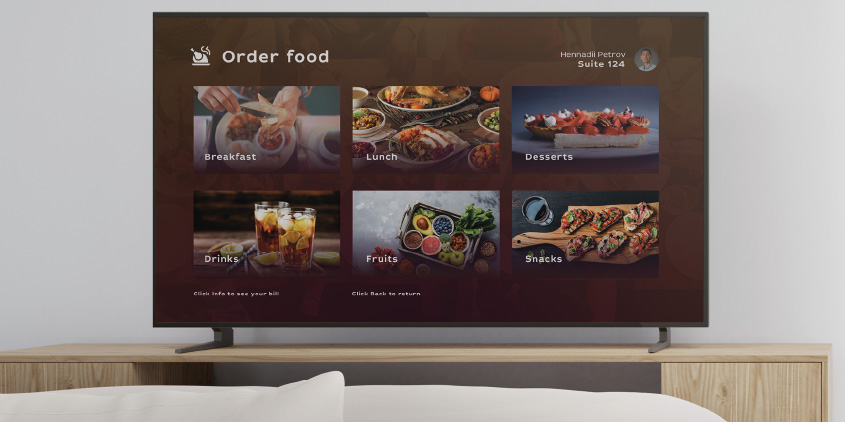 In some hotels, guests can order food to their room from the TV screen.
Partner advertising. Hotels work with numerous companies, such as food delivery services, taxi providers, tour companies, transport operators, and theaters. Advertising their services can bring more profit from finder's fees.
Guides, maps, and weather. Every day, guests ask hotel managers hundreds of questions. IPTV can help free them up time for more important tasks by not having to deal with less important ones.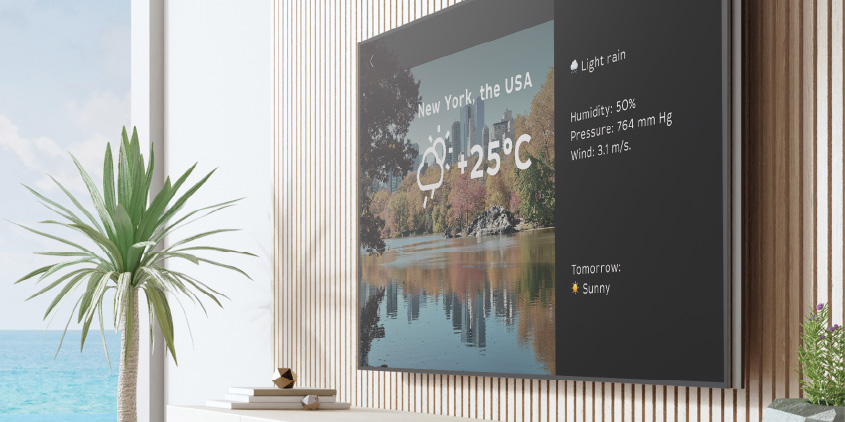 From their TV screen, guests can check the weather forecast for the coming days, which will help them plan their stay in a foreign city or country.
Information about suite bills and provided services. Some hotels give their guests access to bill information. It is promptly updated with details of new services added automatically.
Hotels can enable the fast check-out option, allowing their guests to click just a few buttons and pay the bill with a credit card to check out. Also, hotels can assign personal identifiers to their guests and offer tailored services at their next visit.
What guests and owners think
In 2020, Hotel Internet Services, a technological solutions supplier, interviewed 212 hotel owners and 720 guests to learn about their expectations from hotel TVs. It turned out that increasing numbers of people wanted to watch streaming services, visit social media sites, order additional services, and cast content from their phones to the TV screen.
What features are important to owners and guests in a hotel TV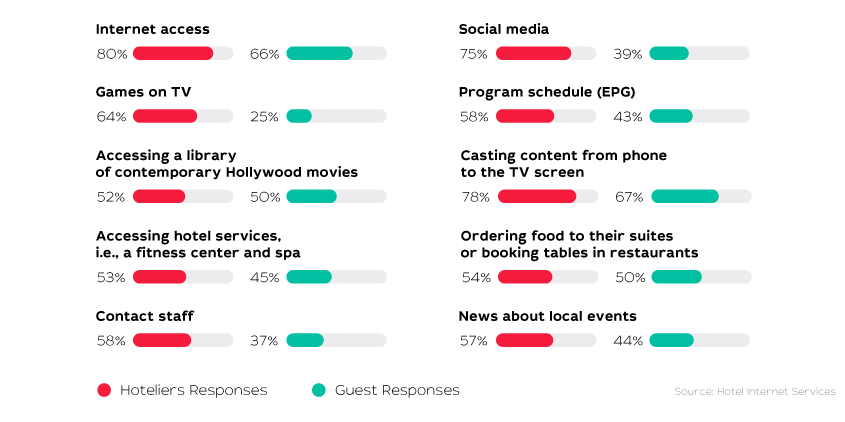 Integrating video on demand in the hotel IPTV can be profitable, but only 39% of the respondents stated they would be willing to pay to access the movie library. However, in 2020, 71% of guests wanted an option to cast content from their phones to the hotel TV screen.
Number of guests wanting to cast content to the TV screen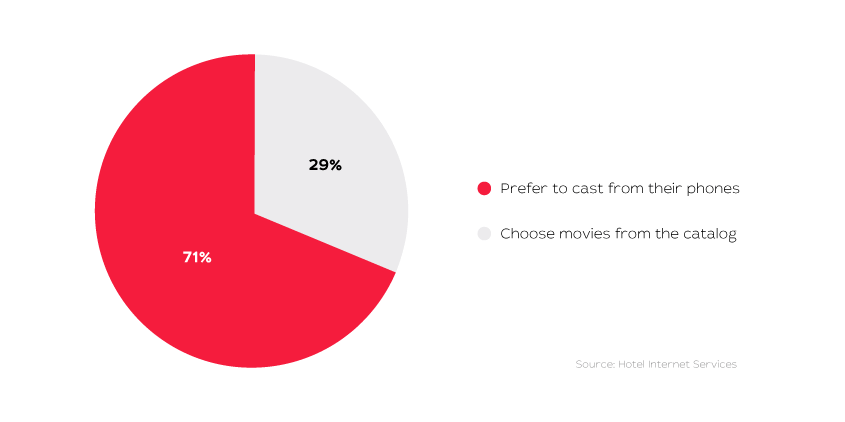 For hotel owners, in-house IPTV service is an opportunity to serve their guests better and earn more while also reducing the staff load. A hotel with IPTV channels and video on demand attracts more guests and provides higher-quality service.
Recommended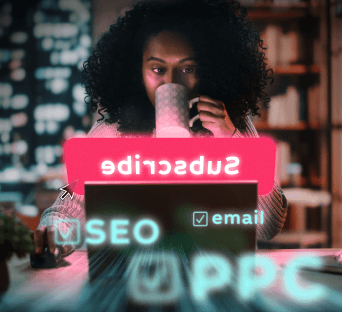 Technology provides entrepreneurs access to information from multiple sources: social media, the Internet, or databases. Combined with software, it helps them take into account numerous indicators and trends. All of this can be used to make your business grow.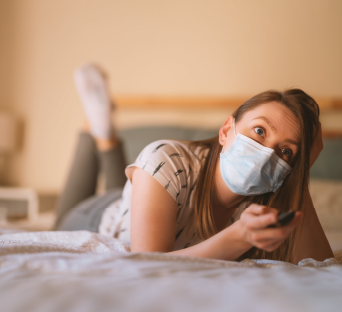 Two years of the COVID-19 pandemic have dramatically changed the paid TV market.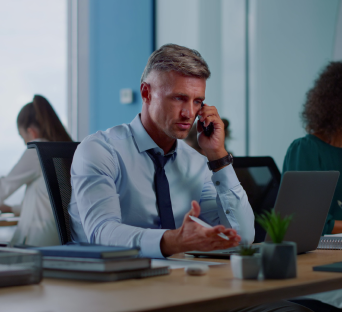 Adapting to consumers' demands is crucial for operators who want to remain relevant and sought-after.