Commercial proposition
Select the purpose of request:
Product request
You are looking for a solution:
Select an option, and we will develop the best offer
for you
There are enough subscribers for everyone

Local content
At the end of 2020, the number of paid OTT service subscribers exceeded 1 billion, of which 60% lived in the Asia Pacific. These viewers will be interested not just in the USA- and Europe-oriented Hollywood films but in local content too.
Viewers from developed countries also need local content. Almost half of the American viewers subscribe to local streaming services, and it's mostly people aged 18–44 that watch locally-produced content.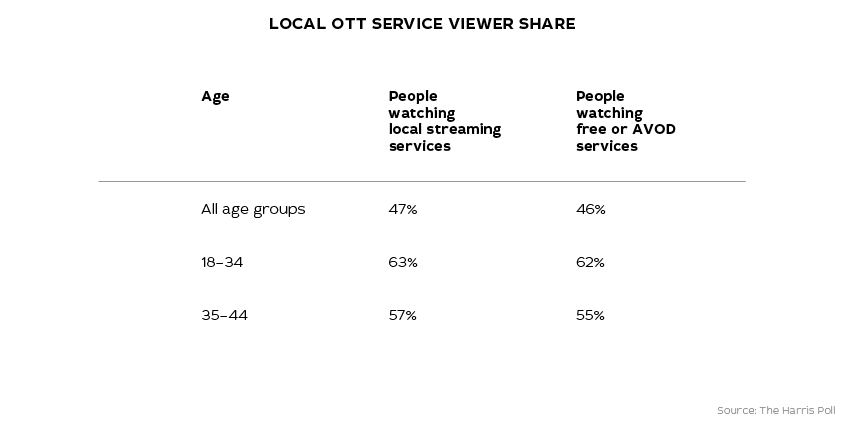 Niche content
Niche content is a segment from which small players are nearly impossible to oust. While global streaming services create mass content, the topical ones define their audience much more precisely. For instance, they may gather content libraries for classic, documentary, and sports lovers.
Niche streaming services occupied 6% of the OTT market, and their revenues in 2020 amounted to more than $2.8 billion.

Source: Omdia.
A great example of a niche project with AVOD monetization is Dust. This service focuses on sci-fi content, and it already has over 400 original movies, TV shows, shorts, and podcasts in its library. Its user-base is 1.9-million strong.
People are ready to pay for specialized content: 64% of the audience don't mind paying for topical OTT subscriptions as much as they would for the regular ones. However, users need to be sure that the service will roll out at least 30 hours of original content monthly.
Money viewers are willing to pay for a niche service as compared to a regular one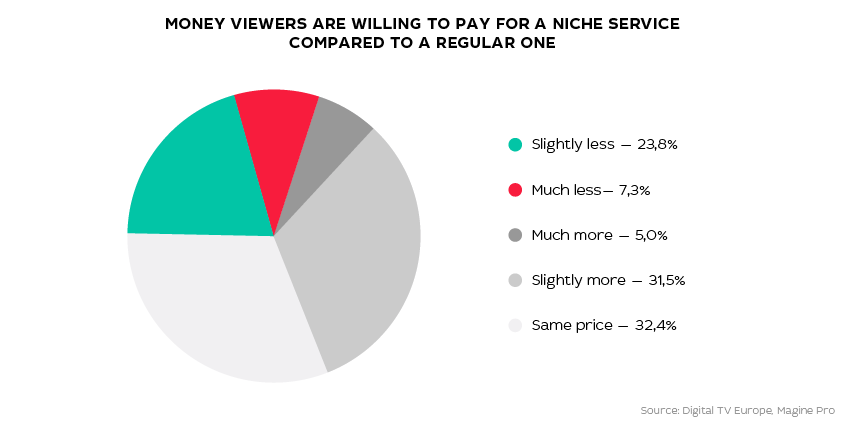 According to Omdia, the SVOD monetization model fits most niche projects. Children's streaming services will be better off with the subscription model as parents don't want their children to watch ads. Meanwhile, the projects focusing on documentary and sci-fi content fit equally well with SVOD or AVOD. According to 44.3% of viewers, hobby and lifestyle content is not worth paying for. Therefore, the services that distribute will have to go with the AVOD model.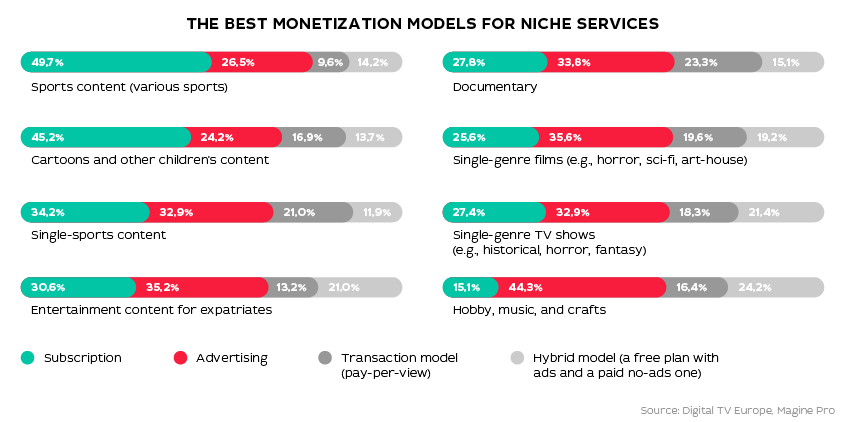 Original content
Original content provides a substantial advantage when competing for an audience. According to Omdia, for two-thirds of users, it's one of the determining factors when choosing an OTT service.
It is content that determines whether your viewers will move to your competition. Outdated VoD library and expensive subscriptions are the main reasons why users unsubscribe from streaming services.
A Bulgarian national operator offers 13 channels of its own, including sports, local news, and movies. It even broadcasts local sports events, an indisputable advantage over its competition. Netflix and Amazon Prime can never do that.
Large studios often sign contracts with major companies, e.g., internet providers. In this case, the studio gets a new audience, and the provider can offer added value to its clients.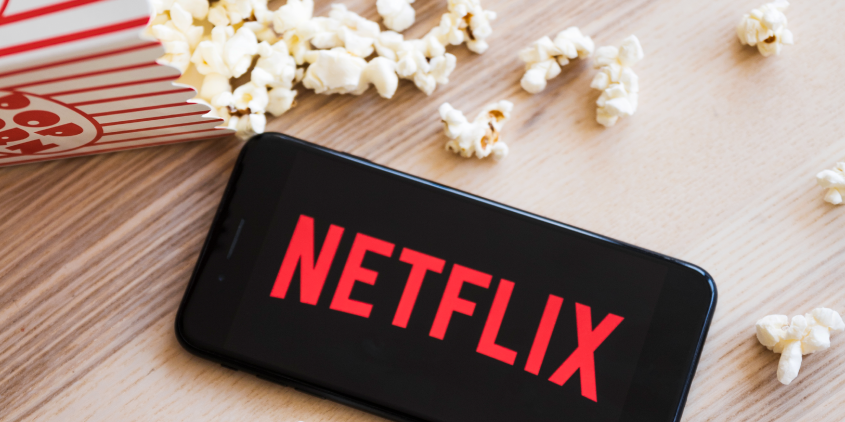 Asia, a prospective growth market
India is one of the principal regions for streaming services. The volume of the OTT market will reach $5 billion there soon. The rest of the Asia Pacific is also becoming a battlefield for global and local services.
In 2018, Netflix tweaked its mobile app to run on budget Android smartphones and launched a mobile plan specifically for India. For $3 per month, users can access the entire content library in SD — a plan like that would be three times more expensive in the US.
Hotstar, one of India's largest streaming services, is owned by Disney. Two-thirds of Hotstar's original programming, films, and TV shows are produced in Hindi, and one-third in English. Some content is also available in Tamil and Telugu.
Both launched in 2015, Hooq (Singapore) and iflix (Malaysia) now dominate SE Asia. The services offer a mix of locally-produced and Hollywood content for a monthly fee of $2–3. Most subscribers in Asia are ready to pay precisely that much for such services.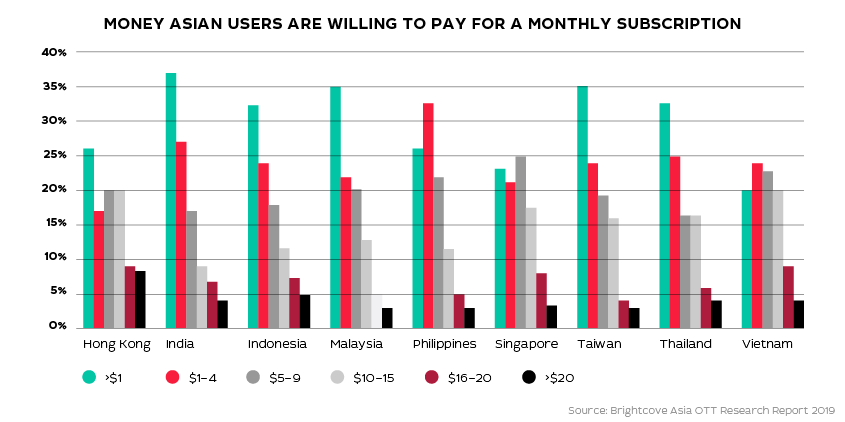 Hooq was launched in Singapore and is owned by Warner Bros., Sony Pictures, and Singtel. The service offers 68 self-produced films and TV shows, and over 35,000 hours of content from other studios available anytime, anywhere.
In developing countries, OTT can charge subscribers from their mobile balance. As of 2017, only 19.5% of the Earth's population used a credit card whilst twice as many owned smartphones.

Source: The Global Economy, Statista
Hooq and iflix can be paid for directly from the mobile balance, whereas Netflix requires a credit card. The local services thus can cover more prospective viewers: only one in four Malaysians has a credit card, but one in two is a smartphone owner.

There are enough subscribers for everyone
Users prefer to mix and match subscriptions to watch the content they like, so local operators are unlikely to lose audience to global players.
An average OTT household uses 2–3 paid subscriptions. And if you factor in FVOD and AVOD services, it's as many as seven subscriptions that they use.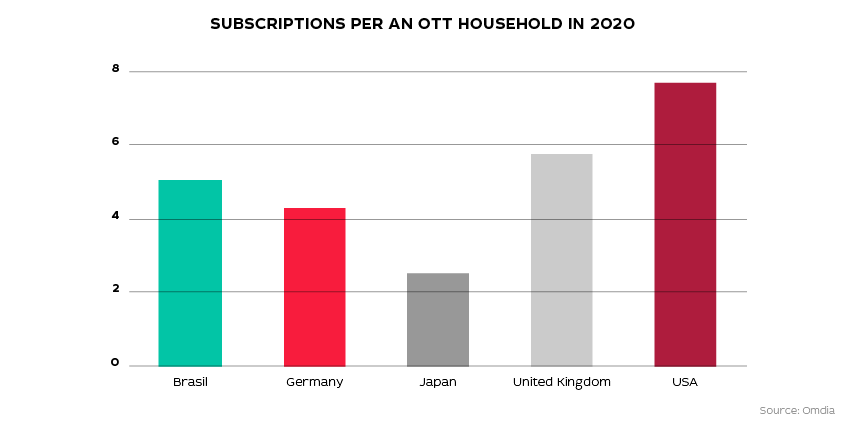 However, the market is far from being saturated. If a viewer pays for a streaming service, they can easily subscribe to another one. According to Omdia's study, over 60% of global streaming services' users are ready to subscribe to niche services also.
Local content and picking a niche are small OTT projects' best bet if they want to compete with large companies. Don't fear global players — many viewers are ready to run multiple subscriptions. Unlike cable and satellite TV, the OTT segment keeps growing, so there will be enough subscribers for everyone.
Recommended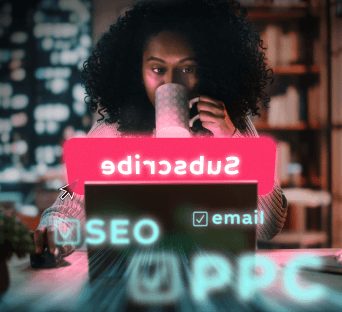 Technology provides entrepreneurs access to information from multiple sources: social media, the Internet, or databases. Combined with software, it helps them take into account numerous indicators and trends. All of this can be used to make your business grow.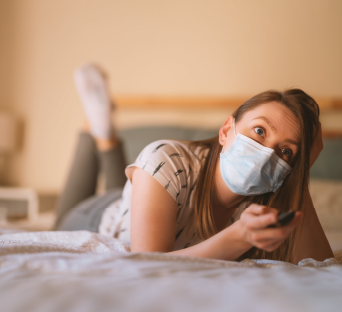 Two years of the COVID-19 pandemic have dramatically changed the paid TV market.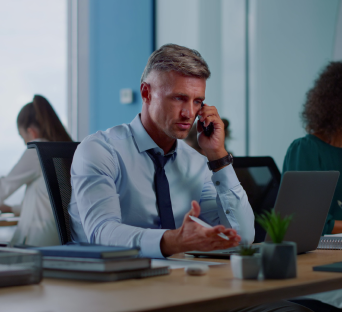 Adapting to consumers' demands is crucial for operators who want to remain relevant and sought-after.